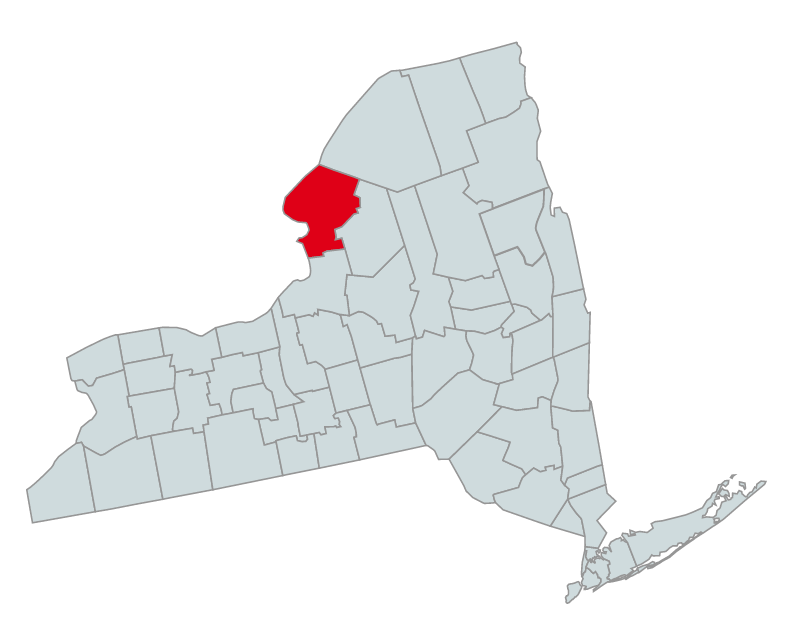 Jefferson County is located in the northern tier of New York State where the St. Lawrence River exits Lake Ontario. The county has a population of 111,755 spread across 1,269 square miles of land (another 589 square miles of water are also considered part of the county). It is the fourth-largest county in New York by total area. Jefferson County is one of several NY counties that border Ontario, Canada and is a major border crossing point. That means police actively watch for suspicious activity and traffic violations by drivers from both the U.S. and Canada.

Fort Drum, a training center for reserve forces and the New York Army National Guard, is located in Jefferson County. The fort trains about 80,000 troops each year.
New York Speeding Ticket Costs
Jefferson County speeding tickets can be very costly. Most fines run between $150 to $600, although higher fines are possible. In addition, drivers are required to pay a NYS surcharge of $88 (in Watertown) or $93 (anywhere else in the county). One can also be charged a DMV Driver Responsibility Assessment (DRA) fee if the speeding ticket results in 6 or more points being assessed on the license. A DRA costs $300 plus $75 for each point over 6. Drivers can also expect their auto insurance rates to go up by several hundred dollars per year after paying a speeding ticket.

Speeding Tickets Data from Jefferson County, NY
Every year, Jefferson County experiences variations in the number of speeding tickets issued by law enforcement officers. In 2021, a total of 6,493 speeding tickets were given out to drivers, which is about 8% lower than the previous year. Additionally, the proportion of traffic tickets assigned to speeding violations has exhibited a decline in recent years, falling from 37.2% in 2018 to 27.7% in 2021.
Last year, Canadian drivers accounted for 4.7% of the total speeding tickets issued, while New Yorkers comprised 56.9% of the drivers caught speeding in Jefferson County. The remaining tickets went to drivers from other states within the country.
Navigating traffic courts in Jefferson County can prove to be challenging for drivers with citations. Only 3% of drivers successfully contested their speeding tickets in 2021. Although plea bargains, which involve negotiating the ticket down to a lesser charge, are theoretically feasible, they can be quite difficult to achieve. In reality, 35% end up convicted of the original ticket they received.
To increase the chances of defeating a ticket or securing a reduction to a lesser offense, drivers are strongly advised to look for a competent traffic ticket attorney. With their expertise and strategic approach, these attorneys can effectively advocate for their clients and increase the chances for a favorable outcome.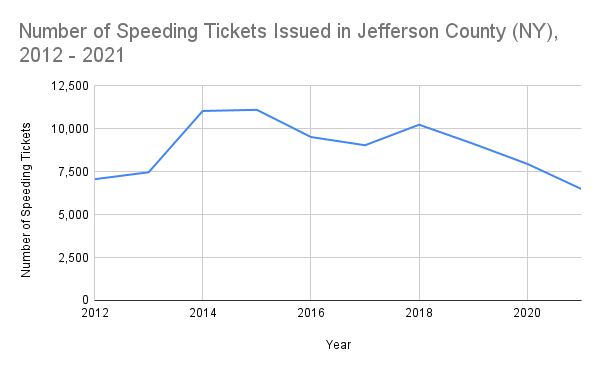 Number of Speeding Tickets Issued in Jefferson County (NY), 2012 – 2021
| | |
| --- | --- |
| Year | Number of Speeding Tickets |
| 2012 | 7,064 |
| 2013 | 7,468 |
| 2014 | 11,040 |
| 2015 | 11,107 |
| 2016 | 9,522 |
| 2017 | 9,043 |
| 2018 | 10,240 |
| 2019 | 9,130 |
| 2020 | 7,956 |
| 2021 | 6,493 |
Jefferson County Geography and How It Relates to Traffic Tickets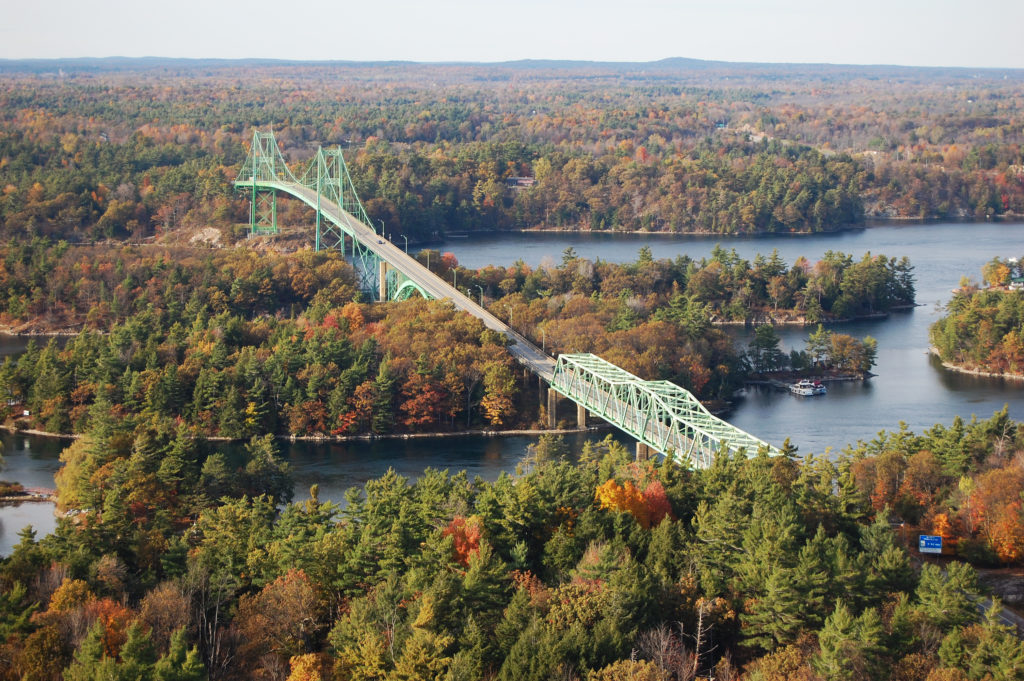 Drivers heading north toward Canada through Jefferson County take I-81, which ends at the Thousand Island Bridge border crossing. The auxiliary highway I-781 extends from I-81 and stretches east toward Fort Drum, acting as the primary corridor in and out of the base. It stretches just east of Fort Drum to connect to U.S. Route 11, which moves north-south through Jefferson County, connecting it to Oswego County (south) and St. Lawrence County (north).

In addition to being a through-point into Canada, Jefferson County also attracts visitors to its 15 state parks, most of which offer scenic views of Lake Ontario or the Thousand Islands. There are also nine state forests, which offer 16,000 acres of outdoor recreation activities.

State Troopers nab the majority of speeders in Jefferson County. The abundance of visitors and thru-traffic, be they heading to/from Canada or other parts the U.S., means police are mindful of those who may be making the roads unsafe.

Hiring a Jefferson County Speeding Ticket Lawyer
It is a bad idea just to accept the fines, points, and insurance increase that can come with a speeding ticket in Jefferson County. Drivers can and should fight the charge and possibly win a dismissal or negotiate a reduction in fines and points. An experienced traffic ticket attorney can evaluate the facts of the case and develop a defense with the best chance of reducing the fines and points. For most speeding ticket matters, a person who hires an attorney is not required to come to court in person—a huge benefit for drivers from Canada or even just distant parts of New York State.

If you received a speeding ticket in Jefferson County, contact Rosenblum Law. Our traffic ticket attorneys represent clients in Adams, Alexandria, Antwerp, Brownville, Cape Vincent, Champion, Clayton, Ellisburg, Henderson, Hounsfield, Le Ray, Lorraine, Lyme, Orleans, Pamelia, Philadelphia, Rodman, Rutland, Theresa, Watertown, Wilna, and Worth. Call 888-434-0406 or email Rosenblum Law today for a free consultation about your case.
Speeding Ticket in Other Counties