Located just east of New York City, Nassau County has some of the highest property taxes in the U.S. It also issues more traffic tickets than any other single county in the state and is one of the top 10 counties for speeding tickets by volume. Drivers who get a speeding ticket while in Nassau County will most likely be heard by the Nassau County Traffic and Parking Violations Agency (TPVA). Given the court's dismissal rate of only 5.3 percent, a driver's first (and probably best) step to take is consulting with an experienced traffic ticket attorney immediately to see what options are available.
Counties Issuing the Most Speeding Tickets in 2018
| County | # of Speeding Tickets |
| --- | --- |
| ERIE | 49,584 |
| QUEENS | 41,881 |
| WESTCHESTER | 39,530 |
| SUFFOLK | 33,692 |
| ORANGE | 33,023 |
| BRONX | 28,189 |
| BROOKLYN | 28,090 |
| NASSAU | 23,605 |
| DUTCHESS | 22,463 |
| ALBANY | 20,285 |
Cost of NY Speeding Ticket
Speeding tickets issued in any county in NYS can be very costly. Fines run between $150 to $600, in some cases even higher. Each ticket also comes with a mandatory NYS surcharge of $88 to $93. There's also a possible DMV Driver Responsibility Assessment (DRA). The DRA is a separate fine charged to drivers who reach six points on their license in 18 months. A DRA costs $100 each year for three years. Each point over six adds another $25 a year for three years.
Speeding Tickets Data from Nassau County NY
Even though the county is in the top 10 for the number of speeding tickets, the nearly 23,605 issued each year is only a fraction of the number of traffic citations given out by police each year. In 2018, speeding tickets made up just 6.4% of all tickets issued that year in the county. Among those who got speeding tickets, more than 40% also received citations for non-speeding violations at the same time. The most common were for driving without auto insurance (13.2%), licensing violations such as driving without a valid license (12.7%), improper lane violations (11.3%), and turn signal violations (11%).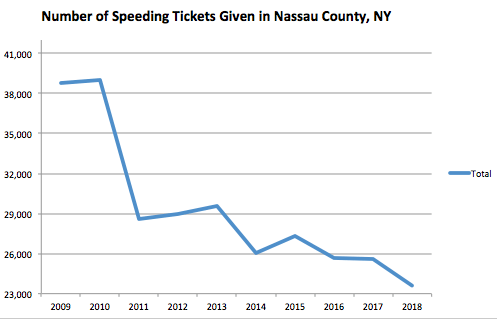 Number of Speeding Tickets Given in Nassau County, NY
| Year | # of Speeding Tickets |
| --- | --- |
| 2009 | 38,753 |
| 2010 | 39,033 |
| 2011 | 28,976 |
| 2012 | 28,976 |
| 2013 | 29,545 |
| 2014 | 26,049 |
| 2015 | 27,286 |
| 2016 | 25,701 |
| 2017 | 25,559 |
| 2018 | 23,605 |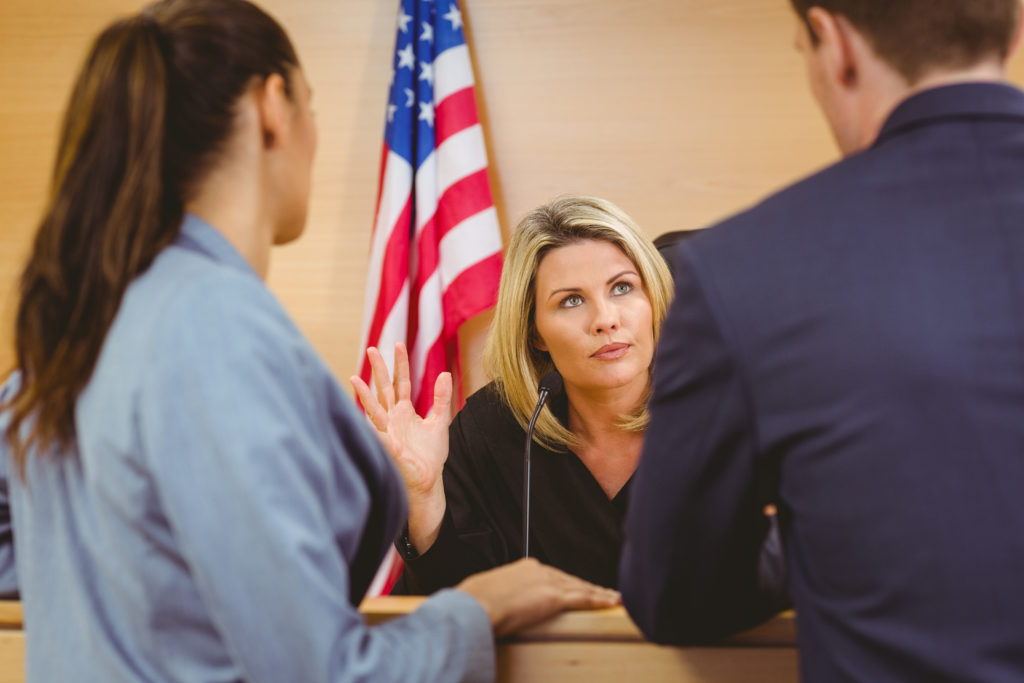 Drivers charged with speeding in Nassau County can choose to fight the charge(s) against them and either win a dismissal or negotiate a reduction in fines and points. With such a high conviction rate, however, drivers will likely need the help of a skilled attorney to avoid getting convicted.
Nassau County Geography and How It Relates to Traffic Tickets
Despite its small size—only 450 square miles—Nassau County is striped with nearly a dozen major highways, including the Northern and Southern State Parkways, the Long Island Expressway (I-495), the Meadowbrook Parkway, the Wantagh Parkway, the Seaford-Oyster Bay Expressway (I-135), Sunrise Highway (Route 27), Hempstead Turnpike (Route 24), and more. Nassau County is also known for its many small towns and universities (e.g. Hofstra, Adelphi, Molloy, and Long Island University), where police officers are always on the lookout for drivers committing traffic violations, especially speeding.
Hiring a Nassau County Speeding Ticket Lawyer
In addition to the many fees associated with a speeding ticket, paying a speeding ticket can cause increases in auto insurance premiums for several years. At the same time, ignoring the ticket is never a good idea and failing to answer the ticket in a timely manner can result in having your driving privileges in NY suspended and even revoked. Drivers who are charged with a speeding ticket or other traffic violation have the option to fight the charge and possibly win a dismissal or negotiate a reduction in fines and points.
An experienced traffic defense attorney can analyze the traffic violation matter and provide a solid defense, keeping the fines and points to a minimum. In almost all cases, a person who hires an attorney will not be required to come to court.
If you received a speeding ticket in Nassau County, contact Rosenblum Law. Our traffic ticket attorneys represent clients in Atlantic Beach, Baxter Estates, Bayville, Bellerose, Cedarhurst, Centre Island, Cove Neck, East Hills, East Rockaway, East Norwich, East Williston, Farmingdale, Floral Park, Flower Hill, Freeport, Garden City, Glen Cove, Great Neck, Hewlett, Island Park, Kensington, Kings Point, Lake Success, Lattingtown, Laurel Hollow, Lawrence, Long Beach, Lynbrook, Malverne, Manorhaven, Massapequa Park, Matinecock, Mill Neck, Mineola, Munsey Park, Muttontown, New Hyde Park, North Hills, Old Brookville, Old Westbury, Oyster Bay, Plandome Heights, Plandome Manor, Plandome, Port Washington North, Rockville Centre, Roslyn, Russell Gardens, Saddle Rock, Sands Point, Sea Cliff, Syosset, Thomaston, Upper Brookville, Valley Stream, Westbury, Williston Park, and Woodsburgh. Call 888-434-0406 or email Rosenblum Law today for a free consultation about your case.
Speeding Ticket in Other Counties