Niagara County is home to the U.S. portion of Niagara Falls and is part of the Buffalo-Niagara Falls metropolitan area. It sits at the north of the westernmost portion of New York State and shares a border with Ontario, Canada. Although the county technically encompasses 1,140 square miles, only 522 square miles of that area is land. New Yorkers come from every county to visit Niagara Falls and other tourist attractions in the area.

But drivers should be mindful of local cops: they can and will ticket visitors and residents of the county for speeding. Rather than pay a Niagara County speeding ticket, drivers should call an experienced traffic ticket lawyer to help get the penalties reduced or eliminated.

New York State Speeding Ticket Costs
Paying a speeding ticket can result in far greater costs than most realize. Fines of $150 to $600 are common, but are not the final price one will pay. Each ticket also comes with a mandatory state surcharge ($88 or $93). If the ticket puts the total number of points on the license at 6 or more, a driver will have to pay a DMV Driver Responsibility Assessment (DRA) fee of $300 plus $75 for each point over 6. Then there is the increase in insurance premiums, which can cost hundreds of dollars and which typically last for 36 months or more.
Speeding Tickets Data from Niagara County, NY
Speeding tickets account for approximately 23% of all tickets issued in Niagara County annually. In 2021, law enforcement issued a total of 7,651 speeding tickets, showing a slight increase compared to the 6,945 tickets issued in 2020. While men still received the majority of speeding tickets, women in Niagara County experienced a higher proportion than the statewide average, accounting for 39% of all speeding tickets in 2021.
The weekdays, particularly Monday, Tuesday, and Wednesday, were the busiest periods for police issuing speeding tickets, while weekends saw a lower number of drivers being ticketed. New Yorkers accounted for nearly 94.2% of speeding tickets in Niagara County, whereas Canadians received only 1.2% of the tickets.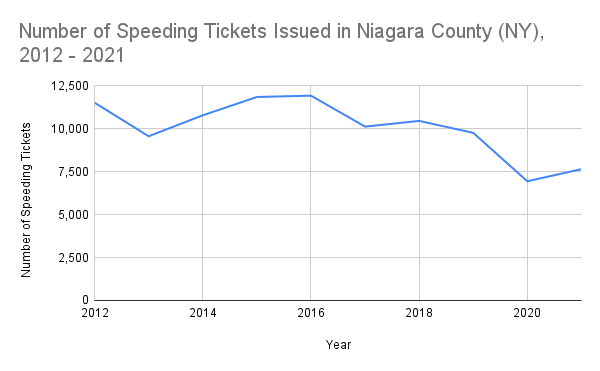 Number of Speeding Tickets Issued in Niagara County (NY), 2012 – 2021
| | |
| --- | --- |
| Year | Number of Speeding Tickets |
| | |
| 2012 | 11,524 |
| 2013 | 9,567 |
| 2014 | 10,787 |
| 2015 | 11,854 |
| 2016 | 11,932 |
| 2017 | 10,129 |
| 2018 | 10,461 |
| 2019 | 9,765 |
| 2020 | 6,945 |
| 2021 | 7,651 |
Motorists who receive speeding citations in Niagara County are strongly encouraged to contest the ticket. However, it is advisable not to do so alone. Statistics reveal that only 8.2% of drivers successfully contested a speeding ticket in the previous year. However, with the assistance of an experienced traffic ticket attorney, drivers have a better chance of getting a positive outcome. Having an attorney provides the greatest opportunity to either have the ticket dismissed entirely or downgraded to a violation with minimal or no points.
Niagara County Geography and How It Relates to Traffic Tickets
Niagara Falls and other attractions draw crowds to Niagara County year-round. The county also gets a lot of vehicle traffic from students attending nearby colleges, including Niagara University as well as those visiting from neighboring counties. Its location at the northwestern tip of New York State means it does not get much through traffic besides those heading to or coming from Canada. The I-190 connects Niagara County to points south. It meets with I-90 in the southern part of the county, which provides an express route to Buffalo. The LaSalle Expressway takes drivers east and west, going as far as Buffalo and Tonawanda.
While State Troopers watch the highways closely, it is the local police who issue the most speeding tickets in Niagara County (58.5%); only Wyoming County had a higher proportion of local police-issued speeding tickets.
Hiring a Niagara County Speeding Ticket Lawyer
No one should approach a speeding ticket lightly. An experienced traffic ticket attorney can evaluate the facts of the case and offer a solid defense that will minimize the fines and points. As a bonus, in most cases, those who hire legal representation may not have to show up to court themselves—a boon for tourists (especially Canadian visitors) who would otherwise have to return all the way to the county to fight the ticket.
Contact Rosenblum Law to assist you with your speeding ticket matter in Niagara County. We can offer you a free consultation about your case and have our attorneys fight on your behalf. Our attorneys have represented clients in all the courts in Niagara County for both traffic and criminal matters including Cambria, Hartland, Lewiston, Lockport, Newfane, Niagara, Niagara Falls, North Tonawanda, Pendleton, Porter, Royalton, Somerset, Wheatfield, and Wilson. Call 888-434-0406 or email Rosenblum Law today for a free consultation about your case.
Speeding Ticket in Other Counties