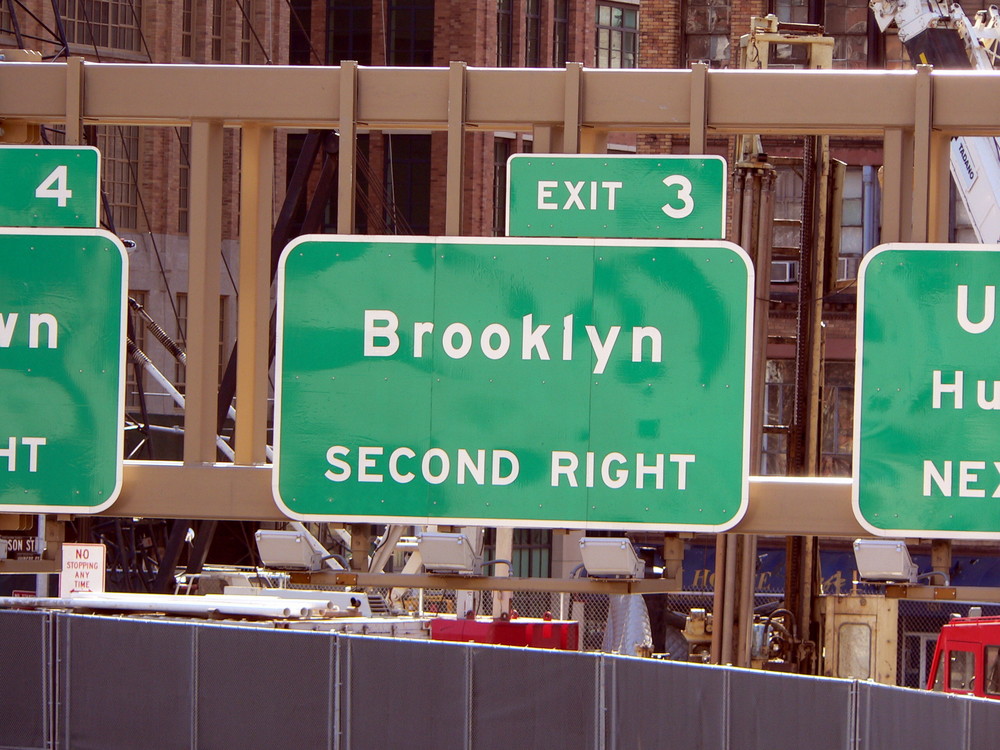 Just south of Queens and across the river from Manhattan, Brooklyn is the most populous of the five boroughs of New York City. Brooklyn—also called Kings County—is increasingly both diverse and young. Areas like Park Slope and Red Hook are incubating many new and innovative businesses while serving as home to a growing number of millennials and trendily off-trend "hipsters." Despite the stereotype of millennials and hipsters as averse to driving, Brooklyn still gave out the fourth-most traffic tickets in 2018!
Whether one lives in Brooklyn or is just passing through on the way to JFK airport, Staten Island, Queens or Long Island, drivers should not pay a speeding ticket issued in Brooklyn! Far better to hire an experienced traffic ticket lawyer to help eliminate the penalties (fines, points and more).
What's the difference between Brooklyn and Kings County?
For all intents and purposes, Brooklyn and Kings County are the same place. Brooklyn is the borough name, which the NYC government uses when referring to the region. Kings County is the name the New York State government uses for the same area.

New York Counties Issuing the Most Speeding Tickets, 2021
| | |
| --- | --- |
| County | Number of Speeding Tickets |
| Westchester | 40,076 |
| Erie | 39,124 |
| Suffolk | 30,203 |
| Queens | 28,009 |
| Orange | 26,351 |
| Dutchess | 23,838 |
| Nassau | 20,090 |
| Kings | 19,285 |
| Richmond | 16,667 |
| Bronx | 15,964 |
Brooklyn Speeding Ticket Costs
A speeding ticket costs much more than just a fine. A driver who is ticketed for speeding can expect an upfront cost of $150 to $600. But each ticket also comes with a mandatory state surcharge of $88. Then there are the points: Whenever the total number of points on one's license reaches six or more, the DMV will issue a Driver Responsibility Assessment (DRA) fee. The DRA is separate from and in addition to the fine for speeding. It costs $300 plus $75 for each point over six. Paying a speeding ticket also means it will appear on one's driving record and thus result in a large hike in insurance premiums. That increase, which can cost hundreds of dollars, will typically last for 36 months or more. Speeding tickets also mean points and the potential for license suspension.
Speeding Tickets Data from Brooklyn, NY
In 2021, law enforcement agencies issued 19,285 speeding citations to motorists in Brooklyn, which showed a marginal decline compared to the previous year. Unlike other areas in the state of New York, drivers in Brooklyn experience a consistent frequency of speed-related stops throughout the year, without significant fluctuations among the four seasons.
Among the weekdays, Wednesday and Thursday proved to be the most prevalent days for issuing speeding tickets, accounting for 32% of the total. Although men generally tend to receive more citations than women in general, they make up nearly 82% of all individuals ticketed for speeding offenses in Brooklyn.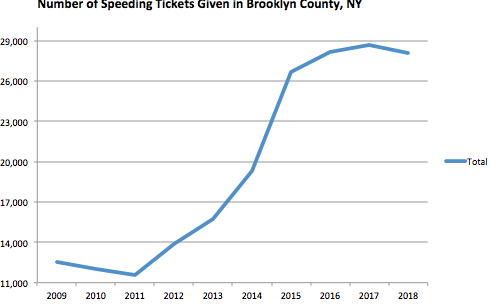 Number of Speeding Tickets Issued in Kings County (NY), 2012 – 2021
| Year | # of Speeding Tickets |
| --- | --- |
| 2012 | 13,855 |
| 2013 | 15,714 |
| 2014 | 19,308 |
| 2015 | 26,679 |
| 2016 | 28,178 |
| 2017 | 28,647 |
| 2018 | 28,090 |
| 2019 | 26,919 |
| 2020 | 24,452 |
| 2021 | 19,285 |
Because Brooklyn is part of the Traffic Violations Bureau, drivers who get a speeding ticket must either fight the charges at trial or plead guilty. This is not an easy task, as the TVB does not allow negotiations or plea bargain deals—a driver is either guilty of the charge or not guilty! Worse, 95% of all speeding tickets written in Brooklyn end in a conviction. This is why it's important to contact a skilled New York traffic ticket attorney who can strategize the best way to approach the ticket.
Brooklyn Geography and How It Relates to Traffic Tickets
More than half (57%) of all Brooklyn households don't even have a car. Despite this, Brooklyn roads are still quite busy. The borough is a critical throughway for drivers heading to and from southern New Jersey, Staten Island, Manhattan, and Long Island. As such, the western and southern sections of Brooklyn are covered in limited-access roadways, including the Brooklyn-Queens Expressway, the Gowanus Expressway, the Prospect Expressway (NYS Route 27), and the Jackie Robinson Parkway. Drivers heading to JFK International Airport in Queens from points west must take the Belt Parkway through Brooklyn. Brooklyn is connected to Manhattan by three bridges: the Brooklyn Bridge, the Manhattan Bridge, and the Williamsburg Bridge; these are in addition to the Hugh L. Carey Tunnel (formerly the Brooklyn-Battery Tunnel). Police aggressively monitor these roads for speeding and other traffic violations.
Hiring a Brooklyn Speeding Ticket Lawyer
Never take a Brooklyn speeding ticket or other traffic ticket lightly! Instead, let an experienced traffic defense attorney evaluate the charges and offer a strong defense that will offer the best possible chance to avoid the fines and points. The best part is that, in most cases, those hiring legal representation will save themselves a trip to the courthouse.
Contact the Rosenblum Law Firm to assist you with your speeding ticket matter in Brooklyn/Kings County. We can offer you a free consultation about your case and have our attorneys fight on your behalf. Our attorneys have fought tickets at the Traffic Violations Bureau for clients from Bedford–Stuyvesant, Borough Park, Bushwick, Canarsie, Coney Island, Crown Heights, East Williamsburg, Flatbush, Gravesend, Greenpoint, New Utrecht, Park Slope, Prospect Park, and Williamsburg. Call 888-434-0406 or email Rosenblum Law today for a free consultation about your case.

Speeding Tickets in Other Boroughs of New York City