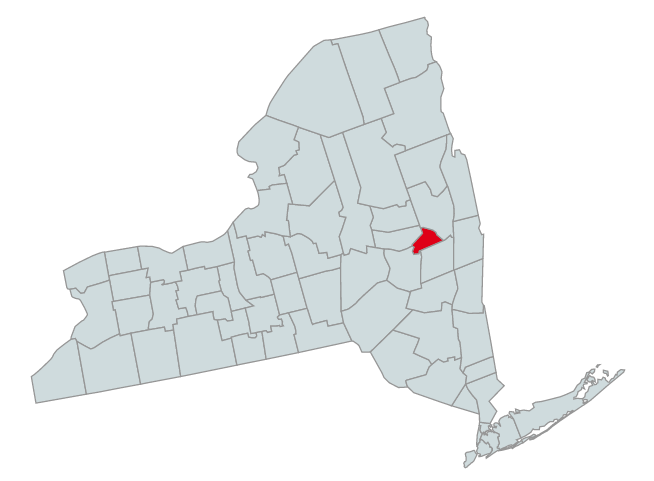 Schenectady County is considered part of the Albany metro area. The city of Schenectady is just 15 miles from the state capitol. General Electric was founded in the county and maintains major administrative offices there. Other major corporations, like Price Chopper Supermarkets, are headquartered in Schenectady.

Schenectady County is also a major arts and entertainment center in Upstate New York. The combination of business and culture means throngs of people live and work in the area. As such, Schenectady is the seventh-most population-dense NY county, after the boroughs of NYC. As such, police are vigilant for speeding and other driving infractions. Any ticketed for speeding in Schenectady County should contact an experienced traffic ticket attorney who can help reduce or eliminate the points and fines.

New York State Speeding Ticket Costs
Fines for speeding in Schenectady can range from $150 to $600—but this is not the final cost. A mandatory state surcharge of $88 or $93 also applies. Another cost kicks in when a driver reaches 6 or more points on his/her license: the DMV Driver Responsibility Assessment (DRA) fee. This is a separate fine paid directly to the DMV which costs $300 plus an additional $75 for each point over six. Drivers are also likely to pay several hundred dollars more per year following a speeding ticket conviction.
Speeding Tickets Data from Schenectady County, NY
Police wrote 6,560 speeding tickets in Schenectady County in 2018. While this is a lot, it is 11% fewer tickets than were issued in 2017. Moreover, its more than a third fewer tickets than were issued in 2009, the earliest data available from the DMV. Speeding tickets were distributed fairly consistently most days of the week in 2018, but Tuesday and Wednesday were slightly lighter days. August and September were the busiest months for speeding tickets in Schenectady last year, accounting for more than 20% of all tickets for the year. Nearly two-thirds of speeding tickets (63%) were issued by State Troopers.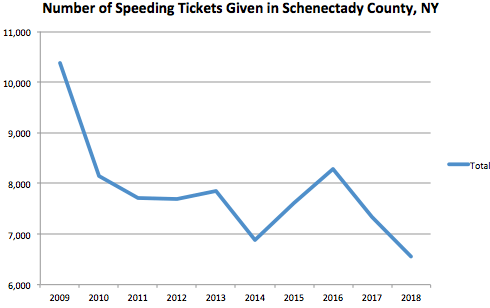 Number of Speeding Tickets Given in Schenectady County, NY
| Year | # of Speeding Tickets |
| --- | --- |
| 2009 | 10,389 |
| 2010 | 8,138 |
| 2011 | 7,706 |
| 2012 | 7,697 |
| 2013 | 7,841 |
| 2014 | 6,888 |
| 2015 | 7,604 |
| 2016 | 8,288 |
| 2017 | 7,344 |
| 2018 | 6,560 |
Drivers charged with speeding in Schenectady County should take the ticket to court. Be warned, however, that only about 5% of drivers were successful in beating a speeding ticket last year. However, with the help of a NY traffic ticket attorney, a driver has a good chance of successfully negotiating with prosecutors to reduce the charge, potentially lowering the fine, as well as avoiding points. This, in turn, can prevent a hike in insurance rates and reduce the risk of a DRA fee.

Schenectady County Geography and How It Relates to Traffic Tickets
Schenectady County sits at a crossroads for several major highways. The New York State Thruway (I-90) runs diagonally, northwest-southeast, through the county. Drivers can take I-88 from the city of Schenectady to I-81 in Binghamton. The local I-890 is an alternative to the Thruway, which bypasses the city and its suburbs to the southwest. Drivers can also take U.S. Route 20, which cuts through Schenectady on its path from Massachusetts to Buffalo.


Schenectady County is known throughout the state for its unique cultural venues and offerings. The county is home to the historic Proctors Theatre and other community theaters, as well as numerous, art galleries, museums, and historic sites. The heavily trafficked county means police are extra vigilant for speeding and other infractions by drivers from Schenectady as well as neighboring counties. 
Hiring a Schenectady County Speeding Ticket Lawyer
Any driver would be well advised to consult with an attorney to help fight a Schenectady County speeding ticket. An experienced traffic ticket attorney can evaluate the details of the case and offer a solid defense with the best chance of getting the charges dropped or reduced. Even better, when a person hires an attorney, he/she may not have to show up to court in person.Contact Rosenblum Law to assist you with your speeding ticket matter in Schenectady County. We can offer you a free consultation about your case and have our attorneys fight on your behalf. Our attorneys have represented clients in Schenectady County for both traffic and criminal matters, including those from the city of Schenectady, Duanesburg, Glenville, Niskayuna, Princetown, and Rotterdam. Call 888-434-0406 or email Rosenblum Law today for a free consultation about your case.
Speeding Ticket in Other Counties