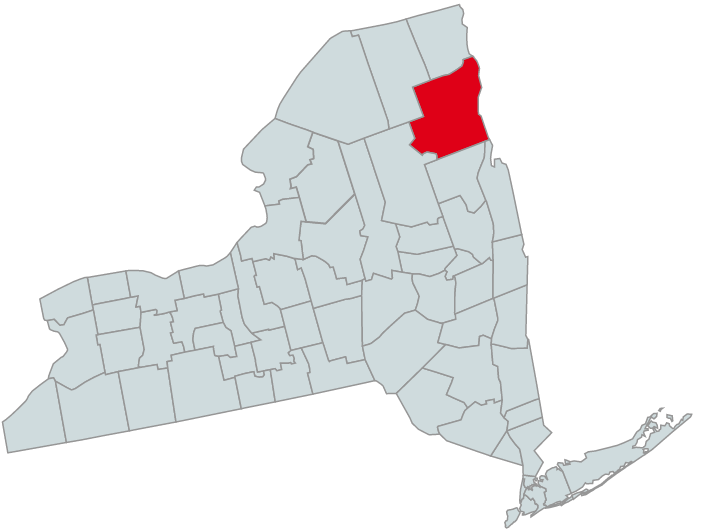 Essex County is bordered on the east by Lake Champlain, which serves as the New York-Vermont border. Essex County is a minor hub of high-tech, bio-medical and light industrial businesses. It is also home to the mountain village of Lake Placid, nestled in the Adirondacks, which hosted two Winter Olympics (1932 and 1980). Lake Placid remains a very attractive vacation spot for winter sports due to its vehicle-accessible high elevations and abundance of trails. It is also popular during the summer months for its lakeside spots and numerous golf courses.

Drivers ticketed for speeding in Essex County should fight the charges against them. The fine, points and other fees are often far higher than most expect. However, the prosecutors and judges can be tough and drivers will likely need the help of a skilled attorney in order to succeed.

New York State Speeding Ticket Costs
A driver with a speeding ticket in Essex County can usually expect a fine between $150 and $600. Unbeknownst to many, however, a mandatory state surcharge of $88 or $93 applies as well. Should the traffic ticket bring one's point total to 6 or more (which can happen with just one ticket), the DMV charges an additional fee called a Driver Responsibility Assessment (DRA). This is separate from the fine and costs $300 for the first 6 points plus $75 for each additional point. Most speeding tickets will also impact auto insurance premiums, costing several hundred dollars more per year for three or more years.

Speeding Ticket Data from Essex County, NY
In 2021, the number of speeding tickets issued in Essex County reached 4,495 tickets, the majority of which (95.6%) were handed out by state troopers. Only 31.5% of speeding tickets were given to female drivers in Essex County, whereas 68.5% of all speeding tickets were issued to male drivers. Additionally, more citations were given out on Fridays (914 tickets), Saturdays (886 tickets), and Sundays (764 tickets).
Moreover, police in Essex County issued the fewest proportion of tickets to drivers from New York State: less than 55%. By contrast, police wrote the second-largest percentage of speeding tickets to Canadians (4.8%), surpassing even Jefferson County (4.7%), which is home to a common Canadian border crossing. Only Clinton County, immediately to the north of Essex, ticketed Canadians at a higher rate (5.8%).
The summer of 2021 also saw the highest number of speeding tickets being issued to drivers: 534 tickets were issued in June, 446 tickets were issued in July, and 612 tickets were issued in August.
Contesting a speeding ticket in Essex County can be a daunting task. Only 2.5% of drivers were successful in getting their charges dismissed or acquitted. However, hiring an experienced traffic ticket attorney may improve these odds and result in lower (or no points) and no increase in auto insurance rates.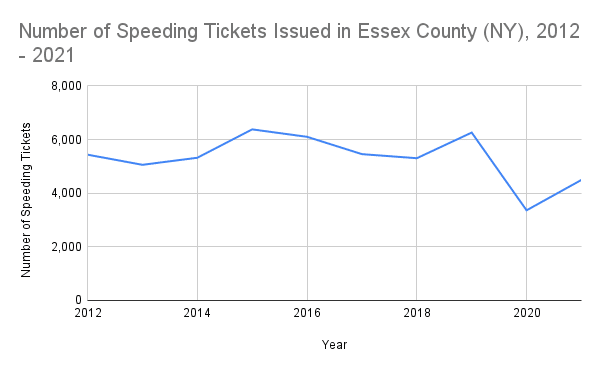 Number of Speeding Tickets Issued in Essex County (NY), 2012 – 2021
| | |
| --- | --- |
| Year | Number of Speeding Tickets |
| 2012 | 5,436 |
| 2013 | 5,058 |
| 2014 | 5,321 |
| 2015 | 6,379 |
| 2016 | 6,102 |
| 2017 | 5,456 |
| 2018 | 5,304 |
| 2019 | 6,260 |
| 2020 | 3,361 |
| 2021 | 4,495 |
Essex County Geography and How It Relates to Traffic Tickets
Essex County is the second-largest NY county by land area at 1,794 square miles, yet it has the third-smallest population (37,300) and is third-least population-dense county. However, it's popularity as a vacation spot means it has a fairly sizable amount of traffic, boasting about 1.6 million vehicle miles traveled each year. While some of this is tourism traffic, much of it may also be through-traffic on I-87 taking drivers to/from Clinton County and the Quebec border as well as points south. U.S. Route 9 runs nearly parallel to I-87 through much of Essex County. These factors, plus the location of four State Trooper substations (Crown Point, Lewis, Wilmington, and Ray Brook near Lake Placid) within the county mean cops are always on the lookout for speeders.
Hiring an Essex County Speeding Ticket Lawyer
Every driver ticketed for speeding in Essex County should consult with an experienced traffic ticket attorney to determine the best way to avoid or mitigate the consequences. An attorney is far more likely to succeed in negotiating with prosecutors to get the ticket reduced to a low- or no-point offense that won't impact one's insurance premiums. In addition, most drivers who hire a NY traffic ticket attorney do not have to appear in court in person.
Contact Rosenblum Law for help with your speeding ticket matter in Essex County. Our attorneys have represented clients in Essex County for both traffic and criminal matters, including those in Chesterfield, Crown Point, Elizabethtown, Essex, Jay, Keene, Lewis, Minerva, Moriah, Newcomb, North Elba, North Hudson, Schroon, St. Armand, Ticonderoga, Westport, Willsboro, Wilmington. Call 888-434-0406 or email Rosenblum Law today for a free consultation about your case.
Speeding Ticket in Other Counties