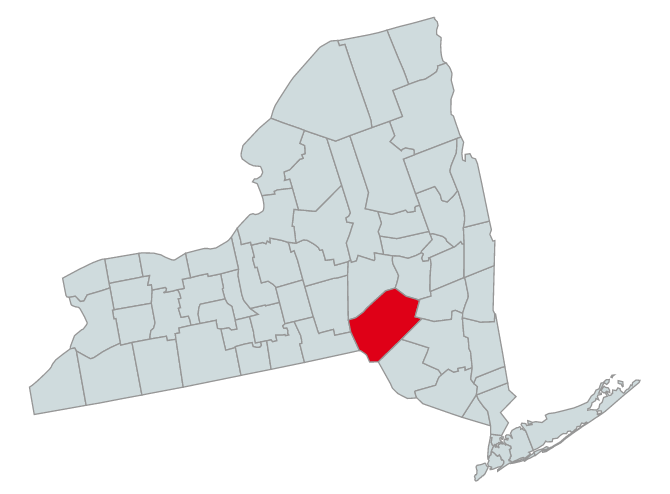 New York's Delaware County is named after the Delaware River, which separates the county from the state of Pennsylvania. It is the fifth-largest NY county by area at 1,467 square miles. With a population of 44,527, Delaware County is the 10th least populated NY county and the fifth-least population-dense. It is part of the Catskill Mountain area and attracts a moderate amount of outdoor tourism related to both the mountainous terrain and the river.

It would be wise to resist speeding in Delaware County. NYS speeding tickets can be shockingly expensive. Any driver ticketed for speeding in Delaware County should consult with an attorney who may be able to minimize or eliminate the penalties.

New York State Speeding Ticket Costs
A fine of $150 to $600 is just the beginning for New York State speeding tickets. Drivers must also pay a state surcharge of $88 or $93. Any time a driver reaches 6 points or more on his/her license (which can happen with a single speeding ticket), the DMV charges a Driver Responsibility Assessment (DRA) fee. This will add $300 for the first 6 points and $75 for each additional point to the total cost. In addition, once the insurance company notices the speeding ticket on a driver's record, his/her rates will likely go up by hundreds of dollars per year.
Speeding Tickets Data from Delaware County, NY
About 40% of all traffic tickets issued in Delaware County in the past 10 years are speeding tickets. The 5,667 speeding tickets written in the county in 2018 may not seem like a lot. However, it is the seventh-most speeding tickets of any NY county based on vehicle miles traveled (3.6 tickets per 1,000 VMT). About one in every 10 drivers ticketed for speeding in Delaware County last year also received tickets for other offenses during the same traffic stop. The most common was licensing violations, including driving without a valid license (21%) and driving on a suspended license (15%). While weekends are the most common time for speeding tickets statewide, police in Delaware County handed out almost 60% of all speeding tickets on Fridays, Saturdays, and Sundays last year.

Number of Speeding Tickets Given in Delaware County, NY
| Year | # of Speeding Tickets |
| --- | --- |
| 2009 | 5,884 |
| 2010 | 6,371 |
| 2011 | 6,162 |
| 2012 | 6,028 |
| 2013 | 5,876 |
| 2014 | 5,614 |
| 2015 | 6,812 |
| 2016 | 6,235 |
| 2017 | 6,611 |
| 2018 | 5,667 |
It is possible to fight a Delaware County speeding ticket. Beating a ticket entirely is not easy and just 2.8% of drivers were successful in doing so in the county in 2018. With the help of a skilled attorney, however, a driver has a far better chance of having the ticket reduced to a lesser charge that could minimize the fine and points associated with it.

Delaware County Geography and How It Relates to Traffic Tickets
Delaware County is the largest and most western of the four NY counties within the Catskill Mountains. The landscape is a blend of gentle mountains and beautiful river and reservoir valleys. Tourists come from all over to go canoeing, kayaking, skiing, horseback riding, hiking and more. In addition to the tourists, police also have to contend with students attending SUNY Delhi in the county and those visiting from SUNY Binghamton in neighboring Broome County. There's also a large amount of through-traffic in the county. NY Route 17, which is gradually being upgraded to become I-86, cuts through the bottom quarter of the county going east-west. In addition, I-88 briefly dips into the northern portion of Delaware County for several miles. Drivers can also take NY Route 28 (southeast-northwest) or NY Route 10 (southwest-northeast), which cross the county in an X-formation.

Hiring a Delaware County Speeding Ticket Lawyer
Fighting a speeding ticket is always the right decision. Before heading to court, however, a driver should first consult with an experienced traffic ticket attorney. The lawyers at Rosenblum Law can assist you with your speeding ticket matter in Delaware County. We can offer you a free consultation about your case and have our attorneys fight to reduce the penalties. In most cases, you may not even need to come to court. Our attorneys have represented clients in Delaware County for both traffic and criminal matters, including those from Andes, Bovina, Colchester, Davenport, Delhi, Deposit, Franklin, Hamden, Hancock, Harpersfield, Kortright, Masonville, Meredith, Middletown, Roxbury, Sidney, Stamford, Tompkins, and Walt. Call 888-434-0406 or email Rosenblum Law today for a free consultation about your case.
Speeding Ticket in Other Counties