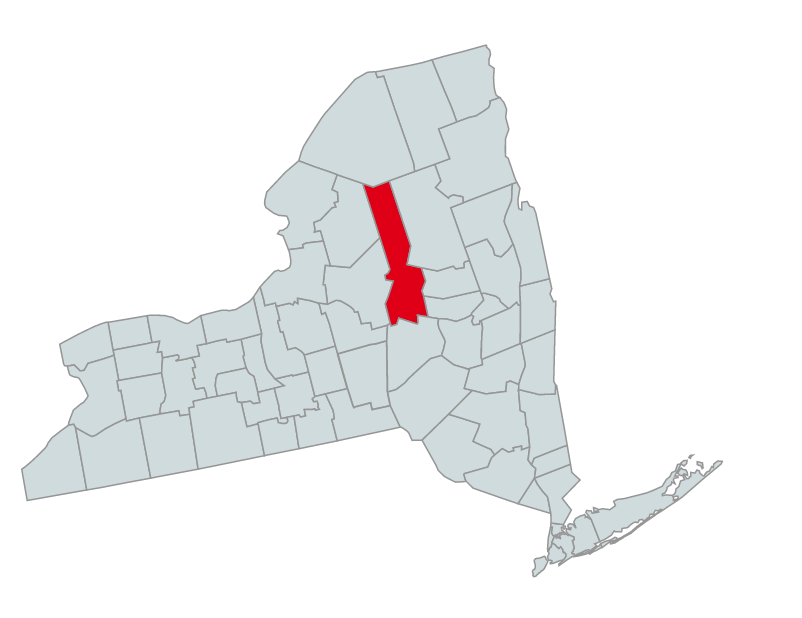 At 1,458 square miles, Herkimer County is the sixth-largest county in New York State by land area. However, its population of 61,833 makes it the eighth-least population dense, with less than 45 people per square mile. Part of the reason for the county's large side is that the northern part of the county is in the Adirondack Park. The majority of small towns and villages reside in the south. Herkimer County is known as the sole source of "Herkimer diamonds," which are a rare and coveted type of double-terminated quartz crystals. The Village of Ilion is home to one of two manufacturing sites for the Remington Arms Company.

Both locals and visitors to Herkimer County need to be on the lookout for police, who are eager to ticket drivers for speeding and other traffic tickets. No one should ever pay a speeding ticket from Herkimer County! The points and fines are often much higher than expected. Instead, one should hire an attorney to fight the underlying charges.
New York Speeding Ticket Costs
Speeding tickets issued in Herkimer County can cost between $150 to $600. Drivers are also required to pay a NYS surcharge of $88 or $93. If the speeding ticket brings one's point total to 6 or more, then he/she must pay a DMV Driver Responsibility Assessment (DRA) fee. A DRA costs $300 for the first 6 points and $75 for each additional point. (Note: A single ticket for driving 21 mph over the limit is worth 6 points alone!) Whenever a driver pays a speeding ticket, his/her insurance rates can go up by several hundred dollars per year as well.

Speeding Tickets Data from Herkimer County, NY
Police in Herkimer County wrote 7,599 speeding tickets in 2018, the most speeding tickets in the 10 years of data available. Most years, speeding tickets comprise roughly 40% of all traffic tickets issued by police. More than 20% of all speeding tickets were written in June and August of 2018. Fridays and Saturdays were the most common days for drivers to get speeding tickets. Mondays are typically light days. Approximately 85% of speeding tickets issued were issued by State Troopers last year. County police were pretty lenient on drivers in 2018, writing just one speeding ticket all year.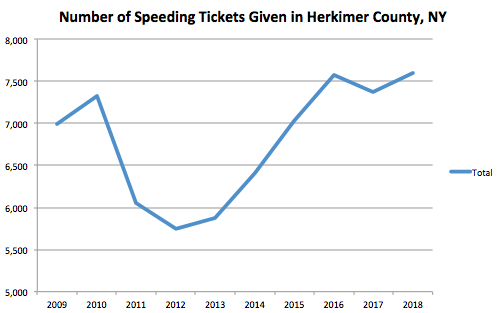 Number of Speeding Tickets Given in Herkimer County, NY
| Year | # of Speeding Tickets |
| --- | --- |
| 2009 | 6,991 |
| 2010 | 7,325 |
| 2011 | 6,051 |
| 2012 | 5,747 |
| 2013 | 6,411 |
| 2014 | 6,411 |
| 2015 | 7,031 |
| 2016 | 7,570 |
| 2017 | 7,377 |
| 2018 | 7,599 |
Judges in Herkimer County, however, are not lenient on drivers. Of those who challenged their speeding tickets in 2018, only 3.3% were able to beat the charge. That doesn't mean drivers should just give up and pay. Instead, it is best to hire a skilled traffic ticket attorney who can negotiate with prosecutors to reduce the ticket to a lesser offense with fewer or no points and which won't impact one's insurance rates. 

Herkimer County Geography and How It Relates to Traffic Tickets
Herkimer County is long and thin, with the bulk of its territory running in the north-south direction. Its villages and towns are broken up by the Adirondacks and many other state parks. To get from Little Falls to the tourist town of Old Forge requires taking state routes out through neighboring counties, such as Oneida and Lewis to the west and Hamilton to the east. Either route takes more than one hour. The New York State Thruway (I-90) runs east-west through the south. The Southern Adirondack Trail is a 112-mile scenic route that passes through historic towns and picturesque scenery in Herkimer and other neighboring counties. State and local police monitor the highways and local roads for tourists and others who may be cruising through scenic roads or on the way to or from various tourist attractions.

Hiring a Herkimer County Speeding Ticket Lawyer
A speeding ticket can feel like a catch-22: paying the ticket incurs points and heavy fines, yet refusing to pay the ticket can result in even worse consequences. Thankfully, a third option exists: By hiring an experienced traffic ticket attorney, the driver can rest assured that he/she has the best chance of reducing the fines and points. Even better, a person who hires an attorney may not be required to come to court in person.

If you received a speeding ticket in Herkimer County, contact Rosenblum Law. Our traffic ticket attorneys represent clients in Columbia, Danube, Fairfield, Frankfort, German Flatts, Herkimer, Litchfield, Little Falls, Manheim, Newport, Norway, Ohio, Russia, Salisbury, Schuyler, Stark, Warren, Webb, and Winfield. Call 888-434-0406 or email Rosenblum Law today for a free consultation about your case.
Speeding Ticket in Other Counties