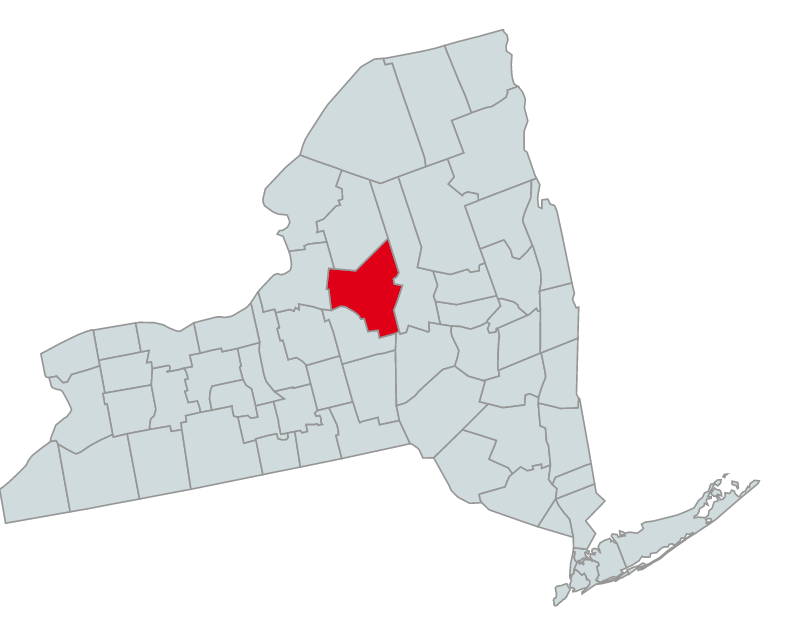 With a population of 230,163, Saratoga County is the fastest-growing county in Upstate NY. It is considered part of the Capital District metro area around the city of Albany. Its rapid growth is partly contributed to its rapid rise as a center for advanced technology hardware development. The county is also known for the Saratoga Race Course, a 150-year-old thoroughbred race track. Saratoga County serves as the southern gateway to the Adirondack Park, the largest park in the continental U.S.
New York Speeding Ticket Costs
Saratoga County speeding tickets can be very expensive. A typical fine can cost between $150 to $600, sometimes more. In addition, drivers are required to pay a NYS surcharge of $88 or $93. There's also a possible DMV Driver Responsibility Assessment (DRA) fee, which applies whenever a driver reaches 6 or more points on his/her license (Note: A single speeding ticket for going 21 mph over the limit is worth 6 points alone). A DRA costs $300 plus $75 for each point over 6. Drivers can also expect their auto insurance rates to go up by several hundred dollars per year after paying a speeding ticket.

Speeding Ticket Data from Saratoga County, NY
In 2021, drivers in Oneida County received a total of 8,043 speeding tickets, making up 23% of the total traffic tickets given out in the county. Similar to the rest of the state, the majority of individuals cited for speeding were men, accounting for 63.3% of the total. Only 36.7% were issued to women. Notably, the months of July (763 tickets) and August (982 tickets) saw heightened police activity in ticketing drivers.
As in other counties, law enforcement officers in Oneida gave out the most speeding tickets to licensed New York state drivers (94.2%). A much smaller percentage of speeding tickets were issued to drivers from other states (3.7%), Canadians (1.2%), and drivers from other areas (0.9%).
Oneida County has one of the highest rates for dismissed/acquitted offenses (38.5%). Drivers should hire a skilled traffic ticket attorney to help them with any speeding ticket matter if they want their offense adjudicated. An attorney can negotiate to reduce the ticket to a lesser offense that will carry fewer or no points and have a minimal (if any) impact on one's insurance rates.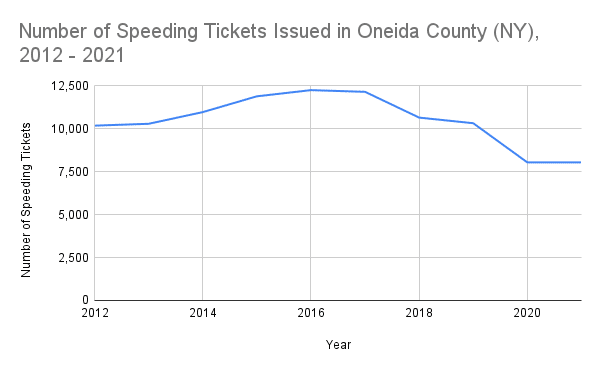 Number of Speeding Tickets Issued in Oneida County (NY), 2012 – 2021
| | |
| --- | --- |
| Year | Number of Speeding Tickets |
| | |
| 2012 | 10,186 |
| 2013 | 10,293 |
| 2014 | 10,973 |
| 2015 | 11,894 |
| 2016 | 12,254 |
| 2017 | 12,155 |
| 2018 | 10,654 |
| 2019 | 10,326 |
| 2020 | 8,043 |
| 2021 | 8,043 |
Oneida County Geography and How It Relates to Traffic Tickets
Visitors come to Oneida County year-round. In the warmer months, they enjoy its miles of hiking and biking trails, as well as the beaches along Oneida Lake. In the winter, tourists come for snowmobiling, cross-country skiing, and snowshoeing. The county also hosts a number of students attending SUNY Polytechnic Institute and Utica College. Drivers heading into or through Oneida County often take I-90, which cuts through the southern third of the county just north of Utica and south of Rome. Police watch I-90 and other major roadways in the county with an eye on students, tourists and locals alike to ensure that traffic laws are obeyed.
Hiring an Oneida County Speeding Ticket Lawyer
Never give up and pay a speeding ticket in Oneida County. It is far better to hire an experienced traffic ticket attorney. An attorney offers the best possible chance of beating a ticket or getting it reduced to a lesser offense. In most cases involving speeding, an attorney can appear in lieu of the client, meaning the driver does not have to appear in person. Contact Rosenblum Law for help with your speeding ticket matter in Oneida County. We can offer you a free consultation about your case and have our attorneys fight on your behalf. Our attorneys have represented clients in Oneida County for both traffic and criminal matters, including those in Annsville, Augusta, Ava, Boonville, Bridgewater, Camden, Deerfield, Florence, Floyd, Forestport, Kirkland, Lee, Marcy, Marshall, New Hartford, Paris, Remsen, Rome, Sangerfield, Sherrill, Steuben, Trenton, Utica, Vernon, Verona, Vienna, Western, Westmoreland, and Whitestown. Call 888-434-0406 or email Rosenblum Law today for a free consultation about your case.
Speeding Ticket in Other Counties