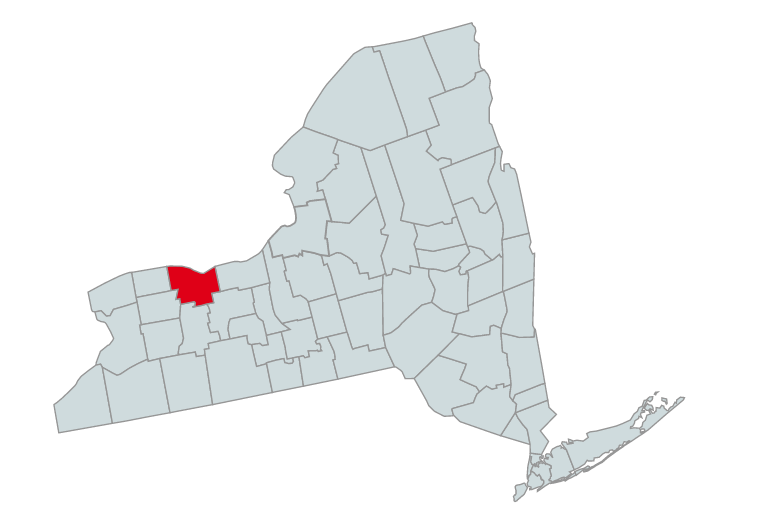 Located along the southern coast of Lake Ontario, Monroe County is the birthplace of many international businesses including, Eastman Kodak, Bausch & Lomb, Paychex, Pictometry International, and Xerox. Many of these businesses are located around the city of Rochester, which is the third-most populous city in New York State. Rochester's 208,000 residents make up more than a quarter of the entire county population.

Drivers cited for speeding in Rochester or any other part of Monroe County should consult with an experienced traffic ticket attorney before paying the ticket. Speeding tickets in Monroe County carry many hidden costs and an attorney can fight to get the fines and other penalties reduced.

New York State Speeding Ticket Costs
Those ticketed for speeding in Monroe County can expect to pay between $150 and $600. Those who give up and pay are often surprised to be charged a mandatory state surcharge of $88 (if ticketed in Rochester) or $93 (in a town/village). All NY speeding tickets also carry between 3 and 11 points. If the ticket brings the point total to 6 or more, the driver will have to pay a Driver Responsibility Assessment (DRA) fee. This is a separate fine paid directly to the DMV and costs $300 plus an additional $75 for each point over six. In addition, paying a speeding ticket nearly ensures one's insurance rates will go up, often by several hundred dollars per year.

Speeding Ticket Data from Monroe County, NY
In 2021, a total of 12,291 speeding tickets were issued by the police in Monroe County. Interestingly, nearly 26% of the drivers who received speeding tickets were also hit with "companion tickets" for other violations during these traffic stops.
Among these additional offenses, licensing violations were the most prevalent, constituting almost one-third of all companion tickets issued in Monroe County. The primary licensing violations were related to driving with an expired license (V&T 509). Following closely behind were instances of driving without a motor vehicle inspection (V&T 301) and driving without a valid motor vehicle registration (V&T 401). Also, Mondays (15.2%) and Wednesdays (15.9%) were the days when speeding tickets were most frequently issued to drivers in Monroe County in 2021.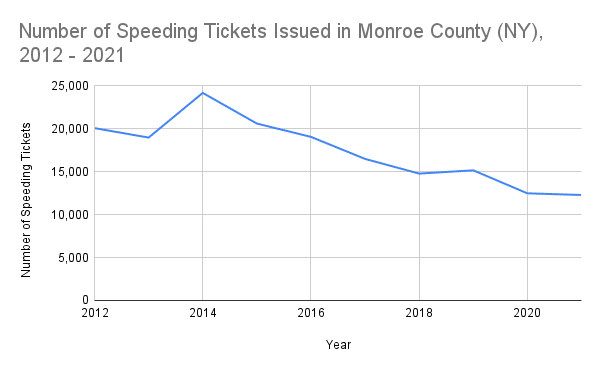 Number of Speeding Tickets Issued in Monroe County (NY), 2012 – 2021
| | |
| --- | --- |
| Year | Number of Speeding Tickets |
| 2012 | 20,080 |
| 2013 | 18,979 |
| 2014 | 24,185 |
| 2015 | 20,614 |
| 2016 | 19,061 |
| 2017 | 16,494 |
| 2018 | 14,786 |
| 2019 | 15,163 |
| 2020 | 12,485 |
| 2021 | 12,291 |
Prior to 2021, residents in some cities in Monroe County were required to contest their tickets in the Traffic Violations Bureau, a division of the DMV responsible for judicial matters. Fortunately, the Rochester TVB has since been disbanded, and now drivers have the opportunity to dispute speeding tickets at the newly established Traffic Violations Agency, which operates in a manner similar to conventional traffic courts.
Despite this change, the success rate of beating speeding tickets in Monroe County remains quite low, with only a small percentage of drivers (10.6%) achieving favorable outcomes. Nevertheless, it is still possible to negotiate tickets for lesser offenses with reduced or no points, particularly with the assistance of an experienced traffic ticket attorney.
Monroe County Geography and How It Relates to Traffic Tickets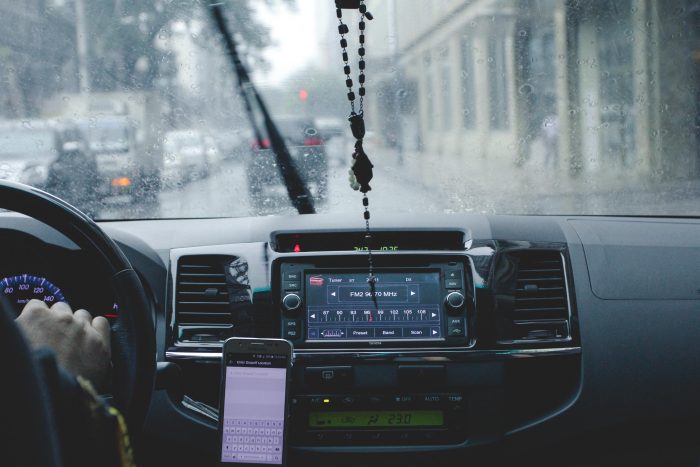 Monroe County is one of several NY counties along the Canadian border. However, unlike nearby Erie County, Monroe does not contain any border crossings, so the police rarely ticket Canadian drivers. Instead, more than 90% of speeding tickets are given to fellow New Yorkers. Many of these are issued by State Troopers on some of the numerous highways that crisscross the county, including The New York State Thruway (I-90), I-390, I-490, I-590, and the Lake Ontario State Parkway. The county's high latitude, combined with lake-effect winds make for chilly, snowy winters, which likely contributes to the slightly higher-than-average proportion of tickets for imprudent speed (3.8%).
Hiring a Monroe County Speeding Ticket Lawyer
Whether you live in Monroe County, are a student in one of its nine colleges or universities, or were visiting for business or pleasure, a speeding ticket can be very unsettling. Thankfully, one can hire an experienced traffic ticket attorney, who can fight to get the fines and points reduced or eliminated. By hiring an attorney to fight your speeding ticket, the driver most likely will not have to attend traffic court in person. Contact Rosenblum Law to assist you with your speeding ticket matter in Monroe County. We can offer you a free consultation about your case and have our attorneys fight on your behalf. Our attorneys have represented clients in Monroe County for both traffic and criminal matters, including those in Rochester, Brighton, Chili, Clarkson, East Rochester, Gates, Greece, Hamlin, Henrietta, Irondequoit, Mendon, Ogden, Parma, Penfield, Perinton, Pittsford, Riga, Rush, Sweden, Webster, and Wheatland. Call 888-434-0406 or email Rosenblum Law today for a free consultation about your case.
Speeding Ticket in Other Counties