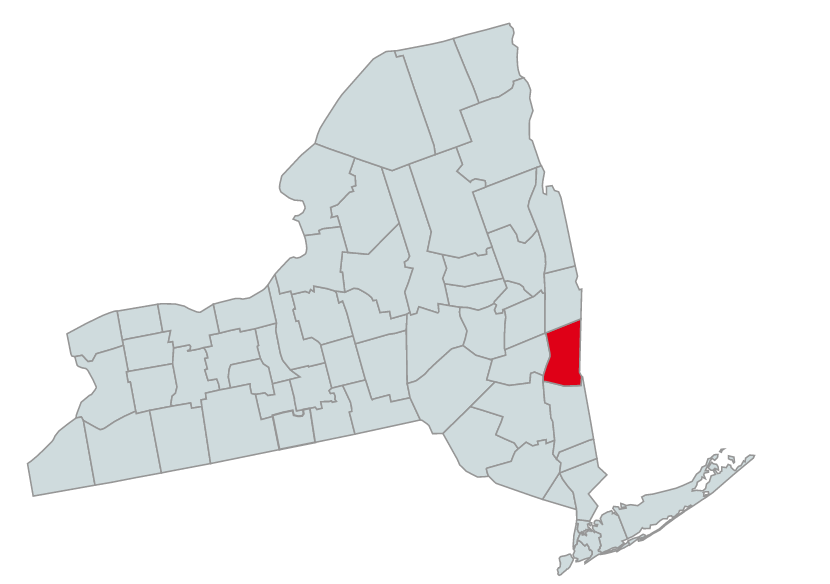 Among the more sparsely populated counties in New York State, Columbia County boasts a population of just 59,916 spread across 636 square miles. It is one of several NY counties bordered by the Hudson River on the west and Massachusetts on the east. The region is dotted with small towns and copious farmland. Local farms provide the area with fresh meat, eggs, herbs, and produce. As such, Columbia County is a hidden gem for foodies in New York and neighboring Massachusetts.

Drivers should avoid eating the cost of a speeding ticket issued in Columbia County, however. Most NY speeding tickets are far more expensive than they may seem at first glance. Instead, one should consult with an experienced traffic ticket attorney to determine the best chance of beating the fine, points, and other consequences that come with a conviction.

New York State Speeding Ticket Costs
Speeding tickets in Columbia County can vary in cost, but most run between $150 and $600. A mandatory state surcharge of $88 or $93 applies as well. If the driver pays the ticket (or is convicted in court) between 3 and 11 points will be assessed on his/her license. Whenever a traffic ticket brings one's point total to 6 or more, an additional fee called a Driver Responsibility Assessment (DRA) is charged to the driver. This is a separate fine that is paid directly to the DMV and costs $300 for the first 6 points plus $75 for each additional point. A speeding ticket conviction also nearly ensures one's insurance rates will go up by several hundred dollars per year.

Speeding Ticket Data from Columbia County, NY
Despite its low population density, Columbia County issued quite a number of speeding tickets in 2021. Law enforcement agencies handed out 11,082 that year, which accounted for 46.7% of all traffic tickets issued in the county. The state police issued the most speeding tickets in the same year (81%), the county police were responsible for 12.8%, and other local law enforcement agencies ticketed 6.2% of the speeding tickets.
In 2021, Columbia County saw the most speeding tickets being issued on Sundays, with nearly 21% of the total written to drivers on that day. Officers also issued many tickets on the weekends, as they gave out 18.7% and 20% of speeding tickets on Fridays and Saturdays, respectively. 
Number of Speeding Tickets Issued in Columbia County (NY), 2012 – 2021
| | |
| --- | --- |
| Year | Number of Speeding Tickets |
| 2012 | 9,120 |
| 2013 | 8,020 |
| 2014 | 8,025 |
| 2015 | 8,692 |
| 2016 | 8,989 |
| 2017 | 8,581 |
| 2018 | 10,746 |
| 2019 | 12,455 |
| 2020 | 10,888 |
| 2021 | 11,082 |
Columbia County Geography and How It Relates to Traffic Tickets
Two limited-access highways run through Columbia County. The Taconic State Parkway moves north and south through the center of the county. It ends at an interchange with I-90 to the north. Columbia is the west-most county on the I-90, which has just two exits within the county; one for the southbound Taconic State Parkway in Chatham, and for N.Y. Route 22 in Canaan. Travel through the county is also serviced by U.S. Route 9, N.Y. Route 23 and N.Y. Route 22.


Police are highly active on Columbia County's highways, watching for both tourists and those passing through to other areas of New York. Drivers coming from Massachusetts and other nearby states are likely to catch the eye of police when speeding; 30% of Columbia County speeding tickets in 2018 went to drivers from out of state.
Hiring a Columbia County Speeding Ticket Lawyer
Drivers ticketed for speeding in Columbia County should consult with an experienced traffic ticket attorney before paying a speeding ticket. In most cases, an attorney can negotiate with prosecutors to get the ticket reduced to a low- or no-point offense that won't impact one's insurance premiums. In many cases, a driver who hires a NY traffic ticket attorney may not have to appear in person—a huge relief to out-of-state drivers. Contact Rosenblum Law for help with your speeding ticket matter in Columbia County. We can offer you a free consultation about your case and have our attorneys fight on your behalf. Our attorneys have represented clients in Columbia County for both traffic and criminal matters, including those in Ancram, Austerlitz, Canaan, Chatham, Claverack, Clermont, Copake, Gallatin, Germantown, Ghent, Greenport, Hillsdale, Hudson, Kinderhook, Livingston, New Lebanon, Stockport, Stuyvesant, and Taghkanic. Call 888-434-0406 or email Rosenblum Law today for a free consultation about your case.
Speeding Ticket in Other Counties