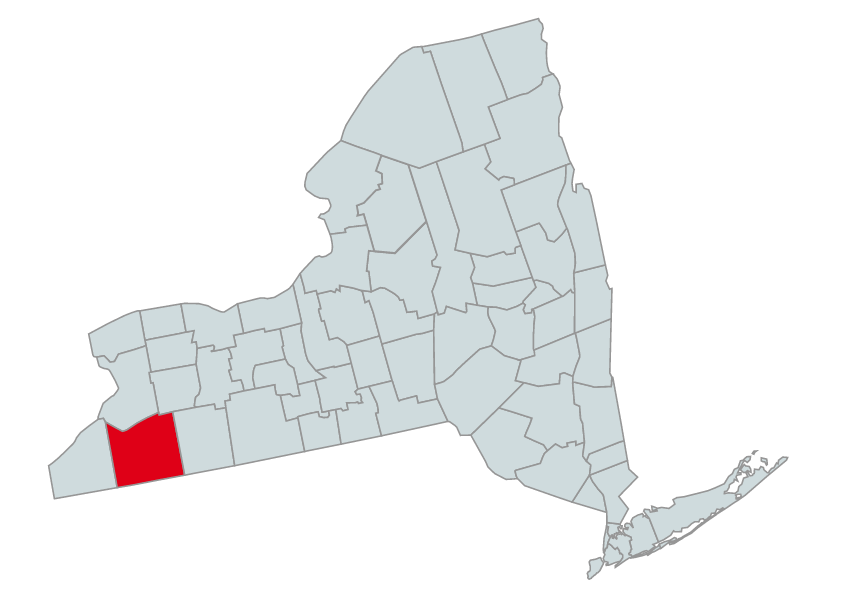 Cattaraugus County is considered part of Appalachia, as well as Western New York. It's also classified as part of Upstate New York and the Buffalo-Niagara Falls metropolitan area.
Cattaraugus is located in the Southern Tier of the state, bordered by Pennsylvania on the south. It is home to Allegany State Park, the largest state park in New York, and the Allegany Indian Reservation of the Seneca Nation of New York.

Cattaraugus County is often called the Enchanted Mountains, although, aside from Mount Seneca and Mount Tuscarora, most of its geographic peaks are hills.

A driver should never pay a speeding ticket from Cattaraugus County. The costs can be far higher than expected. Instead, he/she should contact an experienced traffic ticket attorney to fight to reduce or eliminate the penalties.

New York State Speeding Ticket Costs
Paying a speeding ticket in Cattaraugus means incurring many unexpected costs. Fines of $150 to $600 are just the beginning. A mandatory state surcharge of $88 or $93 can be tacked on as well. If the ticket puts the total number of points on the license at 6 or more, then a DMV Driver Responsibility Assessment (DRA) fee also applies. This costs $300 plus an additional $75 for each point over six. On top of this, a driver can see an increase in insurance premiums, which can last for 36 months or more after the speeding ticket appears on the driving record.
Speeding Tickets Data from Cattaraugus County, NY
Police wrote 6,513 speeding tickets in Cattaraugus County in 2018. This is just a bit more than the number of speeding tickets written in 2017 (6,439). However, it is part of a 10-year trend of rising speeding tickets in the county; 2018's figure is 19% greater than the number of tickets issued in 2009 (5,455). Last year speeding accounted for 32.5% of all traffic tickets in Cattaraugus County. Weekends were the worst days to be driving in Cattaraugus County in 2018, as 36% of tickets were written on Saturday or Sunday.

Fighting a speeding ticket can be challenging. In Cattaraugus, only 3.8% of tickets resulted in a dismissal last year. But those who hire a traffic ticket attorney have better odds. An attorney can negotiate with prosecutors to have the charges reduced, potentially lowering the points and fine.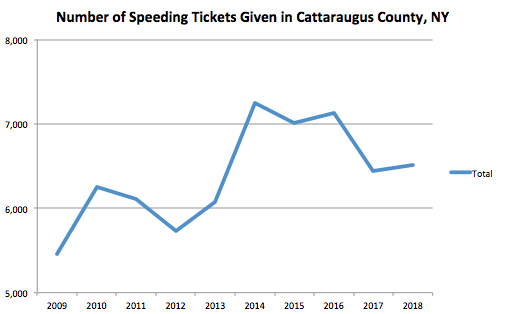 Number of Speeding Tickets Given in Cattaraugus County, NY
| Year | # of Speeding Tickets |
| --- | --- |
| 2009 | 5,455 |
| 2010 | 6,252 |
| 2011 | 6,111 |
| 2012 | 5,734 |
| 2013 | 6,077 |
| 2014 | 7,247 |
| 2015 | 7,000 |
| 2016 | 7,132 |
| 2017 | 6,439 |
| 2018 | 6,513 |
Cattaraugus County Geography and How It Relates to Traffic Tickets
Drivers can take I-86, also called the Southern Tier Expressway, into and out of Cattaraugus County east-west. U.S. Route 219 runs north-south, taking drivers to and from Pennsylvania and other points south, as well as to and from Erie County and other points north. College students drive in Cattaraugus to attend the Salamanca campus of Jamestown Business College, as well as St. Bonaventure University just west of Olean. Cornplanter College, a tribally controlled college, opened in 2014 in Salamanca.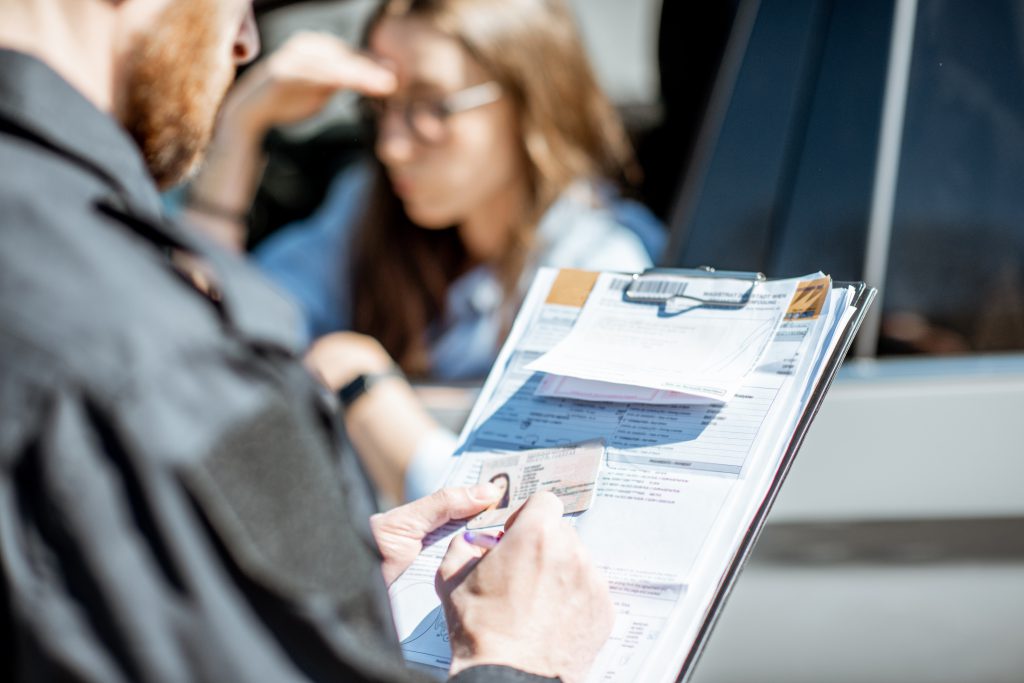 Between locals, college students and tourists, police have their hands full watching the roads for speeding. State Troopers are among the most aggressive, writing 71% of all speeding tickets last year. Almost half (45.4%) of drivers were from out of state or Canada.

Hiring a Cattaraugus County Speeding Ticket Lawyer
A New York speeding ticket is a serious problem. Any driver would be well advised to consult with an attorney to get the charges reduced or dropped. In most speeding ticket cases, a person who hires an attorney may not have to show up to court in person.
Contact Rosenblum Law to assist you with your speeding ticket matter in Cattaraugus County. We can offer you a free consultation about your case and have our attorneys fight to reduce the penalties. Our attorneys have represented clients in Cattaraugus County for both traffic and criminal matters, including those from Allegany, Ashford, Carrollton, Coldspring, Conewango, Dayton, East Otto, Ellicottville, Farmersville, Franklinville, Freedom, Great Valley, Hinsdale, Humphrey, Ischua, Leon, Little Valley, Lyndon, Machias, Mansfield, Napoli, New Albion, Olean, Otto, Perrysburg, Persia, Portville, Randolph, Red House, Salamanca, South Valley, and Yorkshire. Call 888-434-0406 or email Rosenblum Law today for a free consultation about your case.
Speeding Ticket in Other Counties