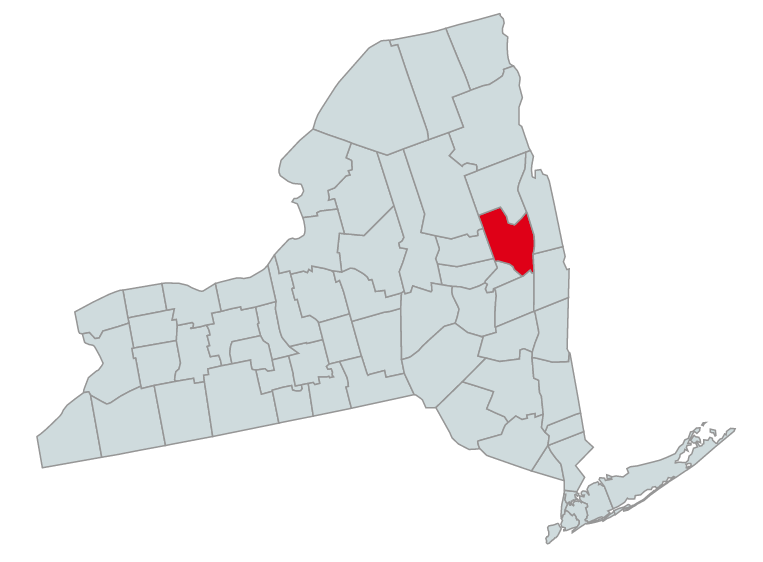 With a population of 230,163, Saratoga County is the fastest growing county in Upstate NY. It is considered part of the Capital District metro area around the city of Albany. Its rapid growth is partly contributed to its rapid rise as a center for advanced technology hardware development. The county is also known for the Saratoga Race Course, a 150-year-old thoroughbred race track. Saratoga County serves as the southern gateway to the Adirondack Park, the largest park in the continental U.S.
New York Speeding Ticket Costs
Saratoga County speeding tickets can be very expensive. A typical fine can cost between $150 to $600, sometimes more. In addition, drivers are required to pay a NYS surcharge of $88 or $93. There's also a possible DMV Driver Responsibility Assessment (DRA) fee, which applies whenever a driver reaches 6 or more points on his/her license (Note: A single speeding ticket for going 21 mph over the limit is worth 6 points alone). A DRA costs $300 plus $75 for each point over 6. Drivers can also expect their auto insurance rates to go up by several hundred dollars per year after paying a speeding ticket.

Speeding Ticket Data from Saratoga County, NY
Despite its rapidly rising population, speeding tickets in Saratoga County have been trending down. In 2018, drivers received 10,543 speeding tickets in Saratoga County. This is a 17% decline from the number of speeding tickets issued in 2017 and a 30% drop from the number written in 2009, the earliest date for which data was available. As is the case in most of the state, the majority of those ticketed for speeding were men (62.7%). Police were most aggressive in ticketing drivers during the months of June (1,133 tickets) and September (1,077 tickets) that year.

Of those who got speeding tickets in 2018, only 4.5% were able to beat the ticket in court. That's why drivers should hire a skilled traffic ticket attorney to help them with any speeding ticket matter. An attorney can negotiate to reduce the ticket to a lesser offense that will carry fewer or no points and have a minimal (if any) impact on one's insurance rates.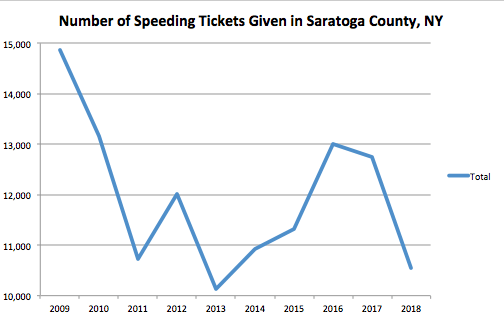 Number of Speeding Tickets Given in Saratoga County, NY
2009
14,870
2010
13,164
2011
10,725
2012
12,014
2013
10,128
2014
10,933
2015
11,321
2016
13,010
2017
12,738
2018
10,543
Number of Speeding Tickets Given in Saratoga County, NY
| Year | # of Speeding Tickets |
| --- | --- |
| 2009 | 14,870 |
| 2010 | 13,164 |
| 2011 | 10,725 |
| 2012 | 12,014 |
| 2013 | 10,128 |
| 2014 | 10,933 |
| 2015 | 11,321 |
| 2016 | 13,010 |
| 2017 | 12,738 |
| 2018 | 10,543 |
Saratoga County Geography and How It Relates to Traffic Tickets
The Adirondack Northway (I-87) cuts through the middle of Saratoga County. It is the major traffic artery connecting the county to the state capitol and vice versa. The roadway is the most heavily trafficked in Saratoga during the months of July and September when the Saratoga Race Course is open. In addition to horse racing, many tourists also come to Saratoga County to visit the Saratoga Spa State Park, a natural mineral spring resort featuring mineral baths, as well as picnic areas and hiking trails.

The heavy amount of tourism means Saratoga County is one of the more trafficked counties in New York State, with approximately 7.3 million vehicle miles traveled annually. Police watch the roads for visitors and locals alike who may be speeding or committing other traffic violations.

Hiring a Saratoga County Speeding Ticket Lawyer
There's no reason for a driver to accept the fines, points, and insurance increase that can come with a speeding ticket in Saratoga County. Drivers can and should fight the charge and either win a dismissal or negotiate a reduction in fines and points. An experienced traffic ticket attorney can provide a solid defense based on the facts of the case, potentially reducing the fines and points. For most speeding ticket matters, a person who hires an attorney is not required to come to court in person. If you received a speeding ticket in Saratoga County, contact Rosenblum Law. Our traffic ticket attorneys represent clients in Ballston, Charlton, Clifton Park, Corinth, Day, Edinburg, Galway, Greenfield, Hadley, Halfmoon, Malta, Mechanicville, Milton, Moreau, Northumberland, Providence, Saratoga Springs, Stillwater, Waterford, and Wilton. Call 888-434-0406 or email Rosenblum Law today for a free consultation about your case.

Speeding Ticket in Other Counties