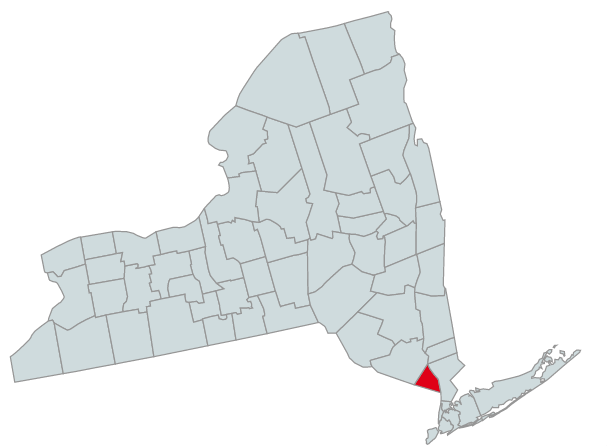 Situated just north of the New York-New Jersey border, Rockland County covers an area of 174 square miles, about one-third of which is comprised of national parks. Rockland County is the smallest NY county by land area, excluding those that comprise NYC. Rockland County is so named for its rocky and mountainous geography. However, the county also boasts many waterways, including Mahwah River, Rockland and DeForest lakes, and Lake Sebago; the Hudson River marks the county's eastern border.

A driver who is ticketed for speeding in Rockland County should consult with an attorney before paying it. NY speeding tickets carry many hidden costs. An attorney can assess the circumstances of the ticket to help the driver avoid some or most of these costs.

New York State Speeding Ticket Costs
Initial fines for speeding in Rockland County range from $150 to $600, sometimes higher. But the fine is only part of the cost. Each citation also comes with a NYS surcharge of $88 or $93. Moreover, anyone who gets 6 or more points on their license will also be required to pay a DMV Driver Responsibility Assessment (DRA) fee. This is a separate fine that costs $300. Each point over 6 costs an additional $75. A single speeding ticket can also result in hundreds of dollars in insurance premiums increases, which typically last for three years or more.
Speeding Ticket Data from Rockland County, NY
A total of 10,816 drivers got speeding tickets in Rockland County in 2021. The majority of these tickets were issued to drivers holding New York driver's licenses. However, approximately a quarter of the tickets were handed out to out-of-state drivers, primarily from the Northeast Region.
Surprisingly, around 26.6% of drivers who received speeding tickets were also issued "companion tickets" for other offenses during the same traffic stop, making it one of the top counties for citing drivers for multiple violations in 2021. The most common additional offenses included licensing violations such as driving without a license, equipment violations, and driving without a motor vehicle registration.
While it is common for most counties to issue more speeding tickets to male drivers than to female drivers, the Rockland police department stands out by issuing a considerably lower proportion of tickets to women (only 25.9% of the total number of speeding tickets).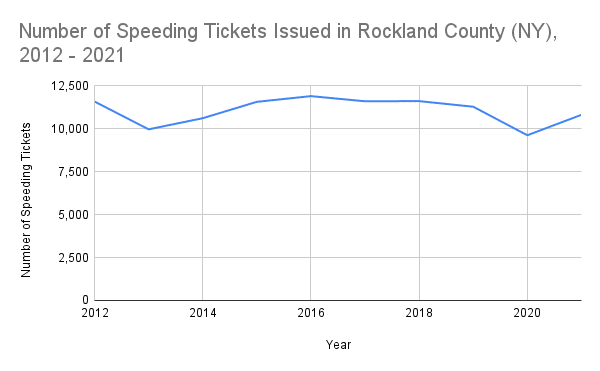 Number of Speeding Tickets Issued in Rockland County (NY), 2012 – 2021
| | |
| --- | --- |
| Year | Number of Speeding Tickets |
| 2012 | 11,588 |
| 2013 | 9,971 |
| 2014 | 10,618 |
| 2015 | 11,573 |
| 2016 | 11,905 |
| 2017 | 11,604 |
| 2018 | 11,614 |
| 2019 | 11,287 |
| 2020 | 9,625 |
| 2021 | 10,816 |
Rockland County Geography and How It Relates to Traffic Tickets
Rockland County is connected to Westchester County across the Hudson River by the Governor Mario M. Cuomo Bridge (formerly known as the Tappan Zee Bridge). The largest throughway in the county is I-87/287, which connects to the Garden State Parkway. The Palisades Parkway also is a major commuter route for drivers in Rockland County heading to New York City or vice versa. State and county police monitor these roads for speeding and other traffic violations.

Police also keep an eye on those visiting the Palisades Center in Rockland County, one of America's largest shopping malls and an attractive destination for drivers from both New York and New Jersey.
Hiring a Rockland County Speeding Ticket Lawyer
No one should accept the consequences of a speeding ticket in Rockland County. An experienced traffic defense attorney can assess the charges and offer a defense that will mitigate the fines and exposure to points. In fact, if a driver hires legal representation he/she may not have to show up to court themselves. Contact the Rosenblum Law Firm to assist you with your speeding ticket matter in Rockland County. We can offer you a free consultation about your case and have our attorneys fight on your behalf. Our attorneys have represented clients in all the courts in Rockland County for both traffic and criminal matters including Clarkstown, Haverstraw, New City, Orangetown, Ramapo, and Stony Point. Call 888-434-0406 or email Rosenblum Law today for a free consultation about your case.
Speeding Ticket in Other Counties