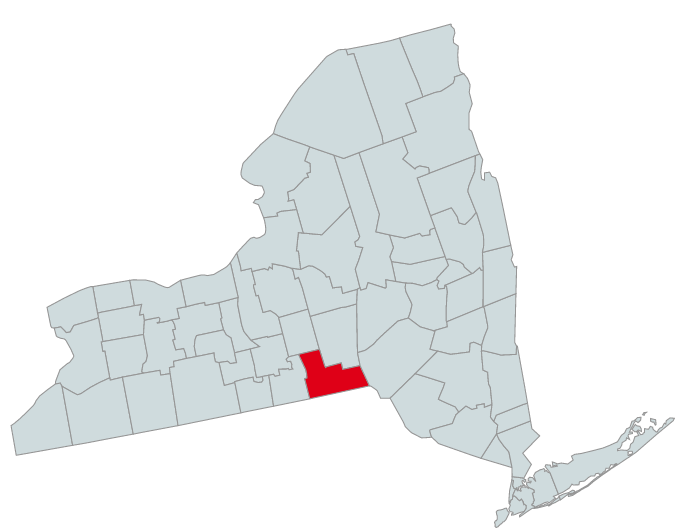 Broome County, NY boasts a mix of rural and suburban communities, each of which is vital to its economy. While not nearly one of the most populous counties (191,000), a number of highways cross through Broome County. This, plus its location near the Pennsylvania border makes it one of the more trafficked counties in the state. Drives who have been issued a speeding ticket in Broome County should not pay it! Instead, call an experienced traffic ticket attorney to help avoid the costs, points, and other consequences the come with a conviction.
New York State Speeding Ticket Costs
Many drivers underestimate the extreme costs and other penalties that come with a simple speeding ticket. Initial fines for speeding range from $150 to $600. But this is far from the final cost. Each ticket issued will also come with a mandatory NYS surcharge ($88 or $93). If the ticket puts the total number of points imposed on a license at six or more, the driver could also be required to pay a DMV Driver Responsibility Assessment (DRA). The DRA is a separate fine, which costs $100 per year for three years. Each point over six costs an additional $25 per year for three years. Adding insult to injury is the massive increase in insurance premiums, which typically last for 36 months or more after the ticket appears on the driving record.
Speeding Tickets Data from Broome County NY
According to data from the NYS Department of Motor Vehicles, of the nearly 48,000 tickets issued in Broome County in 2018, about 29 percent (13,856) were for speeding. The majority of speeding tickets were issued to younger drivers—47 percent were handed out to drivers aged 16 to 29. Friday was the most common day for drivers to be ticketed in Broome County last year. About 57% of drivers ticketed for speeding in the county in 2018 were from New York. Nearly 4% were from Canada, despite being several hours from any border crossing.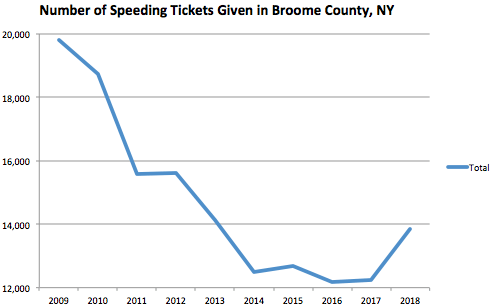 Number of Speeding Tickets Given in Broome County, NY
| Year | # of Speeding Tickets |
| --- | --- |
| 2009 | 19,800 |
| 2010 | 18,736 |
| 2011 | 15,585 |
| 2012 | 15,609 |
| 2013 | 14,119 |
| 2014 | 12,498 |
| 2015 | 12,693 |
| 2016 | 12,173 |
| 2017 | 12,256 |
| 2018 | 13,856 |
Drivers who are charged with speeding in Broome county have the option to fight the charge and either win a dismissal of the charges or negotiate a reduction in fines and points. Don't assume this will be easy—64% of speeding tickets issued in Broome County end in a conviction for the driver. However, those who hire an experienced traffic ticket attorney will likely have better success.
Broome County Geography and How It Relates to Traffic Tickets
Located in the south-central part of New York just north of Pennsylvania, Broome County covers approximately 700 square miles and is home to 24 towns, villages and cities. Several major highways, including I-81, I-86 (Southern Tier Expressway), and I-88, connect the county to other parts of the state. This, combined with a high student population associated with SUNY Binghamton, ensures local police are always vigilant for speeding and other traffic violations.
Hiring a Broome County Speeding Ticket Lawyer
Any driver ticketed for speeding in Broome County should hire an experienced traffic ticket attorney who can analyze the traffic violation matter and provide a solid defense that will keep the fines and exposure to points at a minimum. The best part is that, in most cases, drivers who hire legal representation may not have to show up to court.
Contact Rosenblum Law to assist you with your speeding ticket matter in Broome County. We can offer you a free consultation about your case and have our attorneys fight on your behalf.
Our attorneys have represented clients in all the courts in Broome County for both traffic and criminal matters including Barker, Binghamton, Chenango, Colesville, Conklin, Dickinson, Fenton, Kirkwood, Lisle, Maine, Nanticoke, Sanford, Triangle, Union, Vestal, and Windsor. Call 888-434-0406 or email Rosenblum Law today for a free consultation about your case.
Speeding Ticket in Other Counties