Genesee County gets its name is from the Seneca Indian word Gen-nis'-hee-yo, which translates to "the Beautiful Valley." The area includes many state parks as well as the Native America reservation of Tonawanda and the nationally protected area of the Iroquois National Wildlife Refuge. It is also known for the Darien Lake Theme and Waterpark Resort, which is also among the largest employers in the county.
Speeding tickets issued in Genesee County are far more expensive than they may seem at first glance. Before paying a speeding ticket, a driver should first consult with an experienced traffic ticket attorney to determine the best chance of beating the fine, points, and other consequences of a conviction.

New York State Speeding Ticket Costs
A Genesee County speeding ticket can vary in cost, but most run between $150 and $600. A mandatory state surcharge of $88 or $93 applies as well. Anyone who pays a speeding ticket can have between 3 and 11 points assessed on his/her license. Should the traffic ticket bring one's point total to 6 or more, an additional fee called a Driver Responsibility Assessment (DRA) is charged to the driver. This is separate from the fine and costs $300 for the first 6 points plus $75 for each additional point. A speeding ticket conviction also nearly ensures one's insurance rates will go up by several hundred dollars per year.

Last year, almost 12% of drivers ticketed for speeding were also hit with tickets for other offenses during the same traffic stop. More than a quarter were for licensing violations, such as driving without a license. Another 14% were for driving on a suspended license. More than 8% of drivers pulled over for speeding were also charged with DWI. 

Any driver ticketed for speeding in Genesee County should fight the charges in court. However, with only 1.6% of drivers successfully beating speeding tickets in the county, a driver likely will need the help of a talented attorney.
Speeding Ticket Data from Genesee County, NY
In 2018, drivers in Genesee County received 5,509 speeding tickets. This is a sharp decline from previous years. In 2017, drivers received 6,772 speeding tickets, 23% more than the following year. The 2018 figure is also a 43% drop from the number of speeding tickets issued in 2009. Even the proportion of speeding tickets written in Genesee has declined, from 40% in 2009 to just 32% in 2018.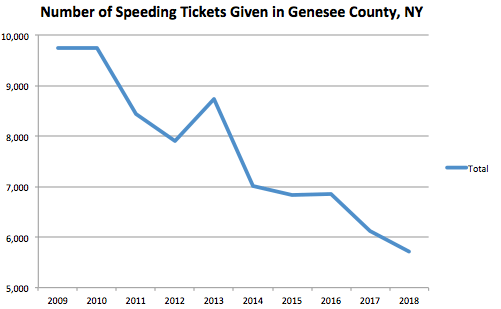 Number of Speeding Tickets Given in Genesee County, NY
| Year | # of Speeding Tickets |
| --- | --- |
| 2009 | 9,750 |
| 2010 | 9,740 |
| 2011 | 8,438 |
| 2012 | 7,907 |
| 2013 | 8,743 |
| 2014 | 7,013 |
| 2015 | 6,844 |
| 2016 | 6,772 |
| 2017 | 6,772 |
| 2018 | 5,509 |
Genesee County Geography and How It Relates to Traffic Tickets
Halfway between Buffalo and Rochester, Genesee County is accessible via the New York State Thruway (I-90), which cuts east-west through the middle of the county, connecting it to Erie County on the west and Monroe County on the east. In addition, I-490 runs northeast-southwest, connecting to the Thruway at exit 47. The more rural parts of Genesee are accessible via U.S. Route 20. With 57,511 full-time residents, Genesee has the second-lowest ratio of population to vehicle miles traveled (VMT) in the county: 20.48 people per 1,000 VMT. This keeps police on their toes watching for those would make the roads unsafe.
Hiring a Genesee County Speeding Ticket Lawyer
A speeding ticket in Genesee County can result in heavy fines and points. Any driver ticketed should consult with an experienced traffic ticket attorney to determine the best way to avoid and mitigate the consequences. In most cases, an attorney can negotiate with prosecutors to get the ticket reduced to a low- or no-point offense that won't impact one's insurance premiums. In addition, a driver who hires a NY traffic ticket attorney may not have to appear in person.
Contact Rosenblum Law for help with your speeding ticket matter in Genesee County. Our attorneys have represented clients in Genesee County for both traffic and criminal matters, including those in Alabama, Alexander, Batavia, Bergen, Bethany, Byron, Darien, Elba, Le Roy, Oakfield, Pavilion, Pembroke, and Stafford. Call 888-434-0406 or email Rosenblum Law today for a free consultation about your case.
Speeding Ticket in Other Counties