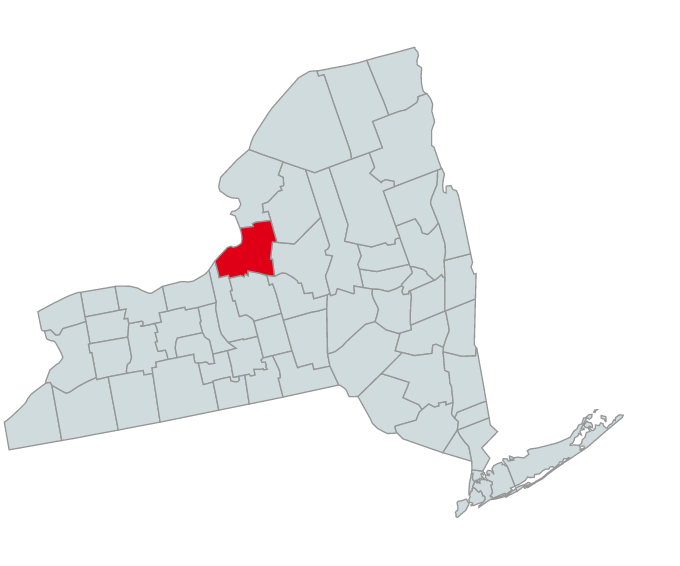 A prominent manufacturing center in New York State, Oswego County resides just north of Syracuse on the eastern shore of Lake Ontario. The Tug Hill Plateau Nature Preserve extends into the eastern part of the county. The Salmon River Falls, a 110-foot waterfall, is a popular sightseeing destination in the northeastern portion of the county. Oswego is also known for its diverse, high-quality fishing areas.
Wranglers in Oswego County who aren't careful could catch themselves a speeding ticket. An Oswego County speeding ticket can be quite costly. Before sending all that money upstream, it would be wise to consult with an experienced traffic ticket attorney who may be able to help reduce or eliminate the fine, points, and other consequences.

New York State Speeding Ticket Costs
The fine for a speeding ticket in NY can cost from $150 to $600, sometimes more. On top of the fine, drivers must pay a state surcharge of $88 or $93. When a traffic ticket brings a driver's point total to 6 or more, he/she is charged a Driver Responsibility Assessment (DRA) fee. This adds no less than $300 to the total cost. Each point over 6 adds another $75 to the DRA. Once a speeding ticket is noticed by one's auto insurance premiums, rates are almost guaranteed to rise by several hundred dollars per year.
A charge of speeding can and should be challenged. However, last year drivers were only able to beat 5% of speeding tickets in Oswego County. Most would fare better if they were to hire an experienced traffic ticket attorney who can assess the charges and develop a strategy to minimize the fine and points.

Speeding Ticket Data from Oswego County, NY
In 2021, motorists in Oswego County were issued a total of 5,297 speeding tickets. Unlike most counties where the number of speeding tickets decreased during the pandemic, Oswego County saw an increase during 2020 (5,274 tickets) when compared to 2019 (4,988 tickets).
Over 17% of drivers who received speeding tickets also faced additional citations during the same traffic stop. Among these additional infractions, the most frequent were licensing violations, particularly driving with an expired license (27.7%). Driving while a license was suspended was the next most common (11.1%), followed by tickets for inspection-related violations (8.5%).
When it came to speeding violations, Mondays and Fridays were the most common days for drivers to be ticketed, at roughly 15% and 16%, respectively. But there were no big differences among the days. For example, Sundays had the lowest occurrence of police citing drivers for speeding in the county (13.2% – not even 3 full percentage points off the day with the most).
Challenging a speeding charge is both possible and recommended. Nevertheless, it is worth noting that in Oswego County, drivers were successful in contesting only 7.6% of speeding tickets in 2021. Hiring a skilled traffic ticket attorney could improve a driver's chances of getting their case dismissed or acquitted. An experienced attorney can thoroughly evaluate the charges, devise an effective strategy, and work towards reducing both the fines and points associated with the violation.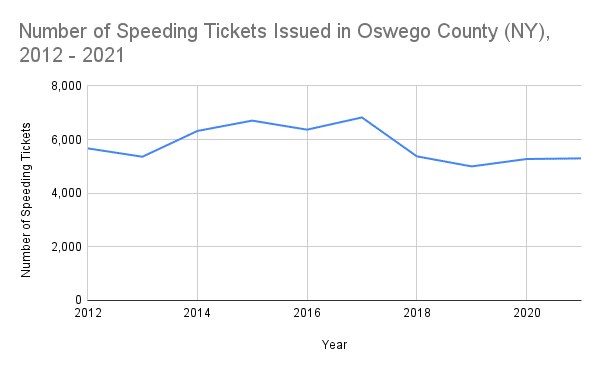 Number of Speeding Tickets Issued in Oswego County (NY), 2012 – 2021
| | |
| --- | --- |
| Year | Number of Speeding Tickets |
| 2012 | 5,672 |
| 2013 | 5,359 |
| 2014 | 6,319 |
| 2015 | 6,706 |
| 2016 | 6,369 |
| 2017 | 6,824 |
| 2018 | 5,374 |
| 2019 | 4,998 |
| 2020 | 5,274 |
| 2021 | 5,297 |
Oswego County Geography and How It Relates to Traffic Tickets
Drivers can traverse Oswego County north-south via I-81, which connects the area to Watertown in Jefferson County and concludes at the Canadian border. U.S. Route 11 runs mostly parallel to I-81 and can carry drivers to/from as far south as Pennsylvania. Several NY routes run east and west through Oswego. From the moderately sized population (117,898), to college students attending SUNY Oswego, to tourism and thru-traffic, police in Oswego County must be diligent to ensure the roads are safe for everyone.
Hiring an Oswego County Speeding Ticket Lawyer
A driver should never take the bait and pay a speeding ticket in Oswego County. In most cases, it makes far more sense to hire an experienced attorney to fight the underlying charges. An attorney can negotiate with prosecutors to potentially reduce the charges to a low- or no-point offense. This can mitigate or eliminate the possible impact on one's insurance premiums. Most of the time, a driver who hires a NY traffic ticket attorney will not have to appear in court in person. Let Rosenblum Law help you with your speeding ticket matter in Oswego County. Our attorneys have represented clients in Oswego County for both traffic and criminal offenses, including those in Albion, Amboy, Boylston, Constantia, Fulton, Granby, Hannibal, Hastings, Mexico, Minetto, New Haven, Orwell, Oswego, Palermo, Parish, Redfield, Richland, Sandy Creek, Schroeppel, Scriba, Volney, West Monroe, and Williamstown. Call 888-434-0406 or email Rosenblum Law today for a free consultation about your case.
Speeding Ticket in Other Counties