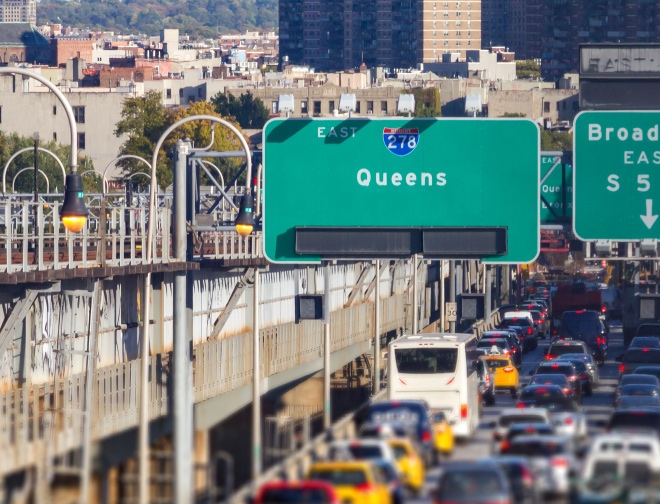 Queens sits nestled between Manhattan and Long Island (east/west), as well as The Bronx and Brooklyn (north/south), making it a necessary cross-through for many New Yorkers. The county is known for its diversity and numerous universities such as Queens College and St. John's University. It is also known for the NYPD, which enforces traffic laws in the county/borough.
Drivers who get a speeding ticket from the NYPD or state troopers in Queens should think twice about paying it. The cost of a speeding ticket can be hundreds of dollars more than the fine itself. Instead, drivers should hire an experienced traffic ticket attorney to help avoid the penalties.
Counties Issuing the Most Speeding Tickets in 2017

ERIE

50,421

WESTCHESTER

41,315

QUEENS

40,689

SUFFOLK

39,537

ORANGE

34,587

BRONX

28,660

BROOKLYN

28,647

NASSAU

25,559

ALBANY

21,771

DUTCHESS

19,546
Queens Speeding Ticket Costs
The fine for a speeding ticket in Queens runs from $150 to $600 in most cases. Those who agree to pay (or are convicted in court) will also have to shell out for a mandatory state surcharge of $88. That's not all: If a speeding ticket puts the total number of points on one's license at six or more, the driver will be expected to pay a Driver Responsibility Assessment (DRA) fee to the NYS DMV. The DRA costs $300 plus $75 for each point over six, and is in addition to the fine. On top of those costs, a speeding ticket can cause a serious increase in insurance premiums, which typically affects a driver for three or more years.  If a driver accumulates 11 points or speed twice in a work zone or three times in a regular zone within an 18 month period he will be facing a loss of NY driving privileges (this applies to out of state residents as well).
Speeding Tickets Data from Queens, NY
In 2017, NYPD and other law enforcement agencies wrote 40,689 speeding tickets to drivers in Queens. This is 11% more speeding tickets than in 2016 and part of an ongoing spike in speeding tickets that began in 2014 as part of NYC's Vision Zero initiative. In fact, last year speeding tickets comprised nearly 16% of all tickets written in Queens, the highest proportion in the past nine years. Drivers who are ticketed for speeding skew much younger than in most parts of NYC and the state at large; about 37% were under 30. Nearly three-quarters of drivers tagged for speeding are male—well above the state average of 66%.
Speeding Tickets in Queens, NY

2009

25,876

2010

25,024

2011

30,402

2012

24,358

2013

23,839

2014

34,947

2015

33,626

2016

36,799

2017

40,689
When the police write traffic tickets in NYC—whether in Queens or NYC's other four boroughs—it is answerable to the Traffic Violations Bureau (TVB). This means big trouble for drivers, as the TVB does not allow tickets to be pleaded down. The TVB in Queens has a conviction rate of 94.6%, which means any driver hoping to beat their ticket will need help from a skilled New York traffic ticket attorney if they want a good shot.
Queens Geography and How It Relates to Traffic Tickets
While the western portion of Queens has abundant public transportation, including subways, buses and train stations, eastern Queens is more automobile-dependent. The county/borough is traversed by three east-west highways and several north-south highways. This includes The Long Island Expressway (I-495), which runs west from the Queens Midtown Tunnel into Long Island's Nassau and Suffolk counties; the Grand Central Parkway; the Belt Parkway; the Cross Island Parkway; the Brooklyn-Queens Expressway (I-278), the Van Wyck Expressway (I-678), and the Clearview Expressway (I-295). In addition to several prominent colleges and universities, Queens is also home to LaGuardia and JFK International Airport. This ensures that many drivers from all over the tristate area are traipsing in and out of Queens every day, giving the police a lot of drivers to watch out for.
Hiring a Queens Speeding Ticket Lawyer
A speeding ticket in Queens is a serious matter. The penalties are high and the likelihood of a driver beating the ticket on their own is small. Those who wish to avoid the costs should hire an experienced traffic defense attorney to evaluate the charges and develop a strong defense to avoid the fines and points. In addition to increasing the chances of success, an attorney can also save you a trip to the courthouse.
Contact the Rosenblum Law Firm to assist you with your speeding ticket matter in Queens. We can offer you a free consultation about your case and have our attorney's fight on your behalf.
We cover all the five boroughs of New York City– Queens, Brooklyn, Manhattan, Staten Island and the Bronx.