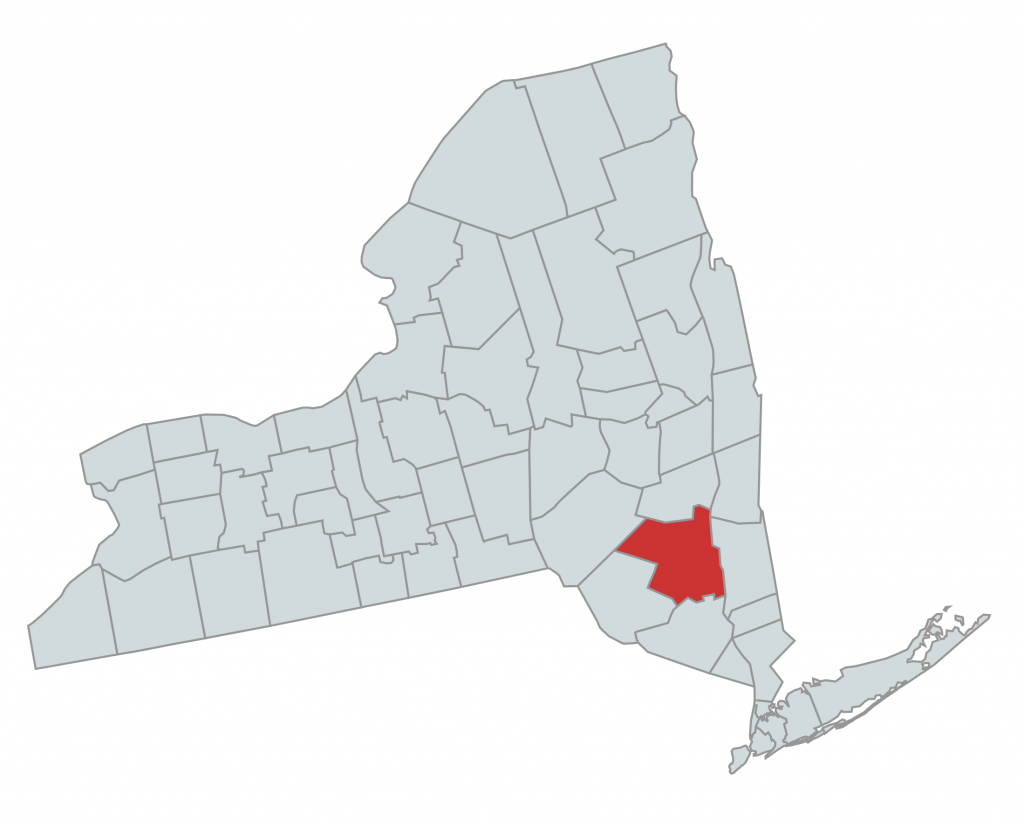 New York's Ulster County is a popular destination spot for vacationers from New York and neighboring states. Much of Ulster County is comprised of the Catskill Mountain and resort-related activity makes up a major portion of its local economy. The county boasts more than 95 mountains; the highest point is 4,180 feet above sea level.

Drivers cited for speeding in Ulster County should contact an experienced traffic ticket attorney who can fight to get the fines and other penalties reduced. Speeding tickets in Ulster County carry many hidden costs and can wreak havoc on one's auto insurance rates.

New York State Speeding Ticket Costs
A typical speeding ticket in Ulster County can cost between $150 and $600, depending on how far above the posted limit one was going. If convicted of speeding, a driver must also pay a mandatory state surcharge of $88 (if ticketed in a city) or $93 (in a town/village). A speeding ticket can also add between 3 and 11 points on one's license. If a speeding ticket conviction brings the point total to 6 or more, the DMV will issue a Driver Responsibility Assessment (DRA) fee. This is separate from the fine and costs $300 plus an additional $75 for each point over six. A driver's insurance rates are likely to go up following a speeding conviction, which can add several hundred dollars to the fine cost of a speeding ticket.
Speeding Ticket Data from Ulster County, NY
In 2021, a total of 13,837 speeding tickets were issued to drivers in Ulster County, accounting for 29.5% of all traffic tickets that year. The vast majority of these speeding tickets in Ulster County were issued by state troopers, 83.8% of the total. Notably, the weekend emerged as the prime period for drivers to get ticketed for speeding, with most of the citations being issued on Fridays (16.6%) and Sundays (16.4%) in 2021.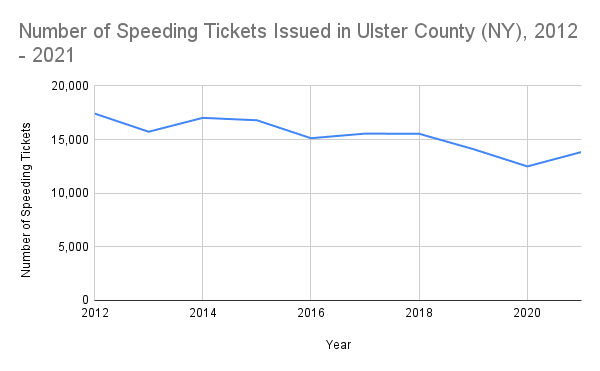 Number of Speeding Tickets Issued in Ulster County (NY), 2012 – 2021
| | |
| --- | --- |
| Year | Number of Speeding Tickets |
| 2012 | 17,425 |
| 2013 | 15,729 |
| 2014 | 17,021 |
| 2015 | 16,799 |
| 2016 | 15,125 |
| 2017 | 15,552 |
| 2018 | 15,538 |
| 2019 | 14,108 |
| 2020 | 12,496 |
| 2021 | 13,837 |
Only a small fraction of drivers in Ulster County (6.4%) managed to have their speeding tickets dismissed. Nevertheless, there is hope for those seeking to minimize the impact of the violation by having the ticket reduced to a lesser offense, resulting in fewer or no points on their record. This can be achieved with the help of a traffic ticket attorney. Using their expertise to evaluate the specific circumstances surrounding a case, an attorney will negotiate with prosecutors to secure the best possible outcome.
Ulster County Geography and How It Relates to Traffic Tickets

Ulster County is located immediately to the west of the Hudson River, south of Albany County. Tourism is the major driving force of Ulster County's economy (no pun intended). In addition to Catskill Mountain resorts, the area is known for its many nature trails, parks and preserves, including Minnewaska State Park, Mohonk Preserve, Sundown State Park, VerNooykill State Forest, Witches Hole State Forest, Shawangunk Ridge State Forest, and Sam's Point Preserve. All these ensure there are many tourists traveling up I-87 through the county and along its many local roads. Police keep a close watch on those patronizing the local resorts and other businesses to ensure that drivers are driving safely and at the appropriate speed.
Hiring an Ulster County Speeding Ticket Lawyer
Ulster County speeding tickets can ruin a person's otherwise peaceful mountain vacation—but it doesn't have to. Those who hire an experienced traffic ticket attorney can secure the best chance of getting the fines and points reduced or eliminated. In addition, by hiring an attorney a person does not have to make the climb to attend traffic court; an attorney can handle most speeding ticket matters in lieu of the driver.
Contact Rosenblum Law to assist you with your speeding ticket matter in Ulster County. We can offer you a free consultation about your case and have our attorneys fight on your behalf. Our attorneys have represented clients in Ulster County for both traffic and criminal matters, including those in Denning, Esopus, Gardiner, Hardenburgh, Hurley, Kingston, Lloyd, Marbletown, Marlborough, New Paltz, Olive, Plattekill, Rochester, Rosendale, Saugerties, Shandaken, Shawangunk, Ulster, Wawarsing, and Woodstock. Call 888-434-0406 or email Rosenblum Law today for a free consultation about your case.
Speeding Ticket in Other Counties