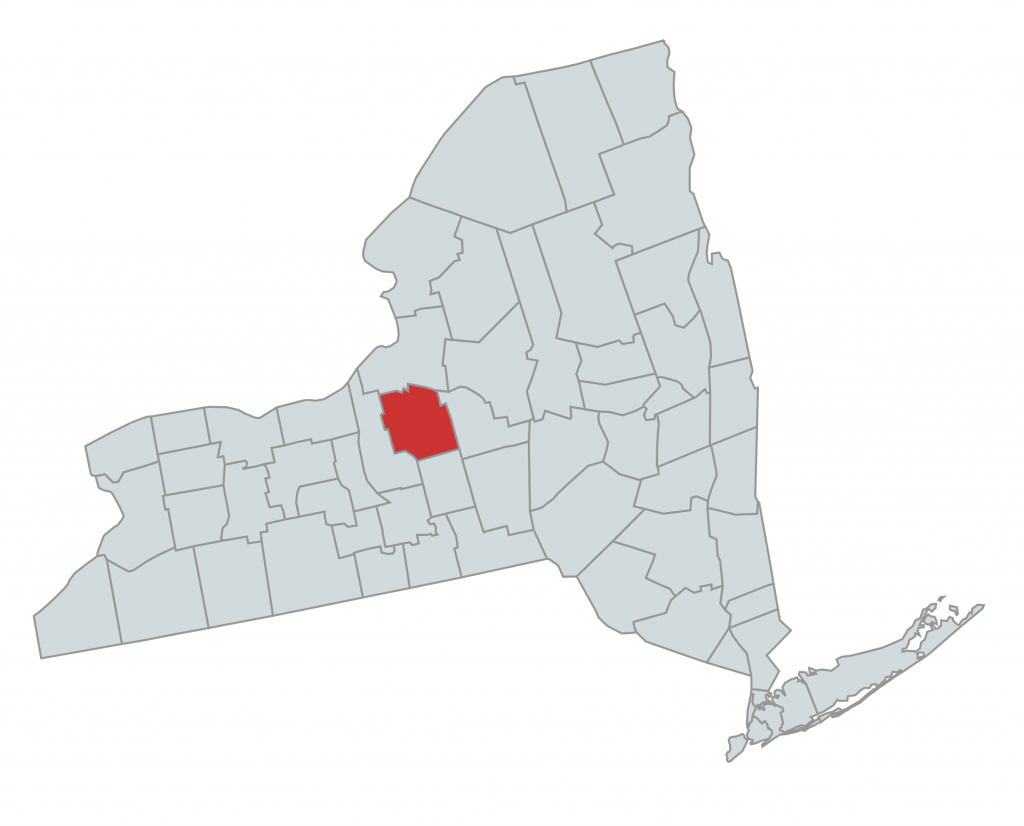 With a population of 461,809, Onondaga County is just shy of being among the top 10 most populous counties in NY. The county is home to Syracuse, the fifth-largest city in New York State, which has a population of approximately 143,000. Syracuse is a major cultural and transportation hub in New York State and draws a lot of traffic from all over New York and neighboring states.
New York State Speeding Ticket Costs
A speeding ticket in Onondaga comes with a fine that can range from $150 to $600. If convicted of speeding, a driver must also pay a mandatory state surcharge of $88 or $93. The driver will also have points assessed on his/her license, and if the point total reaches 6 or more, another cost kicks in: The Driver Responsibility Assessment (DRA) fee. This is a separate fine, paid directly to the DMV. It costs $300 plus an additional $75 for each point over 6. Many drivers can also see their insurance premiums go up following a speeding conviction, which can cost several hundred dollars more per year for around three years or more.
Speeding Ticket Data from Onondaga County, NY
In 2021, a total of 12,986 speeding tickets were issued to drivers in Onondaga County, accounting for 21.4% of all tickets issued within the county. State troopers were responsible for issuing the majority of the speeding tickets (71.5%), while county police accounted for only 4.1% and local law enforcement for 24.4%.
Additionally, almost 20% of drivers who received speeding tickets were also cited for other offenses, a relatively common occurrence. In addition to the speeding violations, there were a large number of school zone speeding tickets. In 2021, there were a total of 822 school zone speeding violations in the county, making it the county with the highest number of such tickets among all counties in New York.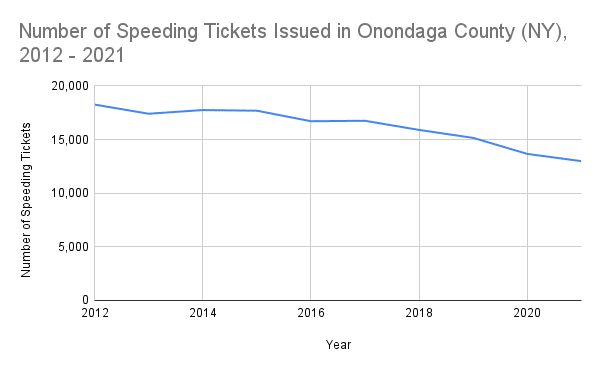 Number of Speeding Tickets Issued in Onondaga County (NY), 2012 – 2021
| | |
| --- | --- |
| Year | Number of Speeding Tickets |
| 2012 | 18,261 |
| 2013 | 17,406 |
| 2014 | 17,751 |
| 2015 | 17,690 |
| 2016 | 16,710 |
| 2017 | 16,748 |
| 2018 | 15,896 |
| 2019 | 15,154 |
| 2020 | 13,661 |
| 2021 | 12,986 |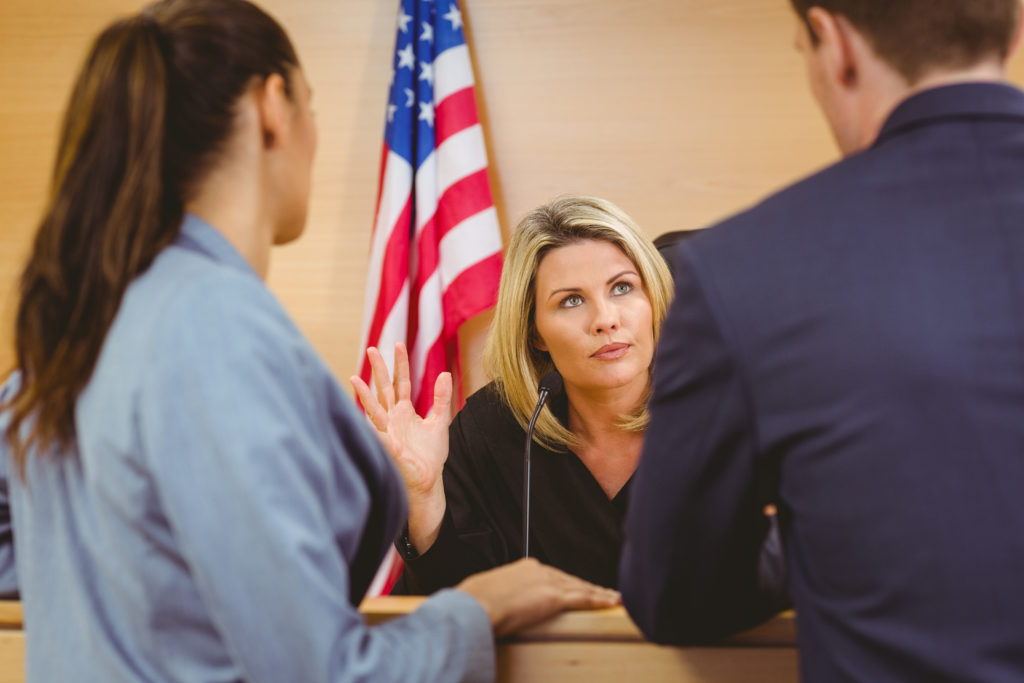 Traffic tickets carry many hidden costs in addition to the fines. Drivers cited for speeding in Syracuse or anywhere else in Onondaga County should contact an experienced traffic ticket attorney who can fight the fines and other penalties. Also, this will give you the best chance of getting a ticket dismissed or at least reduced to a lesser offense that will have little or no impact on your insurance rate.
Onondaga County Geography and How It Relates to Traffic Tickets
Syracuse is the central economic hub of Onondaga County, and several other counties, including Oswego, Cortland, and Madison are considered part of the city's metro area. Onondaga is home to a number of higher education institutions, such as Syracuse University, Le Moyne College, and SUNY College of Environmental Science and Forestry. The county is also striped with major highways for travelers heading in and out of Syracuse as well as through the county to other parts of New York. This includes I-81 (north-south), I-481 (north-south), The New York State Thruway/I-90 (east-west) and I-690 (east-west). Police keep a close watch on the roads for residents, visitors, students, and those just passing through to ensure that traffic laws are obeyed and the roads stay safe.
Hiring an Onondaga County Speeding Ticket Lawyer
Drivers should take any speeding or other traffic ticket issued in Onondaga County seriously. By hiring an experienced traffic ticket attorney, a driver can secure the best chance that the fines and points will be reduced or eliminated. For most matters involving speeding, a driver who hires an attorney does not have to show up to court in person.
Contact Rosenblum Law to assist you with your speeding ticket matter in Onondaga County. We can offer you a free consultation about your case and have our attorneys fight on your behalf. Our attorneys have represented clients in Onondaga County for both traffic and criminal matters, including those in Syracuse, Camillus, Cicero, Clay, DeWitt, Elbridge, Fabius, Geddes, LaFayette, Lysander, Manlius, Marcellus, Onondaga, Otisco, Pompey, Salina, Skaneateles, Spafford, Tully, and Van Buren, call 888-434-0406 or email Rosenblum Law today for a free consultation about your case.
Speeding Ticket in Other Counties