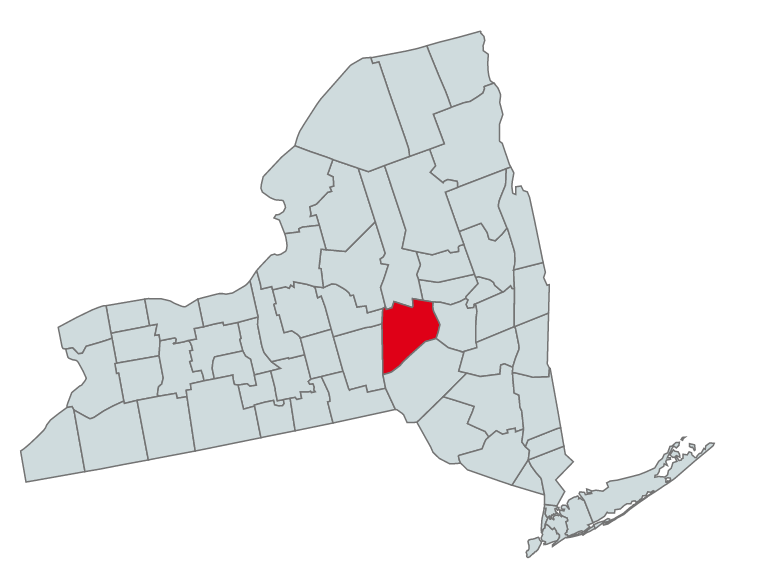 Otsego County is a largely rural county in central New York with a steady dairy farm industry. The exact origin of the name is unclear, deriving from either the Mohawk or Oneida word (possibly both) which means "the place of the rock." The county covers about 1,000 square miles and is the northernmost county in the Appalachian Region. The Bassett Medical Center, the headquarters of Bassett Healthcare Network, employs more than 3,000 of Otsego's 59,700 residents.

Don't make the mistake of paying an Otsego County speeding ticket. Those who hope to just "make it go away" will instead find themselves paying huge fines, incurring points, and seeing insurance rates rise rapidly. Instead, it would be better to hire an attorney to fight the underlying charges.

New York Speeding Ticket Costs
Speeding tickets issued in any county in NYS can be very costly. Fines run between $150 to $600, in some cases even higher. Each ticket also comes with a mandatory NYS surcharge of $88 or $93. A possible DMV Driver Responsibility Assessment (DRA) fee is charged to drivers who reach at least 6 points on their license within 18 months. A DRA costs $300 plus $75 for each additional point. Even worse, auto insurance rates can rise by hundreds of dollars each year for several years upon conviction.

Speeding Tickets Data from Otsego County NY
In 2018, speeding tickets comprised 34.4% of all tickets issued in Otsego County. The number of speeding tickets issued any given year varies more widely in Otsego than in other U.S. counties, with figures rising and falling by as much as 40% in some years, including between 2017 and 2018. More than half—52%–of speeding tickets were issued on Friday, Saturday, and Sunday. The vast majority were written by State Troopers: 91%! 

Drivers charged with speeding in Otsego County can choose to fight the charge(s) against them and either win a dismissal or negotiate a reduction in fines and points. In New York State, only about 7.8% of drivers get their ticket dismissed. With such a high conviction rate, drivers will likely need the help of a skilled attorney to avoid suffering the full penalties.
Number of Speeding Tickets Given in Ostego County, NY
| Year | # of Speeding Tickets |
| --- | --- |
| 2009 | 5,573 |
| 2010 | 5,084 |
| 2011 | 4,454 |
| 2012 | 3,992 |
| 2013 | 3,564 |
| 2014 | 4,283 |
| 2015 | 5,953 |
| 2016 | 4,441 |
| 2017 | 3,734 |
| 2018 | 5,263 |
Otsego County Geography and How It Relates to Traffic Tickets
The largely rural Otsego County experiences a moderate amount of vehicle traffic most years. Some of this is tourism, as the county is home to the National Baseball Hall of Fame. Otsego also has a notable arts community, including the Glimmerglass Opera. Drivers also pass through Otsego on I-88, which connects the I-81 in Binghamton to the New York Thruway (I-90) in Schenectady. Students attending SUNY Oneonta and Hartwick College also frequent the roads. With such lightly traveled roads compared to other NY counties, police are sure to notice those who do not obey speed limits and other traffic laws.

Hiring an Otsego County Speeding Ticket Lawyer
In addition to the hefty fees, a speeding ticket can cause increases in auto insurance premiums for several years. At the same time, ignoring the ticket can result in having one's driving privileges in NY suspended and even revoked. Drivers who are charged with speeding or other traffic violations have the option to fight the charge and possibly win a dismissal or negotiate a reduction in fines and points.

An experienced traffic defense attorney can analyze the traffic violation matter and provide a solid defense, keeping the fines and points to a minimum. In almost all cases, a person who hires an attorney will not be required to come to court.

If you received a speeding ticket in Otsego County, contact Rosenblum Law. Our traffic ticket attorneys represent clients in Burlington, Butternuts, Cherry Valley, Decatur, Edmeston, Exeter, Hartwick, Laurens, Maryland, Middlefield, Milford, Morris, New Lisbon, Oneonta, Otego, Otsego, Pittsfield, Plainfield, Richfield, Roseboom, Springfield, Unadilla, Westford, and Worcester. Call 888-434-0406 or email Rosenblum Law today for a free consultation about your case.
Speeding Ticket in Other Counties