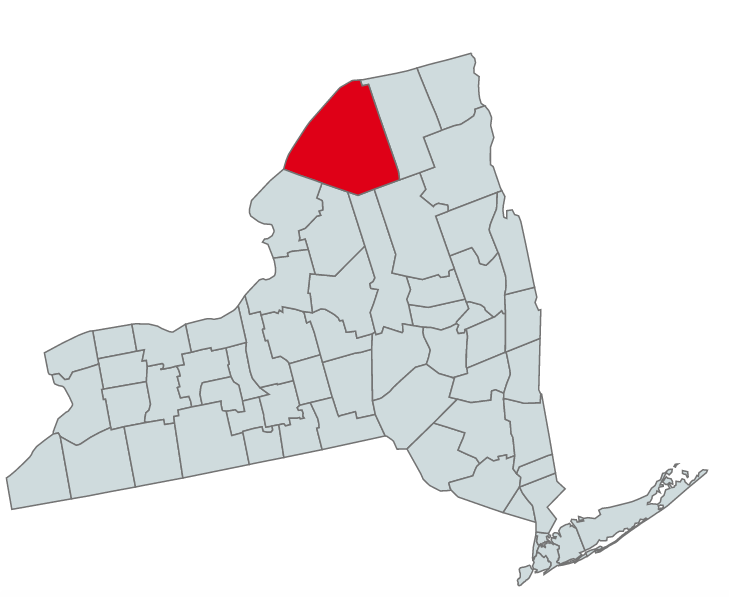 Named after the river that forms part of the boundary between Canada and New York, St. Lawrence County is the largest county in the state, with an area greater than the entire state of Delaware. Of the county's 2,600 square feet, the bottom third reside within the Adirondack Park. It is one of several NY counties that border Ontario and one of just two that border Quebec.

Paying a St. Lawrence speeding ticket means accepting huge fines, points on one's license, and major insurance increases. Drivers would be well advised to hire an attorney to fight the underlying charges.

New York Speeding Ticket Costs
The fine for a speeding ticket in St. Lawrence County starts at around $150 and go as high as $600 or more. Drivers are often surprised to find they must also pay a NYS surcharge of $88 or $93. If the ticket puts one's point total at 6 or more, the DMV charges a Driver Responsibility Assessment (DRA) fee. A DRA costs $300 for the first 6 points and $75 for each additional point. If convicted of a speeding ticket, one's auto insurance rates will likely increase by several hundred dollars per year.

Speeding Tickets Data from St. Lawrence County NY
Police in St. Lawrence issued 5,077 speeding tickets in 2018, which was just shy of a quarter of all tickets written that year. The weekends were the worst time to drive in St. Lawrence County last year, as half of all speeding tickets were issued on Friday, Saturday, and Sunday. Of those who were ticketed, 82% were New Yorkers. Despite the county having two border crossings, only 2.9% of speeding tickets went to Canadian drivers.

Drivers charged with speeding in St. Lawrence County should fight the charges against them. This may be challenging as less than one-in-10 were able to get their ticket dismissed in St. Lawrence last year. Those who hire a skilled traffic attorney will likely get better results. An attorney can either win a dismissal or negotiate to have the ticket reduced to a low- or no-point violation.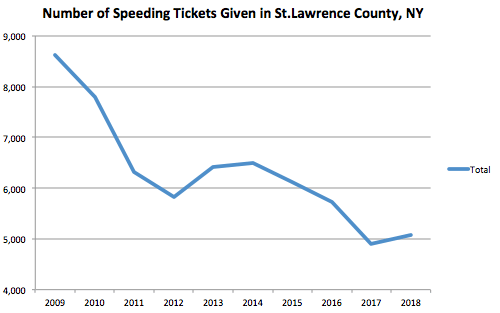 Number of Speeding Tickets Given in St. Lawrence County, NY
2009
8,623
2010
7,804
2011
6,321
2012
5,827
2013
6,417
2014
6,491
2015
6,122
2016
5,730
2017
4,902
2018
5,077
St. Lawrence County Geography and How It Relates to Traffic Tickets
St. Lawrence County is a mix of private and public lands, with several hamlets, paper and wood products industries, and vacation destinations in the Adirondack Park. There are no interstate highways in the county, although U.S. Route 11 and several state routes run through it, providing pathways for drivers from adjacent counties to reach Canada. In addition, students are a staple on St. Lawrence roads, as the sizable county is home to several colleges, including SUNY Potsdam and its Crane School of Music, Clarkson University, St. Lawrence University, SUNY Canton Technical College, SUNY College of Environmental Science and Forestry's Ranger School, and Wadhams Hall and Seminary. With the county experiencing 2.7 million vehicle miles traveled each year, police watch the traffic carefully for those who would make the roads unsafe.

Hiring a St. Lawrence County Speeding Ticket Lawyer
A speeding ticket in St. Lawrence County can result in heavy fines, points, and a hike in auto insurance premiums. Drivers ticketed for speeding or other traffic violation can choose to fight the charge and aim to either win a dismissal or negotiate a reduction in fines and points. This is difficult to do, however, unless one hires an experienced traffic ticket attorney. In most cases, a person who hires an attorney does not need to come to court in person.

If you received a speeding ticket in St. Lawrence County, contact Rosenblum Law. Our traffic ticket attorneys represent clients in Brasher, Canton, Clare, Clifton, Colton, De Kalb, De Peyster, Edwards, Fine, Fowler, Gouverneur, Hammond, Hermon, Hopkinton, Lawrence, Lisbon, Louisville, Macomb, Madrid, Massena, Morristown, Norfolk, Oswegatchie, Parishville, Piercefield, Pierrepont, Pitcairn, Potsdam, Rossie, Russell, Stockholm, and Waddington. Call us today at 888-434-0406.
Speeding Ticket in Other Counties