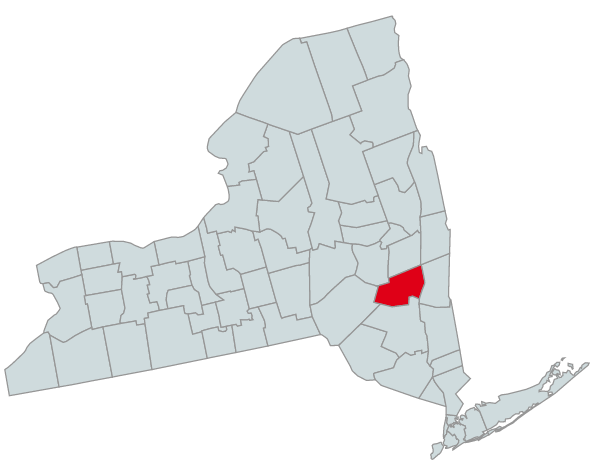 There are more than 5,000 businesses in Greene County, many of which cater to healthy tourism and outdoor sports industries around the Catskill Mountains and Hudson River. The historic Catskill Mountain House, located in Haines Falls, was frequented by three former Presidents: Ulysses S. Grant, Chester Arthur, and Theodore Roosevelt. Beyond tourism, Green County also has a rich farming community and economy.

Paying a Greene County speeding ticket would be a huge mistake. In addition to potentially huge fines, one will also have to deal with the impact of points and an increase in insurance rates. With the help of an attorney, it is possible to fight the underlying charges and reduce or beat the ticket.

New York Speeding Ticket Costs
The fine for speeding in Greene County is between $150 to $600 in most cases but can be higher. A NYS surcharge of $88 or $93 also applies. If the ticket puts one's point total at 6 or more (which can happen with just one speeding conviction), the DMV charges a Driver Responsibility Assessment (DRA) fee. The DRA is separate from the fine and costs $300 plus $75 for each additional point over six. A speeding ticket conviction can also raise insurance rates by several hundred dollars each year for several years.

Speeding Tickets Data from Greene County NY
In 2018, police wrote 4,863 speeding tickets to drivers in Greene County. Speeding made up about a quarter of all tickets issued in the county last year. Speeding tickets were fairly evenly distributed throughout the week in Greene County in 2018, although Sundays saw the greatest amount by a small margin and Wednesdays saw the least. Drivers speeding in Green County are most likely to be pulled over by State Troopers (rather than county or local cops), as they wrote 92% of all such tickets.
Drivers caught speeding should fight the ticket. In Greene County, only about 7% of drivers were able to get their ticket dismissed last year. With such a high conviction rate, drivers should consult with a skilled traffic ticket attorney to determine how best to avoid the points and fines associated with a conviction.

Number of Speeding Tickets Given in Greene County, NY
| Year | # of Speeding Tickets |
| --- | --- |
| 2009 | 8,993 |
| 2010 | 6,715 |
| 2011 | 6,071 |
| 2012 | 5,708 |
| 2013 | 5,077 |
| 2014 | 4,896 |
| 2015 | 5,168 |
| 2016 | 4,901 |
| 2017 | 4,233 |
| 2018 | 4,863 |
Greene County Geography and How It Relates to Traffic Tickets
Greene County is bordered by the Hudson River on the east. The western portion is located within the Catskill Mountains. With a population of just 47,000 people, the vast majority of the nearly 2 million vehicle miles traveled within the county each year are predominantly tourists who come year-round for the abundant outdoor sports and recreation. The county is accessible via I-87 going north-south and NY Route 23 going east-west. State Troopers and other cops watch the roads to ensure that visitors and locals alike mind the speed limit.

Hiring a Greene County Speeding Ticket Lawyer
Drivers who are charged with speeding or other traffic violations have the option to fight the charge and possibly win a dismissal or negotiate a reduction in fines and points. An experienced traffic ticket attorney can provide a solid defense with the best chance of keeping the fines and points to a minimum. In addition, a person who hires an attorney will likely not have to come to court himself/herself.

If you received a speeding ticket in Greene County, contact Rosenblum Law. Our traffic ticket attorneys represent clients in Ashland, Athens, Cairo, Catskill, Coxsackie, Durham, Greenville, Halcott, Hunter, Jewett, Lexington, New Baltimore, Prattsville, and Windham. Call 888-434-0406 or email Rosenblum Law today for a free consultation about your case..
Speeding Ticket in Other Counties