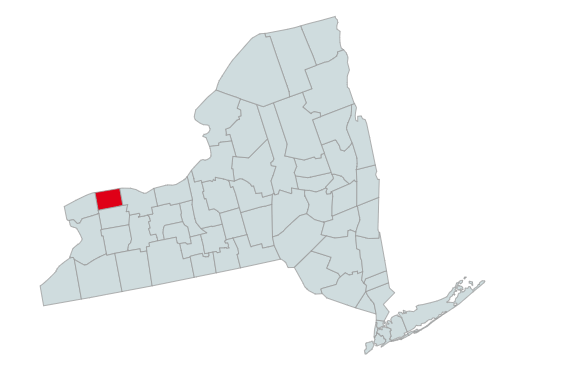 Orleans County is one of several NY counties along the southern shore of Lake Ontario. It is northeast of Buffalo and considered part of the Rochester metro area. Most of Orleans is rural and the county sees the fourth-least vehicle traffic of any NY county. The region attracts some visitors for sports fishing. Whether a local or visitor, a speeding ticket in Orleans County can be expensive. Before deciding to pay a speeding ticket, a driver should consult with an experienced traffic ticket attorney to see if the ticket can be dismissed or reduced to a lesser charge.

New York Speeding Ticket Costs
New York is a costly state for speeding tickets. Fines can cost between $150 to $600. In addition to the fine, drivers must pay a mandatory NYS surcharge of $88 to $93. Drivers who get six or more points on their license will also have to pay a Driver Responsibility Assessment (DRA). This is a separate fine that costs $100 each year for three years. Each point over six adds another $25 a year for three years. In addition, a driver who is convicted for speeding can see insurance increases of several hundred dollars per year for three or more years.

Speeding Tickets Data from Orleans County, NY
Police wrote 1,583 speeding tickets in Orleans County in 2018, a 5% increase over the number of tickets issued in 2017. Orleans County has the dubious distinction of issuing the greatest proportion of speeding tickets to women of any NY county: 42.5%. (The same is true of texting tickets). Unlike in many NY counties, speeding tickets were issued fairly evenly each day of the week. State Troopers handed out more than 60% of speeding tickets last year; local police issued nearly 31%. Approximately 13% of drivers ticketed for speeding were also ticketed for other "companion" violations during the same traffic stop. The most common were for driving while suspended (25%) followed by minor licensing violations such as driving out of class (20%). Another 8% were for impaired driving.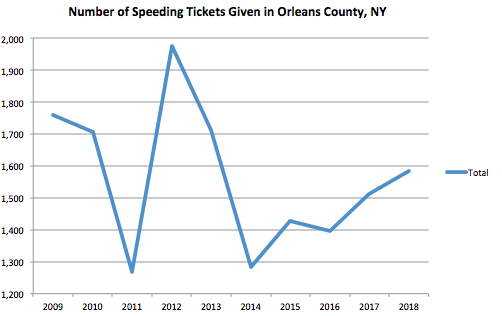 Number of Speeding Tickets Given in Orleans County, NY
| Year | # of Speeding Tickets |
| --- | --- |
| 2009 | 1,760 |
| 2010 | 1,707 |
| 2011 | 1,268 |
| 2012 | 1,975 |
| 2013 | 1,714 |
| 2014 | 1,283 |
| 2015 | 1,426 |
| 2016 | 1,397 |
| 2017 | 1,513 |
| 2018 | 1,583 |
Drivers charged with speeding in Orleans County can choose to fight the charge(s) against them and either win a dismissal or negotiate a reduction in fines and points. However, drivers should be cautious before assuming it is easy to beat a speeding ticket; less than 8% of drivers statewide got their speeding tickets dismissed. As such, it would be wise to speak to an attorney to discuss the best course of action.

Orleans County Geography and How It Relates to Traffic Tickets
The Lake Ontario State Parkway begins at Lakeside Beach State Park in Orleans County and runs east into Monroe County. Those heading west into Orleans can continue beyond the parkway by taking NY Route 18 into Niagara County. NY Routes 104 and 31 also serve drivers heading east/west through the county, while NY Routes 63 and 98 move traffic north-south. Orleans County comprises more than 800 square miles, but only 315 square miles are land. With just 764,000 vehicle-miles traveled in the county each year, those who speed or commit other traffic violations are certain to stand out to police.

Hiring an Orleans County Speeding Ticket Lawyer
The costs of a speeding ticket don't end with the fines and surcharges. Pleading guilty (which happens when one pays a ticket without contesting it) can increase auto insurance premiums by hundreds of dollars for several years. At the same time, ignoring the ticket is never a good idea and failing to answer the ticket in a timely manner can result in a license being suspended or even revoked. Drivers who are charged with a speeding ticket or other traffic violation would be well advised to fight the charge.

An experienced traffic ticket attorney can analyze the traffic violation matter and provide a solid defense, keeping the fines and points to a minimum. In almost all cases, a person who hires an attorney will not be required to come to court.

If you received a speeding ticket in Orleans County, contact Rosenblum Law. Our traffic ticket attorneys represent clients in Albion, Barre, Carlton, Clarendon, Gaines, Kendall, Murray, Ridgeway, Shelby, and Yates. Call us today at 888-434-0406.
Speeding Ticket in Other Counties