Named after Benjamin Franklin, NY's Franklin County is one of the northernmost counties in the state, and one of several that border Canada. Franklin County is the fourth-largest county by land area and also the fourth-least population-dense. Much of the county is located in the Adirondack Park, which draws a substantial amount of tourism.

A speeding ticket issued in Franklin County can cost far more than most drivers realize. Rather than just pay the ticket, a driver should contact an experienced traffic ticket attorney who can help get those penalties reduced or eliminated.

New York State Speeding Ticket Costs
Paying a speeding ticket in Franklin means incurring far more costs than the fine, which by itself can range from $150 to $600. Each ticket also comes with a mandatory state surcharge of $88 or $93. If the ticket puts the total number of points on the license at 6 or more, a driver will be hit with a DMV Driver Responsibility Assessment (DRA) fee. The DRA is a separate fine and costs $300 plus an additional $75 for each point over six. On top of this, a driver can see a serious increase in insurance premiums, which can last for 36 months or more after the speeding ticket appears on the driving record.
Speeding Tickets Data from Franklin County, NY
Police in Franklin County wrote 2,222 speeding tickets last year. Of those, 5.4% were for a specific offense, 1180-e, which applies to those who use excessive speed around special hazards such as sharp curves or when crossing railroad tracks. State Troopers wrote 82% of all speeding tickets in the county in 2018. Almost 30% were issued in the summer months and more than half were issued on Friday, Saturday and Sunday. While most speeding tickets in Franklin County went to New Yorkers last year, 4.4% were given to Canadian drivers.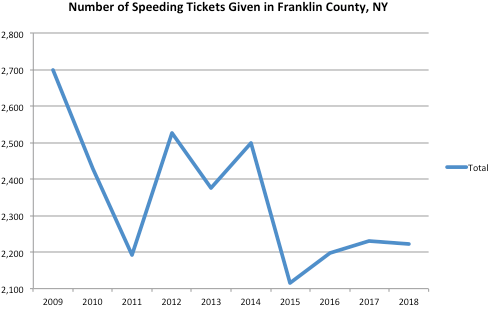 Number of Speeding Tickets Given in Franklin, NY
| Year | # of Speeding Tickets |
| --- | --- |
| 2009 | 2,698 |
| 2010 | 2,428 |
| 2011 | 2,193 |
| 2012 | 2,527 |
| 2013 | 2,376 |
| 2014 | 2,498 |
| 2015 | 2,115 |
| 2016 | 2,199 |
| 2017 | 2,231 |
| 2018 | 2,222 |
Drivers hit with speeding tickets in Franklin County should take the ticket to court and try to get it either dismissed or reduced to a low-point or no-point violation. However, less than 8% of New Yorkers were successful in doing so last year. By hiring a skilled attorney one is more likely to succeed and with better results.

Franklin County Geography and How It Relates to Traffic Tickets
There are no interstate highways servicing Franklin County, NY. Instead, drivers will have to take U.S. Route 11, which heads east and west through the northern quarter of the county. In addition, NY Route 30 takes drivers north-south to/from the Canadian border and into the Adirondack region. The county boasts more than 670 bodies of water, which are a substantial source of tourism. With so few major roadways and less than 2 million vehicle miles traveled in the county most years, all those who speed or commit other traffic violations are sure to stand out to police in Franklin County.
Hiring a Franklin County Speeding Ticket Lawyer
A New York speeding ticket is a serious matter. Any driver would be well advised to consult with an attorney to get the charges reduced or dropped. An experienced traffic defense attorney can evaluate the case and offer a solid defense that can minimize the fines and points. Those who may have a hard time making a court appearance can rest assured that most speeding ticket cases do not require the driver to show up if he/she has an attorney represent him/her.
Contact Rosenblum Law to assist you with your speeding ticket matter in Franklin County. We can offer you a free consultation about your case and have our attorneys fight on your behalf. Our attorneys have represented clients in Franklin County for both traffic and criminal matters, including those from Bangor, Bellmont, Bombay, Brandon, Brighton, Burke, Chateaugay, Constable, Dickinson, Duane, Fort Covington, Franklin (township), Harrietstown, Malone, Moira, Santa Clara, Tupper Lake, Waverly, and Westville. Call 888-434-0406 or email Rosenblum Law today for a free consultation about your case.

Speeding Ticket in Other Counties