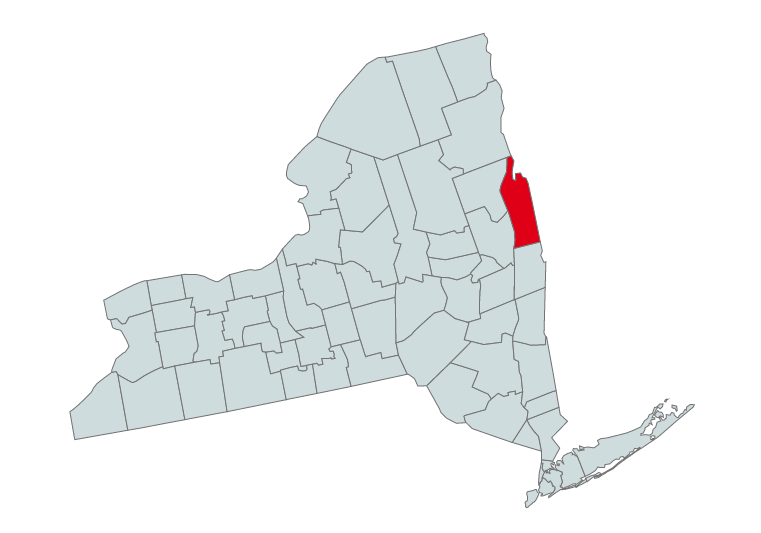 Washington County sits on the eastern edge of New York State, bordering Vermont. Lake George comprises part of the county's western border and the southern end of Lake Champlain is part of the eastern border. Washington County is largely rural. A mix of natural and man-made attractions draw in visitors year-round.

No one should ever pay a speeding ticket in Washington County without first challenging the charges because the consequences can be severe. However, it is always best to consult with an experienced traffic ticket attorney to determine the best strategy for getting the ticket dismissed or reduced to a lesser offense.

New York Speeding Ticket Costs
The fines for speeding in Washington County are usually between $150 to $600. In addition to the fine, drivers must pay a mandatory state surcharge of $88 or $93. A DMV Driver Responsibility Assessment (DRA) fee will also be tacked on to any driver who accrues 6 or more points on his/her license. A DRA costs $300 for the first 6 points plus an additional $75 for each point thereafter. On top of this, insurance premiums are likely to increase following a conviction for speeding, costing hundreds more per year. Altogether, this can bring the total cost of a speeding ticket to well over $1,000 in some cases.

Speeding Tickets Data from Washington County, NY
The number of speeding tickets written in Washington County has declined significantly over the past few years. In 2018, drivers received 1,340 speeding tickets, a 24% decline from 2017's 1,760. Last year, Washington County had the second-fewest speeding tickets per vehicle-mile traveled in the state, behind Monroe County. Approximately one-third of all speeding tickets were written on Friday and Saturday in Washington County last year. A little over half (55%) were issued by State Troopers. Of those who were ticketed for speeding, nearly 30% were licensed outside New York State.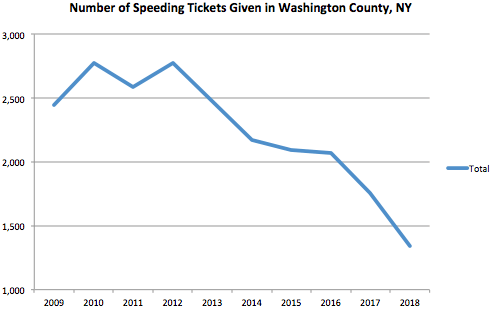 Number of Speeding Tickets Given in Washington County, NY
| Year | # of Speeding Tickets |
| --- | --- |
| 2009 | 2,443 |
| 2010 | 2,775 |
| 2011 | 2,588 |
| 2012 | 2,778 |
| 2013 | 2,478 |
| 2014 | 2,171 |
| 2015 | 2,093 |
| 2016 | 2,066 |
| 2017 | 1,760 |
| 2018 | 1,340 |
Drivers charged with speeding in Washington County should fight the underlying charge. This is not easy to do without the help of an attorney, and less than 8% of drivers statewide were successful in getting a speeding ticket dismissed last year. An attorney offers the best chance of beating a NY speeding ticket or getting it reduced to a lesser offense.

Washington County Geography and How It Relates to Traffic Tickets
Drivers can take U.S. Route 4 from the western edge of Washington County into Vermont. There are no interstate highways in the county, but I-87 is just a few miles west in neighboring Warren and Saratoga counties, which can carry drivers all the way north into Canada or south into New York City. The county's location within both the Taconic Mountains and the Adirondack Mountains, plus its proximity to two lakes ensures a steady flow of tourist traffic, which keeps police on the lookout for those who might make the roads unsafe.

Hiring a Washington County Speeding Ticket Lawyer
Paying a speeding ticket does not "make it go away;" in fact, it brings on the worst possible consequences, including points, fines, surcharges and large hikes in insurance premiums. At the same time, refusing to pay the ticket can result in a license being suspended or even revoked. Drivers who are charged with speeding or other traffic violations must fight the charge.

An experienced traffic ticket attorney can analyze the traffic violation matter and provide a solid defense, keeping the fines and points to a minimum. In almost all speeding ticket cases, a person who hires an attorney is not required to come to court.

If you received a speeding ticket in Washington County, contact Rosenblum Law. Our traffic ticket attorneys represent clients in Argyle, Cambridge, Dresden, Easton, Fort Ann, Fort Edward, Granville, Greenwich, Hampton, Hartford, Hebron, Jackson, Kingsbury, Putnam, Salem, White Creek, and Whitehall. Call us today at 888-434-0406.

Speeding Ticket in Other Counties