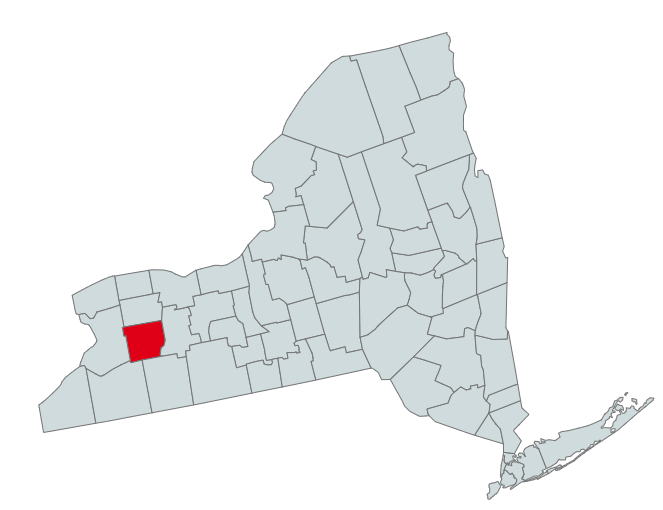 New York's Wyoming County is located in the northwestern part of the state, Near both Erie and Genesee counties. Wyoming County is one of New York's most heavily agricultural counties, with some estimates noting that there are more dairy cows (48,000) in the county than people (40,085). It is also home to Morton Salt. In addition to agriculture, the economy is bolstered by outdoor tourism, including those visiting Letchworth State Park on the southern border.

Since cows can't drive, police watch the road for human drivers who may be speeding. Those who are ticketed should hire an experienced traffic ticket attorney to fight the underlying charges and avoid the serious consequences of a speeding conviction.
New York State Speeding Ticket Costs
A driver ticketed for speeding in Wyoming County faces a fine of $150 and $600 in most cases. A mandatory state surcharge of $88 or $93 is added to each ticket. A conviction for speeding in Wyoming County means the driver can have between 3 and 11 points assessed on his/her license. Should the ticket bring the driver's point total to 6 or more, he/she will have to pay an additional fee called a Driver Responsibility Assessment (DRA) fee. This is separate from the fine and surcharge and is paid directly to the DMV. A DRA costs $300 for the first 6 points and an additional $75 for each point over 6. In addition, a speeding ticket conviction nearly ensures one's insurance rates will go up, often by several hundred dollars per year.

Speeding Ticket Data from Wyoming County, NY
With no major highways in Wyoming County, it is far from the most trafficked county in New York State, seeing just 920,000 vehicle miles traveled most years. Police issued less than 4,000 speeding tickets in Wyoming County last year. While that may be fewer than most NY counties, it actually represents much greater police activity than it seems. In fact, Wyoming County saw the third-most speeding tickets per vehicle-mile traveled of any NY county, with 4.3 tickets per 1,000 VMT.
Most drivers (63.5%) ticketed for speeding in Wyoming County in 2018 were New Yorkers. Approximately 5.4% of speeding tickets went to Canadian drivers. Unlike many other NY counties, only 35% of speeding tickets were issued by State Troopers. Local police wrote the largest share (43%). Weekends were the worst time to speed in Wyoming County last year; 21.4% of speeding tickets were written on Sundays and 18% were written on Saturdays.

Drivers would be well advised to fight a speeding ticket in Wyoming County. However, statewide only 7.5% of drivers are able to successfully get a speeding ticket dismissed. Therefore, it is in the driver's best interest to hire an attorney who can negotiate to reduce the ticket to a lesser offense with fewer or no points and little or no impact on insurance rates.

Number of Speeding Tickets Given in Wyoming County, NY
| Year | # of Speeding Tickets |
| --- | --- |
| 2009 | 3,705 |
| 2010 | 3,629 |
| 2011 | 2,897 |
| 2012 | 2,809 |
| 2013 | 2,799 |
| 2014 | 3,220 |
| 2015 | 3,202 |
| 2016 | 3,482 |
| 2017 | 3,845 |
| 2018 | 3,983 |
Wyoming County Geography and How It Relates to Traffic Tickets
As mentioned, Wyoming County does not have any interstate highways within its boundaries. The largest roadway is U.S. Route 20A, which takes drivers east-west through the county. Most other roads through Wyoming are state routes or local roads. This could be one main reason State Troopers are less active in the county. The minimal amount of vehicle traffic means that visitors and locals are more noticeable to police and any instances of speeding have a high chance of resulting in a ticket.
Hiring a Wyoming County Speeding Ticket Lawyer
Drivers ticketed for speeding in Wyoming County should strongly consider hiring an experienced traffic ticket attorney. In most cases, an attorney can attend the pretrial conference and, if necessary, the trial on behalf of the driver, so he/she may not have to appear in person. This is especially beneficial for drivers from other counties or Canada, who may have to face a long trek back to appear before the judge. An attorney also offers the best possible chance of one beating a ticket or getting it reduced to a lesser offense.
Contact Rosenblum Law for help with your speeding ticket matter in Wyoming County. We can offer you a free consultation about your case and have our attorneys fight on your behalf. Our attorneys have represented clients in Wyoming County for both traffic and criminal matters, including those in Arcade, Attica, Bennington, Castile, Covington, Eagle, Gainesville, Genesee Falls, Java, Middlebury, Orangeville, Perry, Pike, Sheldon, Warsaw, and Wethersfield. Call 888-434-0406 or email Rosenblum Law today for a free consultation about your case.
Speeding Ticket in Other Counties