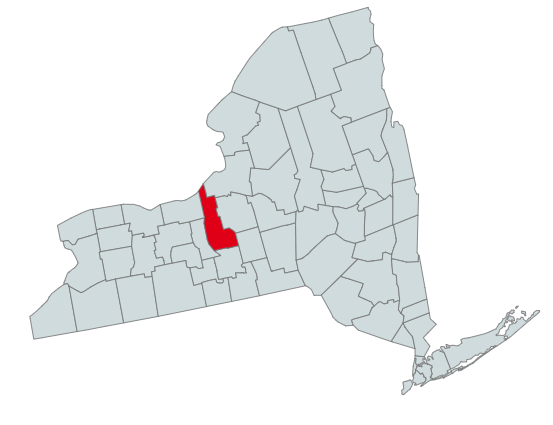 Bordering both Cayuga Lake and Lake Ontario, Cayuga County is located in the west-central part of the state, in the Finger Lakes region. Cayuga County boasts more waterfront land than any other NY county not adjacent to the Atlantic Ocean. Cayuga County is located near major upstate population centers such as Ithaca, Cortland, and Syracuse. Its economy is sustained by a mix of large and small businesses in the agricultural, manufacturing and services industries.

Cayuga County speeding tickets are expensive. The fines and points can come as a huge surprise to many drivers. Rather than give up and pay, a driver should hire an attorney who can fight the underlying charge and mitigate or eliminate the penalties.

New York Speeding Ticket Costs
A speeding ticket fine in New York State costs most often between $150 to $600. Drivers must also pay a mandatory surcharge of $88 or $93 on each ticket. Any ticket that brings the total number of points imposed on a driver's license to 6 or more will incur a Driver Responsibility Assessment (DRA) fee. The DRA is a separate fine and paid directly to the DMV. It costs $300 plus $75 for each point over six. Speeding tickets can also impact auto insurance rates to the tune of several hundred dollars per year.

Speeding Tickets Data from Cayuga County NY
In 2018, 4,249 speeding tickets were issued to drivers in Cayuga County. While this represents a decline in overall speeding tickets from more recent years, the proportion of tickets going to drivers in the county for speeding (versus other offenses) has risen from a low of 24% (2013) to more than 34% last year. Almost 1-in-5 speeding tickets were written on Saturday (19.4%) last year. The summer months were, by far, the busiest time for police in enforcing speeding laws. Of those ticketed for speeding in Cayuga County last year, more than 1-in-10 (12%) received additional tickets for other offenses. The most common were licensing violations, such as driving without a license (24.3%), driving while suspended (12.7%) and equipment violations (9.1%).

Any driver ticketed for speeding should challenge the ticket. Unfortunately, only 2.8% were able to get their tickets dismissed in Cayuga County last year. However, one is likely to have better success if he/she hires a skilled traffic ticket attorney. An attorney will have the skills and knowledge needed to get the ticket reduced to a lesser offense or beat it at trial.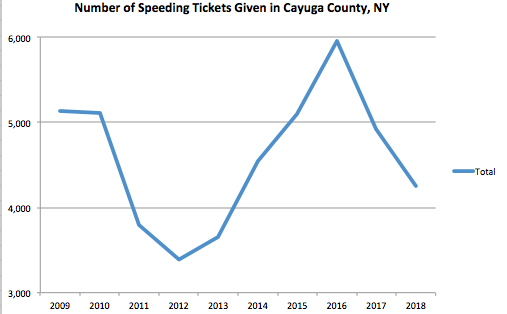 Number of Speeding Tickets Given in Cayuga County, NY
| Year | # of Speeding Tickets |
| --- | --- |
| 2009 | 5,128 |
| 2010 | 5,106 |
| 2011 | 3,793 |
| 2012 | 3,389 |
| 2013 | 3,651 |
| 2014 | 4,548 |
| 2015 | 5,100 |
| 2016 | 5,953 |
| 2017 | 4,920 |
| 2018 | 4,249 |
Cayuga County Geography and How It Relates to Traffic Tickets
Cayuga County receives more than 2 million vehicle miles of traffic each year. This is a mix of general commuting amongst its population of more than 77,000 residents, as well as thru-traffic and tourism. The New York State Thruway (I-90) cuts east-west through the middle of the county, while U.S. Route 20 runs roughly parallel to it a few miles south. N.Y. Route 34 makes a straight path north-south up the middle of Cayuga County, connecting to N.Y. Route 104 just over the border in Oswego County. Two colleges—Cayuga Community College and Wells College—add student traffic to the list of things police need to keep an eye on.

Hiring a Cayuga County Speeding Ticket Lawyer
Drivers should always plead not guilty and fight the charges of a speeding ticket in Cayuga County. An experienced traffic ticket attorney can negotiate with prosecutors to reduce the ticket to a lesser offense with a lower fine and fewer or no points. This will also help reduce or avoid any potential impact on one's insurance rates. Best of all, those who hire an attorney to handle their speeding ticket are not likely to have to come to court in person.

If you received a speeding ticket in Cayuga County, contact Rosenblum Law. Our traffic ticket attorneys represent clients in Auburn, Aurelius, Brutus, Cato, Conquest, Fleming, Genoa, Ira, Ledyard, Locke, Mentz, Montezuma, Moravia, Niles, Owasco, Scipio, Sempronius, Sennett, Springport, Sterling, Summerhill, Throop, Venice, and Victory. Call 888-434-0406 or email Rosenblum Law today for a free consultation about your case.

Speeding Ticket in Other Counties