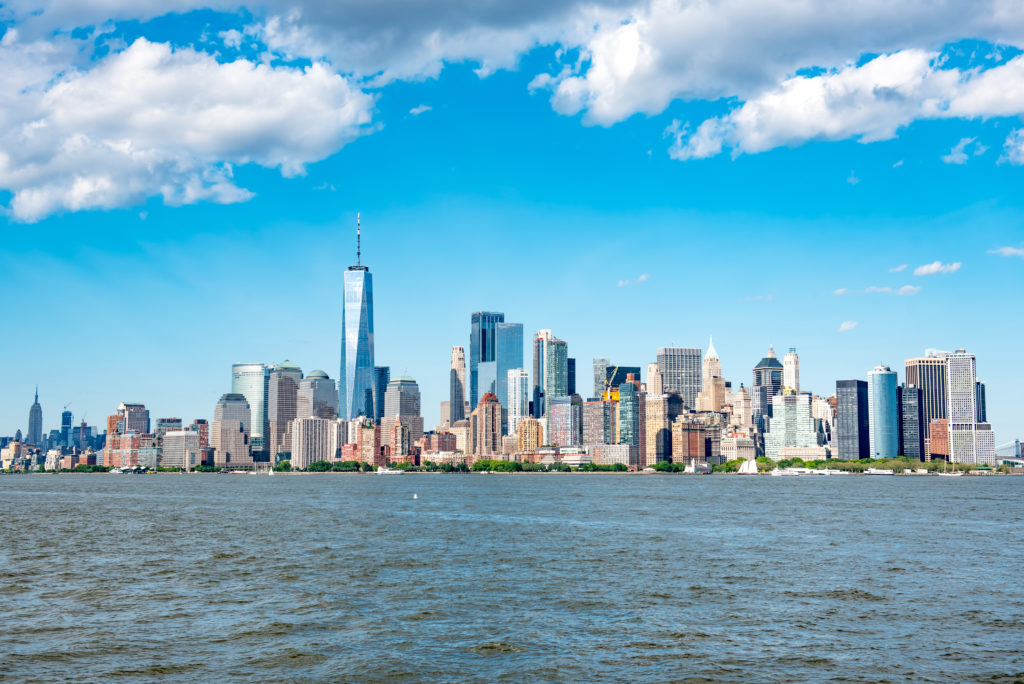 When most people think of New York City, they most often think of Manhattan. But Manhattan is just one of five boroughs of New York City (the others being the Bronx, Brooklyn, Queens and Staten Island). The confusion is wrought partially because Manhattan is called New York County at the state level, and partially because it is casually referred to as simply "the city" by those who live in outlying counties (even those that are part of NYC).

Regardless of what one calls it, a speeding ticket in Manhattan is as expensive and frustrating as a speeding ticket anywhere else in the state. Paying a speeding ticket issued in Manhattan or any other part of NYC is a bad idea that can haunt one for years after. Instead, drivers should hire an attorney with experience fighting traffic tickets in NYC. An attorney can help beat the fines, points and other penalties that come with a conviction.

New York City vs. New York County
New York City is actually comprised of five counties, each of which is coterminous with one of the city's five boroughs: Kings County (Brooklyn), Queens County (Queens), Bronx County (the Bronx), Richmond County (Staten Island) and New York County (Manhattan). References to New York County apply only to the borough of Manhattan, while references to New York City should technically apply to all five counties/boroughs.

Manhattan Speeding Ticket Costs
Like most things in Manhattan, speeding tickets are unnecessarily expensive. The fine for speeding often runs from $150 to $600, sometimes more. But this is just the beginning. Paying or being convicted of a speeding ticket obligates one to pay a state surcharge of $88. When a driver accrues six or more points on his/her license, the driver will be required to pay a Driver Responsibility Assessment (DRA) fee. This is paid directly to the DMV and is in addition to the fine. A DRA costs $300 plus $75 for each point over six. Paying or being convicted of a speeding ticket also ensures it will appear on one's driving record, which in turn can raise insurance rates by hundreds of dollars each year.
Speeding Tickets Data from Manhattan, NY
Despite being the most populous borough in New York, police in Manhattan issue the fewest speeding tickets in the entire state. In 2021, only 9,901 drivers received speeding citations, a decline of about 2,000 over the prior year. Although this still represents a significant number of tickets, speeding violations accounted for only 7.7% of all traffic tickets issued in Manhattan that year.
Following a statewide trend, Manhattan's police issued only 18.7% of speeding tickets to women, as compared to male drivers who accounted for 81.3% of all speeding ticket recipients. Additionally, only 12.3% of traffic stops involving speeding resulted in additional charges. The most common accompanying charges for speeding tickets were related to licensing violations (32.7%), followed by equipment violations (9.6%), and driving without a motor vehicle registration (8.8%).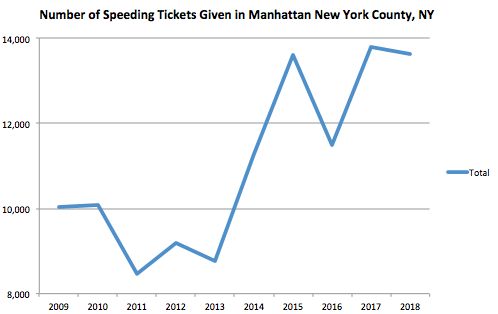 Number of Speeding Tickets Issued in Manhattan (NY), 2012 – 2021
| Year | # of Speeding Tickets |
| --- | --- |
| 2012 | 9,180 |
| 2013 | 8,765 |
| 2014 | 11,282 |
| 2015 | 13,596 |
| 2016 | 11,503 |
| 2017 | 13,787 |
| 2018 | 13,360 |
| 2019 | 13,285 |
| 2020 | 11,998 |
| 2021 | 9,901 |
Speeding and other tickets issued in Manhattan are heard by the Traffic Violations Bureau (TVB), which is a judicial system affiliated with the DMV. Challenging TVB tickets is a daunting task, as the TVB does not allow negotiations or plea deals. On the plus side, Manhattan's TVB offices have the highest dismissal/acquittal rates in NYC at 13.8%. On the downside, that still means more than 86% of speeding tickets end in a conviction for the driver. Thankfully, drivers can improve their odds of winning by hiring a skilled New York traffic ticket attorney. 
Manhattan Geography and How It Relates to Traffic Tickets
The borough of Manhattan is the focal point of the NYC subway system—the largest subway network in the U.S. Residents in Manhattan have one of the lowest car ownership rates in the country, with just 22.5% of households sharing one or more cars. And yet, despite this, the city streets are constantly clogged with commuter vehicles at all hours of the day. Some of this can be attributed to the massive amount of tourism—Manhattan is the most visited county in all of New York State and NYC itself boasts the most tourism of any city in the U.S. While plenty of tourists use public transportation to traverse Manhattan, the grid-like structure of the isle's streets make it easy to navigate, which is especially enticing to visitors from driving-distance states. NYPD and State Troopers know this and are ever vigilant for traffic violations from both Manhattan-based and out-of-town drivers.

Hiring a Manhattan Speeding Ticket Lawyer
It's expensive enough to live or visit Manhattan without the cost of a speeding ticket digging into one's wallet. Rather than take one's chances with the TVB, the best bet is to hire an experienced NYC traffic defense attorney. An attorney with experience in the TVB can develop a strategy with the best possible chance of defeating the ticket and thus avoiding the fines and points. Moreover, in most cases, hiring an attorney most likely means saving a trip to the courthouse.
Contact Rosenblum Law to assist you with your speeding ticket matter in Manhattan/New York County. We can offer you a free consultation about your case and have our attorneys fight on your behalf.

Our attorneys can fight tickets at the Traffic Violations Bureau for clients ticketed in Astor Row, Battery Park, Bowery, Chelsea, Chinatown, Downtown, Financial District, Flatiron District, Gramercy Park, Greenwich Village, Harlem, Hell's Kitchen, Lenox Hill, Lincoln Square, Little Italy, Lower East Side, Meatpacking District, Midtown, SoHo, South Street Seaport, Tribeca, Union Square, Upper East Side, Upper Manhattan, and the Upper West Side. Call 888-434-0406 or email Rosenblum Law today for a free consultation about your case.

Speeding Tickets in Other Boroughs of New York City