Drivers in New York have another reason to slow down behind the wheel. According to a CBS News report, the NYPD has recently added over 300 laser speed guns to its arsenal and have trained approximately 1,000 officers on how to use them.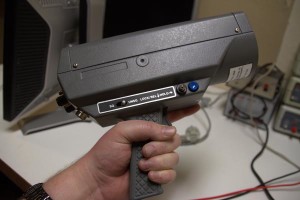 Unlike traditional radar devices, which are not as reliable when there is a high volume of traffic within its range, laser speed guns are able to selectively clock the speed of one vehicle traveling in moderate to heavy traffic. Officers are able to visually identify a vehicle, pinpoint its location on the roadway, and then confirm its exact speed.

The use of this technology serves as just one of many efforts under Mayor Bill de Blasio's 'Vision Zero' traffic safety initiative, which has included reducing the speed limit from 30 to 25 mph citywide and installing speed cameras in school zones.
"Highway Patrol officers always did speed enforcement. However, precincts did not always focus as much on it," said Highway Patrol Deputy Inspector Michael Ameri. "Now, they're getting the resources, the training, and the equipment to do so."
As a result, citations for speeding in New York have increased by 21 percent this year compared with the same period last year, and a 32 percent increase compared to 2013. In total, the NYPD has written a whopping 42,191 summonses for speeding so far this year.
The average speeding summons will cost drivers $150, in addition to court costs. However, police officials are maintaining that the goal is to save lives, not to raise revenue. Officials are reporting these efforts have already begun to make progress in saving lives. There has been a 20 percent decrease in speeding-related traffic fatalities compared with the same period in 2014.
"The way to get people to slow down, it turns out is by strict, rigid enforcement of speed laws," said NYPD Highway Patrol Training Officer Dan Maher, "so you can lay it right onto a person's license plate."
Whether you were issued a NY speeding ticket or any other traffic ticket, contact the experienced attorneys of The Rosenblum Law Firm to discuss your rights. Call 888-434-0406 for a free consultation.