In recent months, New York State police officers have ramped up their pre-emptive approach to reducing speed-related crashes and improving safe travel for drivers and passengers.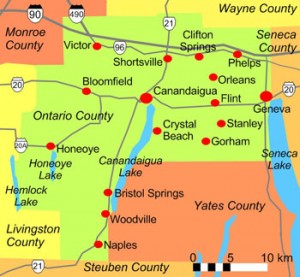 In the city of Canandaigua, 599 speeding tickets were given out on North Main Street in 2013 by city police officers. According to Sgt. Scott Kadien, that number is set to double this year. 722 tickets had already been issued as of July 31, 2014.
During Speed Week—and throughout the year—officers like State Trooper Greg Beaver are cruising the highways and logging an average of 100 miles per day. That time is above and beyond the time taken to respond to Ontario County 911 Center dispatches and working ongoing investigations.
Troop E covers all the counties in the Finger Lakes region, and is divided into three zones:
Rochester
Canandaigua
Geneseo
The Canandaigua station covers all of Ontario County, and is where Trooper Beaver is based.
He explained, "We try to reduce speeding which will in turn reduce serious accidents … and we enforce all traffic laws and any unsafe acts, such as cell phone use, seatbelt use[,] and the move over law."
The trooper continued, "Ever since high school I've always respected police and always thought it would be a fun job and career … It's a rewarding job because you're helping people, helping ensure that the roads and highways of our state are safe."
In the midst of this lies the harsh reality that cities like Canandaigua are raking in your hard earned money for every traffic ticket conviction and guilty plea they receive.
As we all know too well, not every ticket that you receive is deserved and not every officer issuing them is doing so in the nicest fashion.
With a few weekends left before summer is officially over, make sure you are on the lookout for police officers during any road trips through New York State. After all, state troopers will certainly be looking for you.
If you recently received a NY speeding ticket, contact The Rosenblum Law Firm today at 888-434-0406.