Thousands of Long Island drivers recently received school zone speeding tickets in the mail.
CBS 2's Carolyn Gusoff reported that the brand new speed-camera program is generating a tremendous amount of negative feedback from drivers saying they had no idea that school zone speed limits were still in force during the summer.
One driver noted that he always slows down in school zones when school is in session. However, unbeknownst to him, he was mailed four tickets from a speed camera for school-zone speeding!
He thought school was not in session. After all, it's August. Plainedge Middle School appeared deserted and he was driving 36 mph in a 40 mph zone.
However—since summer school was in session—the zone was really 25 mph.
According to the driver, "[S]ummer school is not posted or advertised anywhere as to be in session … It's not on any of the school calendars."
Another motorist got slapped with 11 tickets costing $80 each in the same week.
Ever since Nassau County began its most recent school zone ticket blitz, similar stories have been cropping up.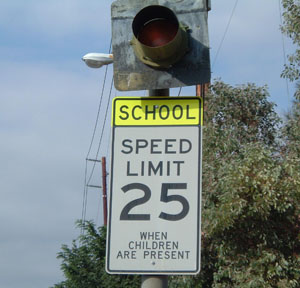 Fifty-six school zones could have speed cameras up and running in Nassau by the first week of September and speed cameras are coming to Suffolk County early next year.
New York State allows speed cameras to ticket drivers going more than 10 mph over the school speed limit on school days during school hours in addition to an hour before and after school as well as during school activities.
Nevertheless, many drivers near Plainedge Middle School are claiming that this type of summertime ticketing stretches the definition of "school day" simply to make money.
According to the Plainedge's schools superintendent, 100 students were attending summer school. However, he promises that summer school days will be added to the district calendars.
If you recently received a New York speeding ticket, contact The Rosenblum Law Firm today at 888-434-0406.
Update: As of August 22, Nassau County Executive Ed Mangano has declared amnesty on all school zone speeding tickets issued during the summer. Click here for details.