As reported by The New York Times, traffic tickets in New York City have plunged for the second week in a row.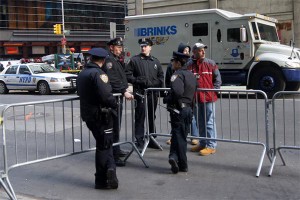 This drastic drop in ticketing, along with a drop in arrests and summonses, can directly be attributed to the NYPD work slowdown following the murder of two officers in Brooklyn. The murderer justified his actions as a response to alleged police brutality in the Michael Brown case in Ferguson, Missouri as well as the Eric Garner case in Staten Island.
Officers partially blame Mayor de Blasio for encouraging anti-police rhetoric and have begun a work slowdown as a sign of protest against the de Blasio administration. Similarly, hundreds of officers turned their backs on de Blasio at the funerals of the two murdered officers.
Following the police shootings, the Policeman's Benevolent Association of New York guided its members to avoid taking risks and act more conservatively in issuing arrests and summonses. It seems NYPD officers have heeded the call.
While police commissioner William Bratton has suggested other reasons for the decline in arrests and citations such as reduced 911 calls, the holiday season, and a mourning period for the fallen officers, it is hard to believe that this reduced enforcement is not directly related to the recent events that have transpired.
The New York Post ran a similar story recently regarding this drastic decline in enforcement. The amount that arrests and ticketing has plummeted is astounding:
Parking and traffic tickets have declined by 90%.
During the same period last year officers made 50% more arrests.
Currently, there have been 347 summonses issued. During this period last year, there were 4,077 summonses.
5,448 arrests were made in the city last year, whereas 2,401 were made during the same period this year – a 56% decline. This includes a 17% decline for major felony arrests.
Most precincts weekly tallies for criminal convictions were zero.
Coney Island precinct, as an example, did not record a single parking ticket, traffic summons, or ticket for a low level crime.
This is in stark contrast to a recent story we discussed on the increase in ticketing in NYC following the reduction of the speed limit from 30 mph to 25.
The impact of the drastic reduction of arrests / tickets will have significant consequences, especially on the finances of the city. CBS News estimates that the city is losing $1 million in revenue per week with this slow down. There's also some evidence that decreased enforcement will lead more people to commit crimes—and programs like Vision Zero are sure to suffer.
How long this slowdown lasts and whether Mayor de Blasio can repair his relationship with the NYPD remains to be seen.
If you have received a traffic ticket and need legal representation, call us at 888-434-0406 for a free consultation.