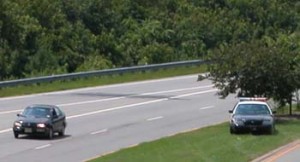 We see it all the time, New York police officers lurking on the side of the road waiting for your vehicle to pass at the exact moment the 65 MPH zone drops to 45 MPH. Of course, these speed traps – and their enforcement – are much more common in some areas than others.
A new analysis of state ticketing data shows that these are the top 10 speed trap locations in New York State:
Interstate 90, Town of Cheektowaga, Erie County: 5,819 tickets issued
Interstate 81, Town of Cortlandville, Cortland County: 4,540 tickets issued
Interstate 87, Town of Colonie, Albany County: 4,535 tickets issued
Interstate 81, Town of Chenango, Broome County: 4,403 tickets issued
Route 12, Town of Remsen, Oneida County: 4,171 tickets issued
Interstate 290, Town of Tonawanda, Erie County: 3,926 tickets issued
Route 9, Town of Poughkeepsie, Dutchess County: 3,588 tickets issued
Interstate 84, Town of Newburgh, Orange County: 3,550 tickets issued
Interstate 90, City of Albany, Albany County: 3,038 tickets issued
Interstate 87, Town of Ulster, Ulster County: 3,025 tickets issued
Additionally, the state data reveals that 7% of municipalities account for 50% of New York State's traffic tickets. Among them are Dickinson, Chenango, Binghamton, and Ithaca.
Not only that but only 5% of New York speeding tickets are issued to speeders going 10 MPH or less over the speed limit, though these tickets are usually handed out in conjunction with other charges.
Lastly, nearly 15% of all NY traffic tickets are doled out between 10 AM and noon while less than 10% are given out between midnight and 6 AM.
If you recently received a speeding ticket in New York, contact The Rosenblum Law Firm today at 888-434-0406.