Drivers passing through the hamlet of Limestone in the town of Carrollton along U.S. Route 219 should be wary of the road's sudden drop from 55 to 40 miles per hour. Though this 15 mile decrease in speed for such a short distance may not raise eyebrows, the area is a favorite spot of New York State Police, the Cattaraugus County Sheriff's Department, and Allegany State Park Police officers patrolling for speeding drivers. In fact, the mile-long stretch of road and surrounding community earned $301,000 in speeding tickets last year, more than any other community in Cattaraugus and Allegany counties.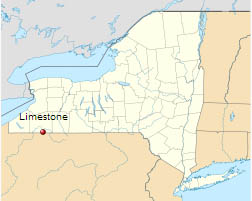 Police ascribe the copious speeding tickets handed out in the area to Limestone's at-grade intersection with the four-lane highway, which, as the site of numerous serious accidents, caused residents to petition the state to lower the speed limit to its current status. Today, police justify their ticketing practices by the fact that many drivers found speeding in the area are still caught at dangerous speeds of 20 miles or more over the limit, despite a caution light in place.
However, some contend that making money, rather than ensuring safety, is law enforcement's main concern, a position bolstered by the fact that many of the drivers fined in the area are from out of town, out of state, or Canada and tend not to contest their tickets. The area's heavy patrol has undeniably proven lucrative, with the state enjoying $220,015, the municipality $75,735, and the county $5,300 from fines issued last year in Carrollton.
Many urge that the stretch of roadway should not be a revenue-raising speed trap; instead, emphasis should be on preventing speeding, rather than simply catching wrong-doers. To that effect, some residents are now petitioning for the installation of larger bright-yellow signs along the mile-stretch of highway, to replace the small white and black signs currently in place, to more effectively warn drivers of the need to slow down when passing through the hamlet.
When hiring an attorney to represent you in traffic court, it is important to look for one with the right experience. The lawyers at the Rosenblum Law Firm have represented clients at the Carrollton Town Court, Ashford Town Court, Randolph Town Court, Friendship Town Court, and Angelica Town Court, and have the expertise to skillfully guide you through the process, saving you time, money, and hassle. Call us for a free consultation at 888-434-0406.
(Source: http://www.oleantimesherald.com/news/article_14beb8d0-6545-11e3-ad17-0019bb2963f4.html)