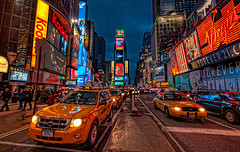 It appears as though there has been an increase in the number of out-of-state drivers getting pulled over in New York, especially those from Canada.
Recently, one Ontario driver was stopped by the New York State police for speeding on Highway 28 in Long Lake, NY. The speed limit was 55 mph and he was issued a speeding ticket for going 75 mph.
According to the driver, if he were to have driven the speed limit in a state as notorious as New York for its motorists, he would have "invited the wrath of every other driver." Although he readily admits his guilt, he feels as though he was directly targeted for being from out of state. After all, he says, there were many other cars on the road that were speeding, but only he and a Massachusetts driver got pulled over.
He grew even more suspicious when the officer told him that he either had to plead guilty or travel 496 kilometers (both ways) from Ottawa to Long Lake to contest his ticket in-person at traffic court—which is held at 7:00 p.m. on Thursday nights.
After asking how much the fine was, the officer simply told him, "Sir, we only do the ticketed. We have nothing to do with the fines charged." The ticket did not reflect any amount of money and only gave him the option to plead "guilty" or "not guilty."
Since he did not want to spend a day traveling to traffic court and driving back home late at night (or getting a costly hotel room), he pled "guilty" and hoped it would all be over. He then received a letter in the mail indicating that he had to pay $300 (a $215 fine and $85 surcharge). Moreover, the letter read, "NO PERSONAL CHECKS, ONLY MONEY ORDERS AND CERTIFIED CHECKS ACCEPTED made out to the Town of Long Lake Court. CANADIANS MUST PAY IN US FUNDS! PLEASE RETURN THIS NOTICE WITH YOUR PAYMENT."
What was most startling for this driver was that the letter ended by saying, "If your money is not received by the due date of this letter, the Department of Motor Vehicles in Albany will be ordered to suspend your driver's license." The man's "due date" was merely two days away and the mail in Canada can be awfully slow.
To this man, it seemed as if the odds were stacked against Canadian drivers who get speeding tickets in New York.
However, if he were to have hired a NY speeding ticket attorney, he could have contested his ticket, not incurred a steep fine, avoided an insurance hike, and not have had any threat of suspension whatsoever. Aside from all of this, he would have been able to stay at home in Ontario while his NY attorney fought for him.
Ultimately, if it seems as though NY police are targeting drivers from Canada, that itself should be enough of a reason to hire an experienced attorney to help defend yourself.