Long Island's school zone camera program has had its fair share of controversy but now, as CBS News New York reports, Nassau County residents are taking to the streets in protest.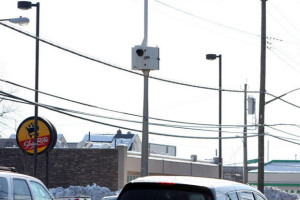 While government officials argue that these speed cameras are all about child and pedestrian safety, the citizen-organized group "Residents Opposing School Zone Speed Cameras" contends that the $80 tickets are nothing more than a revenue-generating scheme for the cash-strapped County.
"I am a grandmother of four so I am very concerned with the kids' safety, but I don't believe this is what it's about," said Connie Wiermann, a Franklin Square resident.
Nassau County is currently facing a $60 million deficit—and estimates suggest that these speed cameras will raise more than $30 million in the next year.
Residents also question the location of many of the cameras, arguing that some have been placed in areas where children rarely cross. Protestor George Cook argues, "The cameras for Great Neck South are located on the service road to the Long Island Expressway. No child has ever crossed the street there to go to school."
Even local business owners are opposing the cameras as they say speed cameras are scaring drivers away. The risk of a speeding ticket is just not worth it.
On the other hand, the pro-camera side points out that speeding always poses a risk and speeding in school zones is especially troublesome. Children often do not have the maturity to appreciate the danger of their surroundings and are more at risk of injury should an accident occur.
Judge John Marks, executive director of Nassau's traffic and parking violations bureau, sums it up, stating, "Don't speed in school zones as it places pedestrian lives in danger and is against the law."
If you've been cited for speeding in a school zone anywhere in New York State contact Rosenblum Law at 888-434-0406 for a free consultation with one of our experienced speeding ticket attorneys.