It is that time of year again! When summer begins, so do family vacations. Families pack up their cars and suitcases, make sure to have the right clothes, fill up with plenty of gas, and have the GPS handy.
However, what police do not want you to know is that they are targeting you. Whether you know it or
not, the second you take your family car out onto the highway, the police are looking to issue traffic tickets to drivers just like you.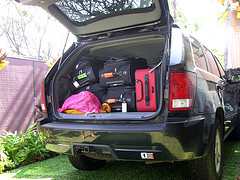 What you as a vacation-goer need to know is that traffic-enforcement campaigns are held routinely across the entire country. They are designed to catch you and generate tons of cash for their respective town and state.
Although police officers will rarely (if ever) admit it, catching drivers for speeding and other traffic infractions is a big business. On average, traffic ticket campaigns have raked in approximately $5 billion per year in the United States.
At a time when state and local governments are looking to fill budget gaps without raising taxes, traffic ticket revenue is highly relied upon.
Why is handing out tickets such a lucrative business in a slumping economy? Truthfully—and unfortunately—most drivers do not fight their tickets. They give up, think that fighting is not worth it, and simply justify paying their tickets. Similarly, many ticket blitzes are held on interstate roads, and the likelihood of an out-of-state driver returning to fight a citation is quite slim unless they are smart enough to hire an attorney to fight on their behalf.
Likewise, researchers with the Transportation Research Board reported that several speed limits around the country were posted 5 to 10 mph below that of free-flowing traffic in those areas.
According to David Solomon, a researcher with the U.S. Department of Commerce, the majority of the tens of thousands of citations handed out annually during federally funded ticket blitzes are given to drivers who were actually safely navigating with the flow of traffic, but the posted speed limits were purposefully low.
Remember, the next time you hit the open road for that summer vacation, that Fourth of July BBQ at your cousins, or trip to the water park, the police are actively looking to catch you speeding and violating the rules of the road. Be careful, drive safely, and fight your traffic tickets!
(Source: http://www.washingtontimes.com/news/2013/jul/3/the-dirty-little-secret-about-holiday-traffic-tick)