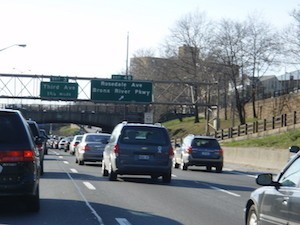 If going slow is your thing, you might want to spend more time on the Cross Bronx Expressway. A national traffic study released in February confirmed what many New Yorkers have always known: the Cross Bronx has the worst bottlenecks in the country. In particular, the interchange of Bronx River Parkway was ranked the most congested in the U.S., with interchanges at Sheridan Expressway and White Plains Road coming in as third and fourth worst. In total, commuters wasted about 86 hours a year on the Cross Bronx.
Also in the top 10 were the stretch of Fifth Avenue between 120th Street and 40th Street as well as the approach to the Lincoln Tunnel on NJ-495, from the I-95 junction to 12th Avenue. Overall, New York City earned the honor of being the second-most congested municipality in the country; only Los Angeles had worse traffic.
So why is the Cross Bronx so bad? According to the study, the highway has an inordinate amount of trucks, and drivers have few alternative routes. Lack of shoulder areas for broken-down cars, hills that create blind spots, and narrow lanes were also major factors.
The Cross-Bronx Expressway was an engineering nightmare. Its six lanes had to weave over, under, and around a ton of existing infrastructure, including
railways

sewer pipes

utility lines

113 roads

a subway line

seven other highways
The construction of the expressway was so difficult that it was easier to move the Bronx River 500 feet to accommodate it. A one-mile stretch through East Tremont required the relocation of more than 1,500 families. In total, approximately 50 apartment buildings were demolished and 5,000 families displaced to build the highway.
Getting stuck in traffic on the Cross Bronx Expressway is bad enough; getting a traffic ticket while driving on it just adds insult to injury. If you or a loved one has been ticketed for a traffic violation on the Cross Bronx or anywhere else in New York, contact an attorney for help. The lawyers of the Rosenblum Law Firm are experienced traffic ticket attorneys with offices in New York and New Jersey. Email or call 888-203-2619 for a free consultation about your case.