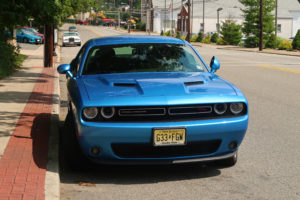 With New Jersey being in such close proximity to New York then you are not alone if you were handed a traffic ticket while commuting to work or spending a weekend in the City. With so much traveling between the states, many motorists receive various traffic tickets without fully understanding how it affects their license New Jersey license.
Do Points Transfer From NY to NJ?
Yes, motor vehicle points do transfer from NY to NJ. A New Jersey driver that is convicted of a moving violation in New York will be given 2 points by New Jersey's Motor Vehicle Commission (MVC). This point transfer is regardless of how many points New York assigns to the violation and assumes that New Jersey has a similar or like offense within its laws.
For A NJ Driver, Is It Worth Fighting A New York Ticket?
Most New Jersey drivers are under the impression that points do not transfer for a speeding ticket or for other moving violation tickets received in New York. The reason most drivers believe this to be the case is because they don't think states communicate regarding traffic violations. Unfortunately for those drivers this could not be further from the truth. Forty-five states across America have made an agreement between each other to communicate traffic violations between each other under the Driver's License Compact. The purpose of the Driver's License Compact is to promote driver's to have one license at a time and to ensure that the state that issues the driver's license to have a complete record of the motorists past and future driving history.
This means that the home state that gave you your license will have a clear picture of what traffic ticket convictions you have on your record from other states. Your home state then will impose points and communicate this to your insurance company. The insurance company can use this information when deciding on issuing you a policy or raising your current rates.
NY Speeding Ticket Fines vs. NJ Speeding Ticket Fines
Violations committed in other states not including New York will also lead to a 2 point transfer for the offense to your New Jersey State license. States that are not included in the Driver's License Compact include Georgia, Massachusetts, Michigan, Tennessee and Wisconsin. If you receive a ticket in one of these states then the information will not be communicated to New Jersey and the points will stay off your record.
Should I Consult With An Attorney About My New York State Traffic Ticket?
Cities and states across the nation are struggling due to a down economy. Unfortunately, what this means is that police officers are now pulling people over for moving violations at an increased rate to not only keep roads safe but also generate revenue. Officers are less likely now to let you off with a simple warning and are ready to hand out speeding tickets for driving even a few miles over the speed limit.
Before you think about pleading guilty and paying the fine for a New York State traffic violation you should contact an attorney to discuss your matter. Points can have a significant impact on your insurance rates so it is always worth making sure you keep a clean driving record, even when the offense happens out of state.
Call or email Rosenblum Law today for a free consultation about your traffic ticket in New York.