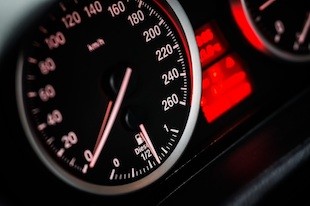 Old and new cars alike have been known to have components suddenly fail. Most drivers understand a belt or hose can go without warning. Less common, however, is the failure of your car's instrument panel. For example, a faulty speedometer might show you driving at a lower speed than you are truly going. If that happens, are you still liable for the speeding ticket?
Unfortunately, you are.
In New York State, drivers are responsible for the upkeep of their vehicles. When something breaks – whether it's a tail light, brakes, or a speedometer – you are liable for any violation that may result. Sometimes a ticket, such as one for a broken headlight, can be dismissed if the driver can prove in court that it was fixed within 24 hours of the ticket.
A broken speedometer would be more difficult to fight this way. For starters, you'd have to present evidence that you were speeding because the instrument was faulty. Second, you'd have to show proof that it was fixed within 24 hours of the ticket. Finally, you'd have to hope to get a lenient judge, since not all of them will dismiss a ticket just because you fixed the problem.
A conviction for speeding in New York carries at least 3 points on your license, plus $150 in fines. Drivers will also be expected to pay an NYS surcharge of up to $93 and possibly a $100 driver responsibility assessment. Speeding tickets can also increase your auto insurance premiums by hundreds of dollars.
If you or a loved one has been caught speeding, it is essential that you consult an attorney to help you avoid the costs associated with a ticket. The lawyers of the Rosenblum Law Firm are skilled New York traffic ticket attorneys who have experience handling tickets for speeding as well as other driving-related offenses. Call 888-203-2619 or email the Rosenblum Law Firm today for a free consultation about your case.