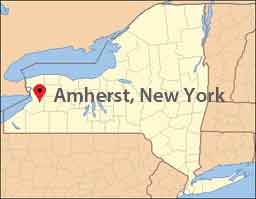 No one likes being pulled over. However, if you drive through Amherst and you are not driving carefully enough, it is quite likely that you will be.
Although most police officers will not admit it, due to the state of the economy, towns like Amherst have been ramping up their effort to raise revenue by increasing the amount of motorists they pull over along with the number of traffic tickets they issue.
After all, Amherst has been ranked several times as the safest city in America and almost every year it is either among the top 5 or top 10 safest cities in the country.
With little crime, police officers have more time to focus on traffic violations and issuing speeding tickets in Amherst.
Amherst Speeding Tickets
If you received a speeding ticket in Amherst, you are facing points on your driving record, a potential insurance hike, a fine, and possibly a surcharge. For a list of speeding ticket fines and points click here.
Chances are you have very little spare time and certainly do not want to waste it by appearing in court to plead not guilty.
Nevertheless, pleading guilty is quite possibly the worst option. In fact, it really is no option at all.
Pleading guilty may seem easy, but in reality it simply is not worth it.
Pleading guilty will result in the conviction being put on your driving record and will serve as a red flag for officers whenever you get pulled over again.
Additionally, depending on your speed, the cost of your car insurance could increase by 15% and you will incur a steep fine.
The financial cost alone will almost certainly exceed the cost of hiring an speeding ticket lawyer.
Remember, this is to say nothing about the points that will go on your license, the potential suspension you might face, and all the other non-economic consequences of receiving a speeding ticket.
Hire an Speeding Ticket Attorney
When you hire an Amherst speeding ticket lawyer, you will be able to avoid the hassle of going to court to fight your ticket.
You will be able to remain at home while your attorney represents your interests in court.
A skilled attorney will be able to negotiate a favorable plea with the prosecutor and thoroughly defend your rights at trial.
Make no mistake: it pays to hire a traffic ticket attorney.
Who Should You Contact?
If you or a loved one was recently given a ticket for speeding in Amherst, contact Adam H. Rosenblum of The Rosenblum Law Firm today. Mr. Rosenblum is a skilled traffic ticket attorney who will defend your rights and fight for you every step of the way. E-mail or call him today at 888-815-3649.
---
---