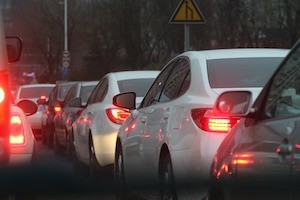 The best advice for avoiding a speeding ticket is to slow down. This generally means obeying the posted limit, or at least not going too far above it, but this advice can be taken too far. If you drive like the proverbial granny, you won't be at risk for a speeding ticket, but you could be facing a totally different kind of citation under New York State VTL 1181.
There are two ways to get ticketed for going too slow in New York. The first, VTL 1181-a, applies primarily in instances where someone is impeding traffic. For example, if you are driving 20 mph on a busy road with a 45 mph limit, that's a ticketable offense. There's no guidance for how far below the speed limit you have to be to get a ticket — the officer has discretion in this case.
The second, VTL 1181-b, is for those driving below the posted minimum speed. This is only applicable on select roadways with posted minimums, such as the Long Island Expressway or the New York Thruway; most local roadways don't have minimum speeds. Unlike a ticket for VTL 1181-a, you do not necessarily have to be impeding traffic to get a ticket for going below the minimum. If circumstances warrant, it is possible to receive a ticket for both violations.
Of course, there are times when you should go well below the posted speed limit or minimum, such as during a snowstorm or heavy rainfall. In that case, your slow speed might be considered prudent for the conditions. Like the statute for impeding traffic, there's no specific guidance on what is considered prudent or the conditions under which they apply. In general, drivers should consider going below the speed limit whenever visibility is strongly reduced (e.g. in a thick fog), the ability to stop on time is compromised (e.g. on ice-covered roads), or both (e.g. on wet roads during a rainstorm).  
A ticket for either impeding traffic or driving below the posted minimum carries a $150 fine, plus court costs. Each violation also carriers three points on your license and up to 15 days of possible jail time. A second violation within 18 months ups the consequences to a fine of $300 and 45 days of jail time.
If you or a loved one has been ticketed for speeding, impeding traffic, or driving below the minimum speed, it is imperative that you consult an attorney to help you avoid the costs associated with a ticket. The lawyers of the Rosenblum Law Firm are skilled New York traffic ticket attorneys who are experienced in handling tickets for speeding as well as other driving-related offenses. Call 888-203-2619 or email the Rosenblum Law Firm today for a free consultation about your case.