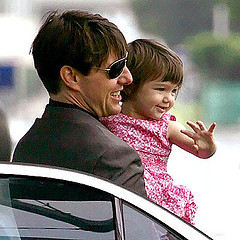 According to the Daily News, Tom Cruise led the paparazzi on a high-speed chase through Manhattan in order to avoid unwanted questions and to protect his 6-year-old daughter.
Tom Cruise, who recently divorced Katie Holmes, has been receiving a tremendous amount of news coverage during what can only be described as a very trying time of his life.
After a father-daughter sleepover at Robert de Niro's luxury Greenwich Hotel in TriBeCa, Cruise attempted to avoid photographers who were waiting outside to catch a glimpse of him and his daughter.
They left the hotel in Manhattan's Lower West Side in a black Chevy Suburban and headed toward a heliport at 12th Avenue and West 29th Street, blowing through red lights along the way.
At least 10 cars and six motorcyclists and bicyclists followed Cruise as his SUV reached 20 miles per hours beyond the posted speed limit.
One of the vans was even pulled over by police for speeding.
This car chase came just two days after Suri, Cruise's daughter, got into a fender bender with her mother, actress Katie Holmes.
According to E! News, they were traveling on the West Side of Manhattan when their chauffeured car was struck by a garbage truck.
Holmes and her daughter were uninjured and only minor damage was done to Holmes' Mercedes.
Remember, whether we are famous or not, when we are going through difficult points in our lives, we have a tendency be overwhelmed with emotion and sometimes act recklessly.
If you ever find yourself in a situation similar to this, make sure to avoid driving recklessly or doing anything on the road that you might regret later.
In the event that you ever receive a NY traffic ticket, be sure to contact an experienced traffic ticket attorney.
---
---