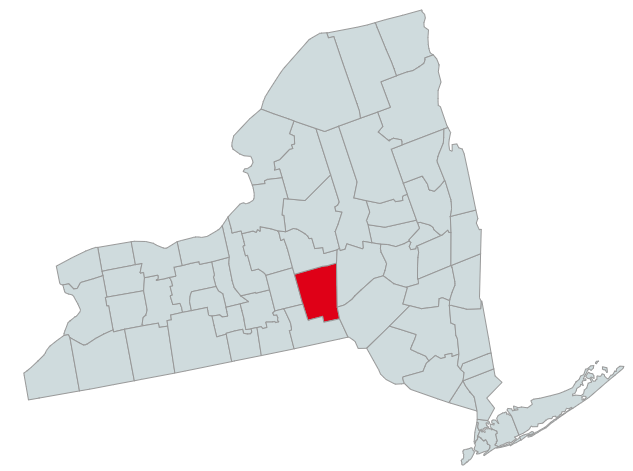 Chenango County is a largely rural county near the center of New York State, just north of Broome County. Its economy thrives on dairy farming and is a major source of cheese and yogurt factories in the state, including Chobani Yogurt. About 60% of the county's 900 square miles is forested and only about 5% is developed for commercial, industrial or residential use.

Drivers should think twice before paying a speeding ticket issued in Chenango County. Each ticket carries hidden costs and penalties that take many drivers by surprise. Instead, one should hire an experienced traffic ticket lawyer who can beat or reduce the charge.

New York State Speeding Ticket Costs
A Chenango County speeding ticket comes with a fine of $150 to $600 in most cases. In addition, drivers will have to pay a mandatory state surcharge of $88 or $93. Whenever a traffic ticket puts the total number of points on the license at 6 or more, the driver will be charged a Driver Responsibility Assessment (DRA) fee. The DRA is an additional fine and costs $300 for the first 6 points and $75 for each additional point. Even worse, a single speeding ticket can increase auto insurance rates by as much as several hundred dollars per year for three or more years.
Speeding Tickets Data from Chenango County NY
The number of speeding tickets issued in Chenango County in 2018 rose slightly over 2017 from 2,569 to 2,603. Speeding tickets made up nearly a quarter of all traffic tickets issued last year, above the statewide average of 18.6%. More than 30% of all speeding tickets were written on Saturday and Sunday. Thursday saw the fewest tickets (11.7%). In keeping with statewide trends, the summer months were among the worst time to be speeding in the county, with more than 31% of tickets issued during that time.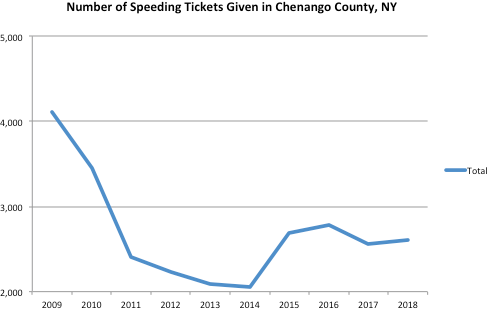 Number of Speeding Tickets Given in Chenango County, NY
| Year | # of Speeding Tickets |
| --- | --- |
| 2009 | 4,107 |
| 2010 | 3,452 |
| 2011 | 2,412 |
| 2012 | 2,227 |
| 2013 | 2,087 |
| 2014 | 2,053 |
| 2015 | 2,691 |
| 2016 | 2,780 |
| 2017 | 2,560 |
| 2018 | 2,603 |
Drivers hit with speeding tickets in Chenango County would be well advised to fight the ticket and either get it dismissed or reduced to a low-point/no-point violation. Less than 8% of drivers were able to get their speeding ticket dismissed in New York State last year. Those who hire an experienced traffic ticket attorney will likely have much better luck and get much better results than those who attempt to fight the ticket on their own.

Chenango County Geography and How It Relates to Traffic Tickets
Chenango County is among the 10 counties in the state with the least vehicle traffic each year. This is partially attributed to its sparse population (47,536 in 2018) and the lack of interstate highway access; I-88 crosses the southeast corner of the state between Broome County and Delaware County. The county receives some tourism in the form of visitors to its numerous state parks, which is enough to keep state and local police on the lookout for speeding and other infractions.
Hiring a Chenango County Speeding Ticket Lawyer
A speeding ticket in New York State is a serious matter. Any driver charged with speeding needs the help of an experienced traffic ticket attorney. An attorney offers the best chance of reducing or beating the ticket and thus avoiding the worst penalties. The best part is that, in most cases, those who hire legal representation may not have to show up to court themselves.
Contact Rosenblum Law to assist you with your speeding ticket matter in Chenango County. We can offer you a free consultation about your case and have our attorney's fight on your behalf. Our attorneys have represented clients in all the courts in Chenango County for both traffic and criminal matters including Afton, Bainbridge, Columbus, Coventry, German, Greene, Guilford, Lincklaen, McDonough, New Berlin, North Norwich, Norwich, Otselic, Oxford, Pharsalia, Pitcher, Plymouth, Preston, Sherburne, Smithville, and Smyrna. Call 888-434-0406 or email Rosenblum Law today for a free consultation about your case.

Speeding Ticket in Other Counties