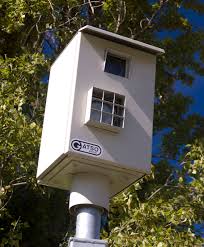 Speed camera legislation for NYC was first passed in 2013 and allowed for 20 cameras to be installed near school zone entrances. The program was extended in 2014 and the number of speed cameras was increased to 140. Safety advocates are now calling for a further expansion of the program. They are hoping to get cameras near every New York City school and to have the cameras operate at all times of the day, not just during school hours.
School zone cameras are only active from 6am to 6pm and the enforcement program is in place for less than 10% of NYC schools, leaving many dangerous streets without a camera. However, the cameras that are in place have successfully cut down on speeding and increased pedestrian safety. In fact, cameras now issue more speeding tickets than police officers.
Safety groups like Families for Safe Streets are asking people to sign the petition for more speed cameras. They are also using Twitter to generate awareness with the hashtag #everyschool.  However, before additional cameras can be added the legislation has to be approved by the Senate and Assembly and then signed by Governor Cuomo. Mayor Bill de Blasio has encouraged the program's expansion, stating, "We're going to push to pass state legislation that will ease these restrictions that will allow cameras to operate overnight and on other streets so we can really maximize the impact of these cameras and protect lives. "
Drivers should be extra cautious while traveling through school zones because fines are doubled for speeding in these areas. If you received a NY traffic ticket in a school zone, contact the Rosenblum Law Firm via our contact page or call 888-434-0406. Our team of traffic ticket attorneys have a successful track record of fighting these cases and reducing the consequences.