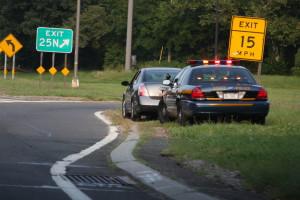 A driver from North Carolina was arrested earlier this week after rear-ending a police car in Queens and injuring two officers seated inside. Albert Pearce was speeding on the Queens Parkway in a black 2007 GMC Denali when he slammed into the patrol car at around 2:10 a.m.
At the time, the marked police car was stopped in the right lane with its emergency lights on as the officers conducted a traffic stop. After the crash, the officers were taken to Jamaica Hospital with neck and back pain. 52-year-old Pearce was charged with felony reckless endangerment, reckless driving, colliding with an emergency vehicle, speeding, and refusing to take a breath test.
Reckless driving is a serious charge, especially when the victim is a police officer. The consequences of being found guilty are severe, including up to 30 days in jail and a criminal record for a first offense, five points on your driving record, and possible suspension or revocation of your license, in addition to the fines and increased insurance premiums common to all moving violations. In fact, a reckless driving conviction will likely lead to a higher increase in your insurance rate than would other 5-point offenses because insurance companies tend to be more concerned with the type and severity of the violation as opposed to the number of points.
If you have been charged with reckless driving in NY and would like to avoid these very serious and expensive consequences, contact The Rosenblum Law Firm today at 888-434-0406 for a free consultation with an experienced traffic attorney.