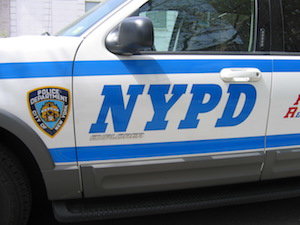 Drivers in New York City would be well advised to slow down. The NYPD is vowing to issue more tickets for speeding and other infractions as part of Mayor Bill de Blasio's plan to cut down on traffic injuries and deaths. The mayor also included several items in the proposed Fiscal Year 2018 budget that will aid in this additional enforcement, including 120 new radar guns for local precincts.
Last year the NYPD issued a record 137,000 speeding tickets, a record it will likely break this year. In continuing with his signature Vision Zero initiative, de Blasio has ordered police to step up enforcement of speeding and other infractions with the aim of cutting down traffic fatalities. According to the NYC Department of Transportation, in the three years since Vision Zero began, traffic deaths are down more than 20 percent.
Speeding tickets can cost far more than a simple $150 fine. In New York, a conviction for speeding carries at least three points on your license. Drivers will also be expected to pay a surcharge of up to $93 and possibly a $100 driver responsibility assessment per year for the next three years. Speeding tickets can also increase your auto insurance premiums by hundreds of dollars.
If you or a loved one has been ticketed for speeding, texting while driving, or any other traffic violation as part of NYC's Vision Zero crackdown, contact an attorney to help avoid the consequences. The lawyers of the Rosenblum Law Firm are skilled New York traffic ticket attorneys who are experienced in handling tickets for speeding as well as other driving-related offenses. Call 888-203-2619 or email the Rosenblum Law Firm today for a free consultation about your case.