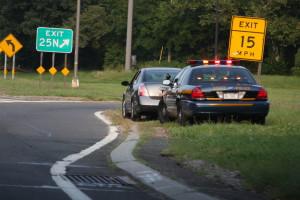 A 33-year-old driver from Connecticut was arrested for speeding after he was clocked going 112 mph in a 65 mph zone on an interstate in Vermont.  In an ironic twist, the driver told police he was heading to traffic court to pay a previous speeding ticket.
Trooper Rich Slusser said the man was caught weaving in and out of traffic before he was pulled over and charged with excessive speeding and negligent operation of a vehicle. The driver was also issued a citation ordering him to appear in Vermont Superior Court in late October.
While it is rare for a police officer to arrest someone for a speeding violation alone, the officer does have the discretion to do to so.  In addition to the possibility of imprisonment, a speed violation can also result in steep fines, surcharge fees, and increased insurance premiums.
If you get 6 or more points within an 18 month period, the DMV will fine you a surcharge known as the Driver Responsibility Assessment (DRA). The fine is $100 and must be paid once a year for 3 years. An additional $25 per year will be added to the DRA for every point over 6. Those who accumulate 11 points will have their licenses automatically suspended.
"I was in a hurry" is never an excuse for speeding, but going to court for a speeding ticket is often a problem for people who cannot take time off of work or who live far away. However, those who choose not to show up to traffic court can get their license suspended due to failure to appear. It is always advisable to consult with a speeding ticket lawyer and discuss your case before you decide to plead guilty. An experienced traffic ticket lawyer can appear in court on your behalf and save you valuable time, in addition to the expense of the ticket and points. If you have been issued a ticket or a summons, contact us for a free consultation at 888-434-0406.