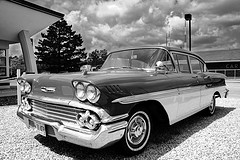 The New York City Council and Transportation Alternatives are aiming to decrease the number of people killed and seriously injured in traffic accidents.
Together, they are pushing a new bill that calls for a task force to overhaul the New York Police Department's traffic enforcement and crash investigation procedures.
Recently, Councilman Brad Lander and Councilman James Vacca presented "The Crash Investigation Reform Act" at a press conference.
The legislation will assess the NYPD's traffic safety enforcement and accident investigation protocols, which many believe are not keeping the streets safe enough.
After the assessment, the Act is expected help implement the most effective ways to lower the number of fatalities and injuries in the streets and bring justice to those injured or killed.
Councilman Stephen Levin revealed that there are 19 police officers on the NYPD's Accident Investigation Squad citywide who are called to accidents, but only if "a person dies or is likely to die."
Additionally, Transportation Alternatives reported that 21 cyclists died in vehicle crashes in New York City in 2011, but only two drivers were arrested.
"Crashes that result in serious injuries demand serious investigations," noted Council Member Brad Lander.
He also explained, "But right now, they just aren't getting them from the NYPD. As we learned at the City Council's February hearing, thousands of crashes with serious injuries to pedestrians and cyclists happen with no real investigations, and no charges. The Crash Investigation Reform Act would set up a comprehensive review of NYPD policies regarding traffic crash investigations, and get us on the road to safer streets."
The City Council revealed that 60% of fatal pedestrian and bicyclist crashes with known causes are due to illegal driving behavior like speeding and talking on a cell phone.
However, due to the low numbers of speeding tickets issued, the City Council believes the NYPD is not doing its job to enforce the speed limit and is not holding dangerous drivers responsible for breaking the law.
Ultimately, legislators hope that the Crash Investigation Reform Act will make New York safer.
---
---